 Posted On: 12/3/21 5:49 PM
November was hot and heavy with action as the basketball season got underway all across the state of Louisiana. We are a full month into play in the lower classes while the higher classes are into their third week. In this PHLA piece, we will take a look at top performers from the month that was. If players continue to play like they have started, we should be in for an outstanding season all-around.  
Patrick Mccraney Patrick Mccraney 6'1" Neville | 2022 LA - Neville ('22)
Opening night for McCraney and the Tigers was a loss to Woodlawn-Shreveport.  In that lose, he displayed his improvement on both ends of the floor.  He garnered several steals in trapping and man-to-man situations while scoring from all three levels on offense.  His 30 point outing was a combination of mid-range, long range, and foul shooting showing why he is one of the top players in his class.  
Donavan Seamster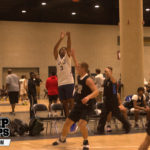 Donavan Seamster 6'1" | SG Woodlawn-Shreve | 2022 State LA - Woodlawn-Shreveport ('22)
Seamster has similar games to his performance on opening night but none quite like it.  Donavan showed improved ballhandling to clear space for his jumper as well improved movement off and around screens.  He went 8-8 from the charity stripe and