With the holidays and holiday tournaments coming up, this seems like the perfect time to drop my final twenty players to watch. While the holidays are full or family time, they are a time where hoops will be on TV or games will be played live. In this final installment, I will list players (juniors, sophomores, and freshmen) to catch in Louisiana gyms while we all have some extra time.
Cornelius Brown Cornelius Brown 5'9" | PG Kennedy | 2024 State LA (5'10″ / Kennedy / '24) –  Brown was one of the better guards at the freshman and sophomore camp held by Mal Mundy.  He is ultra quick and can beat his initial defender easily at times.  Brown can finish with either hand and can do it in acrobatic fashion if need be.  As a sophomore, he is probably Kennedy's best player.  
Noah Brookter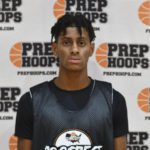 Noah Brookter 6'2" | CG Southside | 2024 State LA (6'1″ / Southside / '24) – Brookter was another player who showed flashes of growth and potential at the Mal Mundy event.  He is a slasher who is can make the mid-range jumper comfortably (especially on the baseline).  While Brookter can get downhill quickly on drives and finish at the rim, the best part about him is he embraces defense.  
(5'10″ / Springfield / '24) – The Springfield point guard has been playing well as his team has started off 9-2.  Chaney can use the dribble to get where he wants to on the floor and he is also an above average passer.  He has shot the ball well from deep which has caused even more of an issue for defenses.  Chaney is definitely a young guard to watch.  
Jayce Depron Jayce Depron 6'3" | CG Madison Prep | 2024 State LA (6'2″ / Madison Prep / '24) – Depron has the potential to be a top five player in his class.  He can defend one through three, shoot the trey, and create highlights on the break.  Depron is very reliable from the corner three and makes them at a high clip playing off Charger posts.  He is one player that can burn the opposition from all three levels.  
Jaylon Hicks Jaylon Hicks 6'5" | SF Carver | 2023 State LA (6'5″ / Carver / '23) – Hicks is a player who can play guard or forward with ease.  He is very comfortable with the ball in his hands and knows how to attack players using his size as an advantage.  While Hicks at very good at playing as ancillary piece on a loaded team, he can take over games with them as well.  Hicks has a big upside.  
(6'2″ / Liberty / '24) – Jackson is a player with a tone of potential.  He has shown glimpses of his defensive prowess as he uses his athletic ability to play defense on the perimeter.  He has the potential to be a high level "3 & D" player while at Liberty.  Jackson is also very good in transition as a finisher.
Trevon Jackson Trevon Jackson 5'10" | PG Airline | 2024 State LA (5'11″ / Airline / '24) – Jackson is one of the better guards in north Louisiana under six feet.  He can shoot very well from behind the arc and he is very good at drawing contact when he drives to the rim.  Jackson is one of the reasons Airline has been an early season surprise in class 5A.    
Canin Jefferson Canin Jefferson 6'0" | PG Newman | 2023 State LA (6'1″ / Newman / '23) – Jefferson is one of the top point guards in the state is the top point in his class.  He can pass and score with some of the best in the country.  Not many possess the ability to facilitate and score like he does which is why he is a top tier point guard in Louisiana.  
Javon Johnson Javon Johnson 6'0" | CG Bossier | 2024 State LA (6'0″ / Bossier / '24) – Johnson is blossoming into the next great Bossier guard before our eyes.  He is one of the best shooters in his class with the corner three as his trademark.  Johnson is also becoming a very good defender and does not mind picking up full court.  He is definitely a guard on the rise.  
Todd Jones Todd Jones 6'8" | PF Newman | 2024 State LA (6'8″ / Newman / '24) – One of the best young forwards in the state.  He has a very good set of hands and his length makes him and excellent target for post passes.  Jones also finishes with both hands and is excellent on the offensive boards.  He is a hard player to keep from scoring around the basket.  
John Kelly John Kelly 6'7" | SF Shaun Dumas Academy | 2023 State #220 Nation LA (6'7″ / Shaun Dumas Academy / '23) – Kelly may defend the post but he himself is one of the more versatile forwards we have in Louisiana.  He can score with his back to the basket and spot up from outside the arc.  His versatility makes him a very hard player to account for defensively.  
Greg Manning Greg Manning 5'8" | PG Benton | 2024 State LA (5'9″ / Benton / '24) – Manning may be one of the smallest guards in Louisiana basketball.  He is also one of the best.  No one changes ends with the ball faster.  He can score at all three levels and is very good at penetrating the paint.  Manning will also pick up baseline-to-baseline.  He is definitely exciting to watch.  
Braylan McNeal Braylan McNeal 6'5" | SF Ruston | 2023 State LA (6'5″ / Ruston / '23) – McNeal is probably one of the most athletic players we have in the Boot.  He is a stat sheet stuffer who can block a shot on one end, beat everyone down the floor, and dunk on the other.  He can shoot the three and dish assists as well.  His ceiling is very high because of his total skill set. 
Devin Myers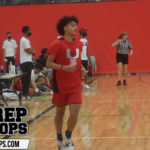 Devin Myers 6'3" | SG Huntington | 2022 KS (6'3″ / Huntington / '23) – No player in the Boot fits the image of a college shooting guard than Myers.  He is the prototype of what we think a basketball player looks like.  Myers is also ultra athletic, he can jump out the gym, and he can defend multiple positions.  He is a player who can provide highlights on any occasion.
Chilaydrien Newton Chilaydrien Newton 6'3" | PG Simsboro | 2023 State LA (6'2″ / Simsboro / '23) – The lefty guard out of Simsboro can get it done on both ends of the floor.  He is very good with the ball in his hands and can score on all three levels.  Newton has added posting smaller players to his repertoire making him more of a threat.  He is one of the most versatile players in Louisiana.  
Shavurdacour Nicholas (6'4″ / L.B. Landry / '23) – Nicholas is an exciting wing to watch.  He is very good in transition and good on the defensive end as well.  If L.B. Landry (or Landry-Walker) is going to be successful this season, Nicholas is going to be vital in their success.  
Kohen Rowbatham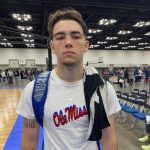 Kohen Rowbatham 6'1" | PG Northshore | 2024 State LA (6'2″ / Northshore / '24) – Rowbatham is a guard who is comfortable playing guard positions.  He can be a point guard who penetrates the paint and find others or a distant shooter who stretches the floor.  Kohen is one of the top players in the 2024 class for that reason.  He is a prep star in the making.  
McKennis Savoie McKennis Savoie 6'2" | CG North Central | 2024 State LA (6'2″ / North Central / '24) – The Hurricane guard is a budding offensive weapon and a good defender.  Savoie can get bucks in a number of ways.  He is best in transition where guards find him on everything from layups to alley-oops.  His athleticism makes him one of the most exciting players to watch in class 1A.
(6'3″ / St. Paul's / '23) – The St. Paul's combo guard made a big impression with his play at the Prep Hoops Top 250.  Seicshnaydre can take players off the dribble, draw and dish, and fish above the rim.  He is as complete a player as there is in Louisiana. 
Kameron Williams Kameron Williams 6'7" | SF Lafayette Christian | 2024 State LA (6'6″ / Lafayette Christian / '24) – Williams is the best player in the 2024 class and playing like one of the best in the country.  As a sophomore, he is one of the more complete players on the prep scene.  His combination of inside and outside offensive play makes him hard to stop not matter the defense.
These sophomores and juniors are worth the price of admission.  From top players in their class to up-and-coming players with a ton of potential, these twenty players are the best of the 2023 and 2024 classes.  With the number of holiday tournaments and games around the state, high school basketball followers will be able to catch one or more of these players before 2021 ends.