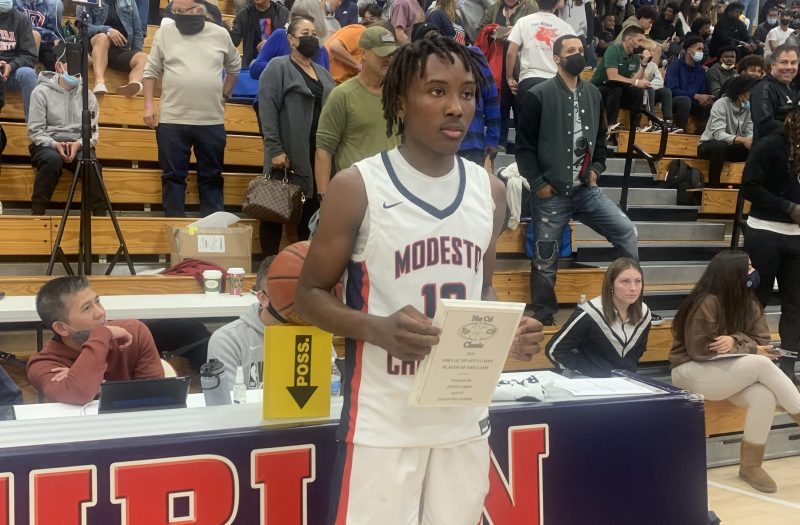 Posted On: 12/2/21 9:59 AM
The Fourteenth Annual Nor Cal Tip-Off Classic was held at Dublin High School in Dublin, California on Saturday November 27. An event to showcase basketball players in the Northern California Region. There were eight games. In previous articles we put a spot light on unsigned Seniors. In this article we decided to put together an All-Tournament team for the class of 2023 players at this event. In the eight games played five of the players earned Player of the Game recognition.
Players of the Game Award:
Ryan Beasley Ryan Beasley 5'9" | PG Dougherty Valley | 2023 State 5'11 PG of Dougherty Valley HS. 13-21 FG, 15-18 FT, 7rebs, 5asts, 6stls and 44pts.
BJ Davis BJ Davis 6'2" | CG Modesto christian | 2023 State 6'1 G, of Modesto Christian HS. 10-15 FG, 3-6 from 3Ptr, 4-4 FT, 5rebs, 6asts, 3stls and 27pts.
Shane O' Reilly Shane O' Reilly 6'3" | SG Campolindo | 2023 6'3 SG of, Campolindo HS. 7-9 FG, 2-3 from 3-Ptr, 2-2FT, 3rebs and 18pts.
Ahmaree Muhammad 5'9 G of Oakland Tech HS. 8-15 FG, 2-5 from 3Ptr, 4-7FT, 4rebs, 3asts, 6stls and 22pts.
Isaiah Chandavong 6'4 G of, Inderkum HS. 7-13 FG, 2-2 FT, 4rebs, 4asts, 4stls, 1 block and 16pts. 
First Team:
Courtney Anderson Courtney Anderson 6'4" | SG Salesian | 2023 State Jr. 6'5 SG of Dublin HS. 4-10