The countdown to 2022 may be on, but the only clock many of South Carolina's premier high school ballers had their eyes on was the clock on the scoreboard at Hammond School.
The Skyhawk Holiday Classic emanated from Hammond School – and its two gyms it utilized to host a multitude of games – including Fawcett Indoor Stadium. Hammond hosted a number of girls and boys teams from throughout South and North Carolina and the event still went on despite a few last-minute scheduling changes.
Prep Hoops made it out to Hammond for Tuesday's games. Here are some who turned in notable outings.
EJ Huffman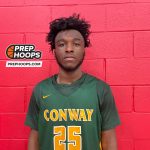 EJ Huffman 6'5" | PF Conway | 2022 State SC – 2022 – Conway HS – There were some tense moments for the Tigers in its evening contest with Eau Claire – the next to last game of Tuesday schedule. But Huffman did what was necessary to ensure Conway ended up in the win column. Conway defeated the Shamrocks by a final score of 45-38 and Huffman tallied 11 points. He took every bit of being 6-foot-5 to his advantage and managed to draw contact to find his way to the free throw line. Huffman is another who is a dual sport athlete who wears both a green and gold basketball and football uniform.
Aiden Brantley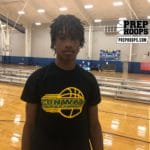 Aiden Brantley 6'2" | SF Conway | 2023 State SC – 2023 – Conway HS – Brantley as well is a dual-sport athlete who also competes in football. When he wears a green and gold helmet and pads at Conway, he plays at wide receiver. On the basketball court, Brantley can display his versatility with his ability to play various positions as either a forward or a guard. He showcased his 3-point shooting prowess by hitting a pair of shots from behind the arc in the second and third quarters. Brantley finished the Tigers' game against Eau Claire, a 45-38 victory, with eight points and only had a pair of personal fouls called against him.
Amari Evans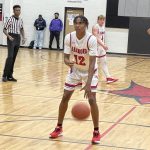 Amari Evans 5'10" | CG Hammond | 2023 State SC – 2023 – Hammond School – As a standout that is in his junior season, Evans brings plenty of experience to a Skyhawks team that is predominantly veteran-laden. Evans also brings the ability to drain shots from 3-point range. Evans led the Skyhawks with 22 in its win over Stall. He is another crossover from the Skyhawks football team over to the basketball team. Evans will also get out in transition and collect steals which can turn into transition opportunities for Hammond. He also will have chances to hit his shots from the free throw on the heels of drawing contact.
Jackson Osborne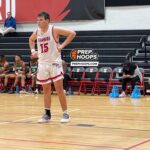 Jackson Osborne 6'4" | PF Hammond | 2023 State SC – 2023 – Hammond School – Osborne, as well, has excelled on both the football field and the basketball hardwood. Osborne was a first team all state selection as an offensive lineman for Skyhawks football. Basketball-wise, he can play with his back to the basket then either get to the rim or execute a turnaround jump shot. He is listed at 6-foot-4 and plays primarily as a power forward. He will hit his 3-point attempts, block shots and grab rebounds on either the offensive or defensive ends of the floor. Osborne concluded the Skyhawks' game against Stall having scored 21 points.
Michael Peterson
Michael Peterson 6'2" | SG Buchholz | 2025 FL – 2025 – Hammond School – A somewhat common theme among basketball teams is that many of them include crossovers from football teams. Peterson is one of those who has played both on the gridiron and the hardwood and the skills he gets from one translates over to another. Peterson can shoot 3-pointers and get out in transition. Peterson has proven to be a major factor in why the Skyhawks have already eclipsed its total in wins from the 2020-21 season – and Hammond appears nowhere near finished as we reach the season's midpoint. Peterson scored 16 in a 75-68 victory over Stall.