Week 3 of the high school season is well underway. Today, we take a look at eye-catchers from the southeast Indianapolis area:
Caleb Dewey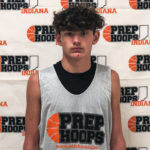 Caleb Dewey 6'3" | SF Edinburgh | 2023 State IN (Edinburgh 2023 SF)
Dewey (6-3) is the most complete offensive player I have seen this season. He can score in bunches and looks extremely comfortable doing so from all three levels. With his length and athletic ability, smaller guards have almost no chance at stopping him on drives to the basket. What stands out the most about the junior is his confidence. He loves big moments and does not appear to get rattled when playing on the road. He is averaging 24.0 points in a 4-0 start for the Lancers, who are ranked No. 9 in the Prep Hoops Indiana Class 1A poll. 
Lucas Mitchell (Waldron 2023 F)
Mitchell (6-5) is having a breakout junior campaign for Waldron. After averaging 6.4 points last season, he is averaging a double-double this season through four games (18.0 points, 10.8 rebounds). He spent time adding muscle to his frame over the offseason, which is making a difference at both ends of the floor. He had a really nice up-and-under move near the basket against Triton Central earlier this season, showing patience and sound footwork. Mitchell is also a capable outside shooter as he is shooting 30 percent from deep. 
Aiden Lindsey (Triton Central 2022 F)
Lindsey (6-5) had a monster start to the season, averaging 18.5 points on 73 percent shooting from the field (four games). He scored 29 points and grabbed 10 rebounds in a win over Southwestern (Shelby), finishing 12-for-14 from the field. He is a versatile scorer as he can bang down low for a tough basket or step outside and knock down a 3-pointer. He anticipates well defensively and is able to alter shots with his length. 
Ollie Sandman (Shelbyville 2023 SG)
Sandman (6-2) has a smoother jumper and is one of the best outside shooters I have seen this season. Connersville, a team known for its strong defense, had a man in his face at all times in the half court when the two teams played last weekend. Opposing teams simply cannot leave him open from behind the arc. The biggest difference for Sandman this season is his body. He is noticeably stronger and more athletic, which has helped him when driving to the basket. He is averaging 17.7 points through three games. 
Bryce Yarling (Waldron 2023 PG)
Yarling is a high-scoring lead guard who plays bigger than his size (5-8). He is electric with the ball in transition and is not afraid to take it to the basket against taller and longer defenders. He is also a really strong outside shooter as he elevates well and has a quick release and sound mechanics. Yarling will likely end his career as one of the top scorers in program history at Waldron. He is currently averaging 18.5 points through four games.
Luke Brinkman (Shelbyville 2024 PG)
Brinkman (5-10) did not play varsity last season as a freshman but has stepped into the starting point guard role for the Golden Bears. Through three games, he is averaging 10.7 points, 4.0 rebounds and 3.3 assists in a solid start. Physically, he is not built like a sophomore. It would be hard to find a stronger kid in his class. I like the toughness and competitive fire he brings to the court. He helps space the floor with his shooting ability, as well. He is 5-for-9 from distance to date. 
Isaac Morgan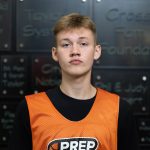 Isaac Morgan 6'0" | CG Triton Central | 2023 IN (Triton Central 2023 CG)
Morgan (6-1) has been a reliable scorer (9.5 ppg in four games) off the bench for Triton Central, which starts five seniors. I really like his confidence and the energy he brings to the court when he enters the game. It is obvious his teammates feed off of it. Morgan, who transferred from Franklin Central to Triton Central over the offseason, has a variety of finishing moves around the basket and is able to find his way into the paint on a consistent basis. He is also creative in transition with his vision and high basketball IQ.