After 7 installments of the top players in the CHSAA, here are our top 11 players. Two major things to takeaway from these remaining players is their youth and the amount of offers they have already secured. Most of these guys are all capable of New York State player of the year by the time their high school careers are over. Not to mention candidates for McDonald all American consideration. Their youth and multiple high major D1 offers already, make this a legitimate statement. Thanks to all the coaches from the Chsaa in helping me with this list. I have seen all these players live and on film, but to get opposing coaches to promote players from other teams is key in my mind to taking on a task like this. So here is #11-#1.
11   Spencer Mahoney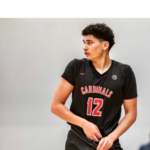 Spencer Mahoney 6'8" | SG Xaverian | 2023 State NY      6"8     2023       Xaverian
Spencer has grown 3 inches in about a year. He now adds nice size to his all around skill set.  An elite level three point shooter with unlimited range. Expect to hear a lot about this player. Harvard, Sienna, Robert Morris, Syracuse ,Texas A&M,  St Johns  have all offered.
10   Jacob Hogarth Jacob Hogarth 6'8" | PF Stepinac | 2024 State NY            6"8      2024.      Stepinac
Extremely skilled player. High motor. Can finish above the rim but can also step out to18 feet and knock down jumpers. Very high ceiling. Holds offers from Maryland, St Johns, Fairfield, St Bonaventure, Bryant, Creighton.
9   Christian Joe Christian Joe 5'11" | PG Bishop Loughlin | 2022 State NY              6"8      2022       Cardinal Hayes
In the CHSAA spring event he put it all together. He was close to unstoppable in the championship game. Has  nice touch from the perimeter. Elite skill set and excellent frame. A major talent. 
8   Ian Jackson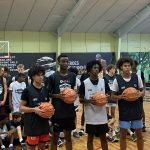 Ian Jackson 6'5" | SF Cardinal Hayes | 2024 State #9 Nation NY                  6"5      2024       Cardinal Hayes
A high major stud talent. As good as anybody in the open floor. Super skill set. Can step through in transition or bring it straight to you and finish through contact. Bryant, St Johns, Seton Hall, Nebraska, Oklahoma State, Kansas State have all offered.
The lanky lefty is the whole package. Defensively he alters or blocks shots. A jump out of the gym player. Strong rebounder in traffic.  Can shoot the three, score inside off a pass or throw down a ferocious dunk. 
6   Omari Ward
Omari Ward 5'11" | PG Fordham Prep | 2022 State NY                     6"5       2022       Mount St Michael
Scores in a variety of ways. Because of his passing ability he is excellent with the ball in his hands. Good rebounder. Burst onto the scene after an excellent summer going into his junior year. It has continued as he now enters his senior season. This is why he currently owns 12 offers. Stony Brook, Manhattan, Robert Morris, Hofstra, Rider, Illinois, St Peters, George Mason, St Bonaventure, Sienna, Towson, Bryant.
5  R J Green                      6"5      2022         Iona Prep
Scores at all three levels. Tough and determined player. Hard to stop him from getting to the rim. Can put the ball on the deck and shoot the three drive through contact or use a lethal pull up jumper. St. Francis (Brooklyn), Bryant, Hofstra, Robert Morris, Rider, Manhattan, St Peters, Binghampton, Quinnipiac have all offered.
4   Dwayne Pierce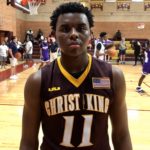 Dwayne Pierce 6'5" | SG Christ the King | 2024 State #88 Nation NY           6"5    2024        Christ the King
A high major stud. High basketball IQ. Strong body can finish through contact . Excellent shooter. A world of natural talent always working to get better. Extremely coachable player.  Holds offers from Nebraska, New Mexico State, Saint Johns, George Washington, LSU, UAB, Creighton.
3  Johnuel "Boogie Fland     6"2      2024     Stepinac
A complete guard. Scores the ball in a multiple ways. Outstanding shooter. Gets into the lane and scores the ball. Tremendous passer has a great feel for the game. Poised well beyond his years. Elite skill set. 17 schools have offered,( 300 more should). UConn, Illinois, Virginia Tech. St Bonnaventure, UCLA, TCU, Seton Hall, Kansas State, St Johns, Miami, Fordham, Pitt, Maryland , LIU. Sienna, Bryant, Rider.
2   Brandon Williams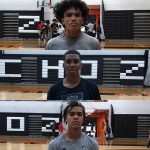 Brandon Williams 6'8" | SF Christ The King | 2023 State #121 Nation NY          6"8       2023        Christ the King
A super talent. Multidimensional player. A big man who can handle the ball. Get off his own shot. Skilled post player. An extremely hard player to guard because of his size and versatility. Does things naturally that you just can't teach. Terrific rebounder. LSU, Illinois, TCU, Bryant , Kansas State, USC, Missouri, Creighton, Nebraska, have all offered.
1   Isaiah Alexander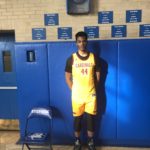 Isaiah Alexander 6'7" | SF Archbishop Stepinac | 2022 State NY .                  6"8    2022.       Cardinal Hayes
Got to give love to the senior. The young guys on this list are super talents but Tobe has already shown he can battle in the city wars that happen every time these CHSAA teams play each other. No doubt these top 5 are all worthy of this top spot. But Tobe has done it already. Not only does he get it done on the court but he sports a 4.0 gpa in the classroom. Takes up space inside. Uses his body well  to post you up. Can play with his back to the basket.  Outstanding  rebounder. A complete player coming off of a tremendous spring and summer. Offers from Manhattan, St Peters, Northeastern, Marist, Bowling Green, Bryant. Lehigh, Holy Cross, William & Mary and Boston College are probably next to add to that list. More schools need to check out this young man.