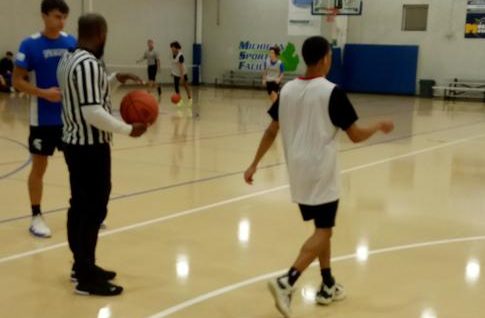 Posted On: 11/29/21 8:39 AM
The first ever Flight Hankamp Scrimmages took place on Saturday. The event, held at Michigan Sports Facility in Jackson, featured some quality teams and an abundance of talented basketball players. In this article, we'll name a Most Outstanding Player (MOP) and 5 Honorable Mentions from the scrimmages.
HONORABLE MENTIONS
Elliott Addleman (2022, F, Adrian Lenawee Christian)
Addleman showed that he's ready for a really nice senior season. He was active on the offensive glass and showed some valuable versatility with his ability to play from a variety of spots on the floor. 
Collin Davis (2023, F, Adrian Lenawee Christian)
Davis was a real difference maker for Lenawee Christian. He was a vocal leader on defense and took the ball aggressively to the rim with his left hand on offense. Davis was scrappy, drawing fouls and picking up put back buckets.
Antonio Huston (2022, F, St. Clair Shores Lake Shore)
Every coach wants at least 1 Antonio Huston on their roster. He did all the little things, from staying active on the glass on both ends to setting hard and effective screens.
John King (2023, G, University High School)
King was absolutely terrific on Saturday. The most impressive thing about him