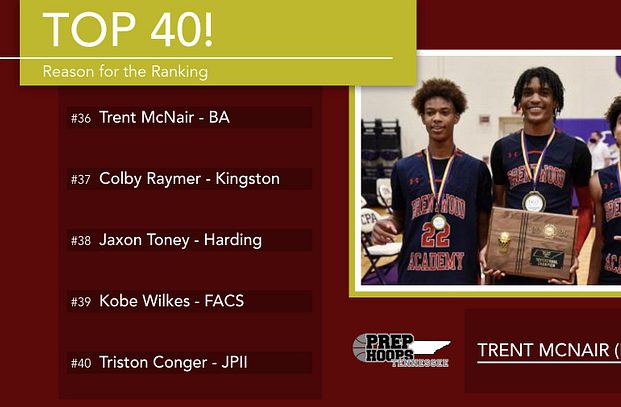 Posted On: 10/9/21 3:09 PM
This month we introduce our updated Class of 2022 rankings!! Rankings are subjective and PrepHoops.com ranks purely upon potential and where the player will be at their basketball peak.  Production factors in only when helping prove the potential is greater or lesser.  Why did we rank these guys?  Why are they at this spot?  Take a look at five Class of 2022 prospects and learn a little about their reputation.
Peruse the complete 2022 rankings.
Read more on the Top 5
Read more about the Top 10.
Read more about the Top 15.
Read more about the Top 20.
Read more about the Top 25.
Read more about the Top 30.
Read more about the Top 35.
Read more about the Top 40.
Read about the Top 55.

#36 Trent McNair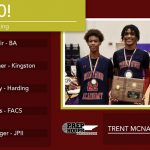 Trent McNair 6'4" | SG Brentwood Academy | 2022 State TN (Brentwood Academy)
Tall shooter. High-character.  Trent provides deep teams with a marksman and team leader. While Trent will always make his team better the shooting guard gets dinged for his modest slashing ability.  This will be an area to focus on in the short term as McNair finishes his wonderful high school career.

#37 Colby Raymer Colby Raymer PG Kingston | 2022 State TN (Kingston)
Colby Raymer Colby Raymer PG Kingston | 2022 State TN is the key returner for Kingston.  He attempted 16 free throws in the team's key win over Community Thursday night in Murfreesboro.  Raymer's handle and ability to get to the paint are special.  He needs to hulk up a little bit to be the volume scorer at the next level.  Brave.

#38 Jaxon Toney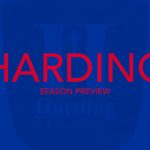 Jaxon Toney 6'7" | PF Harding Academy | 2022 State TN
Toney is a throwback point forward type.  Even though basically every player initiates offense at some point in modern basketball, just 25 years ago there was a single man who began all plays.  Rarely, almost never, a team would employ a point forward. For example, Scottie Pippen and Anthony Mason earned ooo's and aaah's for making smart passes as forwards around the arc.  Jaxon is from that same mold.  He can dribble, dish, or shoot. The opponents for Harding Academy were at times soft and smallish.  Can he threaten defenders with similar success at the next level? I believe he can.

#39 Kobe Wilkes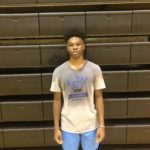 Kobe Wilkes 6'0" | PG FACS | 2022 State TN (FACS)
Quick hands. Really light on his feet. Kobe is locked in on every possession.

#40 Triston Conger (John Paul II)
Good court awareness.  Triston likes to involve his teammates and plays with the confidence of a leader.  Strong catch-and-shoot option.  If Conger is recruited to a team deep at guard, then he can play early with his ability to knock down shots.  Eventually, he is likely to take over that point guard spot with his slick handle and court vision.