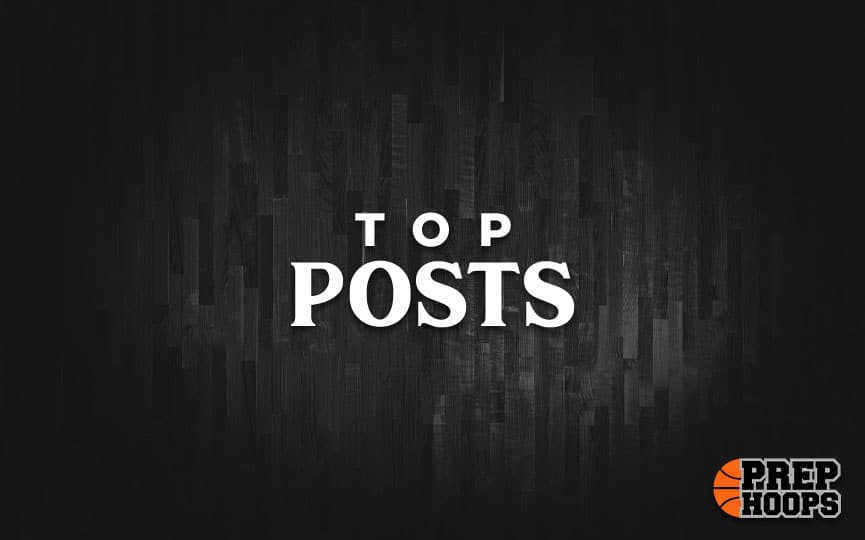 Posted On: 10/25/21 7:44 AM
Here's a look at the 2024 PF/C positions, we combined the two. In this age group many players often grow, and or develop their skill sets to play away from the basket. In this group we don't have a player taller than 6'6, but could grow into the center position.
Manasse Itete Manasse Itete 6'6" | PF Modesto Christian | 2024 State .6'6 of Modesto Christian HS.
Itete is a long armed square shouldered player with a big hands to secure the ball. He moves okay using his body, and length to score around the basket. He's a good passer who whips it out to perimeter shooters. He works well going after rebounds on both ends. He has good lower body strength, and long arms to effect shots, and make you work for points in the paint. 
Marcus Washington Marcus Washington 6'5" | PF Valley Christian | 2024 State 6'5 of Valley Christian HS.
He's strong with long arms. The lefty has a good touch around the basket, and uses the back board. He can score along the baseline, and free throw areas using strong drives, and a jumper in the paint. He has the strength, and length to get 10 rebounds a game. He'll block, and change a few shots on defense. 
Manasse Itete Manasse Itete 6'6" | PF Modesto Christian | 2024 State .6'6 of Modesto Christian HS. Itete is a long armed square shouldered player with a big hands to secure the ball. He moves okay using his body, and length to score around the basket. He's a good passer who whips it out to perimeter shooters. He works well going after rebounds on both ends. He has good lower body strength, and long arms to effect shots, and make you work for points in the paint.  Marcus Washington Marcus Washington 6'5" | PF Valley Christian | 2024 State 6'5 of Valley Christian HS. He's strong with long arms. The lefty has a good touch around the basket, and uses the back board. He can score along the baseline, and free throw areas using strong drives, and a jumper in the paint. He has the strength, and length to get 10 rebounds a game. He'll block, and change a few shots on defense.  Marcel Pierre Louise Marcel Pierre Louise 6'5" | PF Head-Royce | 2024 State of Head Royce HS Louise is one of those players who may not be in the post for long. He's improved his skill set that will allow him to operate further away from the basket. He'll use his two dribbles to get to the rim, or an improved jumper from 10 to 12ft to get points. He'll still work the post area with power, and strength to get rebounds and points, but has added more tools. He's a double-double guy. Wesley Payne Wesley Payne 6'5" | PF Central Catholic | 2024 State 6'6 of Central Catholic, Modesto, CA. Payne is a long and active player who brings some versatility the post position. He'll spend time in the  post for his high school, but has some wing skills he can use to be an effective player. He's a good court runner filling lanes, and hustling back on defense. He scores in and around the post, and can hit the jump shot. He's a good passer. He's counted on to rebound, and defend in the post. He has good length. Jaden Washington Jaden Washington 6'5" | PF Justin Siena | 2024 State 6'5 of Justin Siena HS. A solid body prospect, who's still developing his post skills. He did show good work around the basket during the live periods against quality competition. He has a good  jumper in the paint, he did a good job securing rebounds, and initiating the break with good outlet passes.  Jaeden Hutchinson Jaeden Hutchinson 6'6" | PF Half Moon Bay | 2024 State 6'6 of Half Moon Bay HS. Hutchinson is coming along nicely. His aggressive play is showing when he gets the ball inside. He has a nice body and is using it to be more effective in the paint on both ends. Hutchinson scores using drop steps, and turn around jumpers. He's a good passer from the high post and has now started to use improved handles to take it strong off the dribble.  Jamari Widemon Jamari Widemon 6'4" | PF Berkeley | 2024 State 6'4 of Berkeley HS. Wideman is a naturally strong player. He works hard to defend and rebound. His offense is improved, but he has to continue to work on his game in that area. He's a good court runner who'll follow up misses, with strong put backs for buckets.  William Perkins William Perkins 6'5" | PF University | 2024 State 6'5 of University HS. Perkins is an improving post player, with a strong body. He can hold his own against bigger post players, and doesn't mind the physical play. He keeps himself in good position to help slow down drivers going to the basket. He's always looking to boxout, and rebound when the shot goes up. Gavin Ripp Gavin Ripp 6'6" | C Archbishop Mitty | 2024 State 6'6 of Archbishop Mitty HS. Ripp is starting to show he can play away from the basket. He's a long player that will add a few more inches and gain more balance as he goes. He's long and work hard inside going after rebounds and blocks, he gives good effort on the defensive side of the ball. His is offense is improving, he's more comfortable with the ball and is looking to get into the paint with improved handles.  Zion Wilburn Zion Wilburn 6'5" | C Pinole Valley High | 2024 State 6'6 of Pinole Valley HS. Wilburn has put himself squarely on the map with his play recently.  He turned in an eye opening performance at  a recent event. He's a transfer from Salesian Prep, and will make a new start at Pinole Valley where he'll have to be a productive player to help this team win.  More Names to Know: Isaiah Waters Isaiah Waters 6'3" | PF Gregori | 2024 State 6'3 of Gregori HS Alexander Miller Alexander Miller 6'5" | C University | 2024 State 6'5 of University HS Nolan Koch Nolan Koch 6'5" | PF Los Gatos | 2024 State 6'6 of Los Gatos HS Ethan Long Ethan Long 6'7" | C Bellarmine | 2024 State 6'6 of Bellarmine