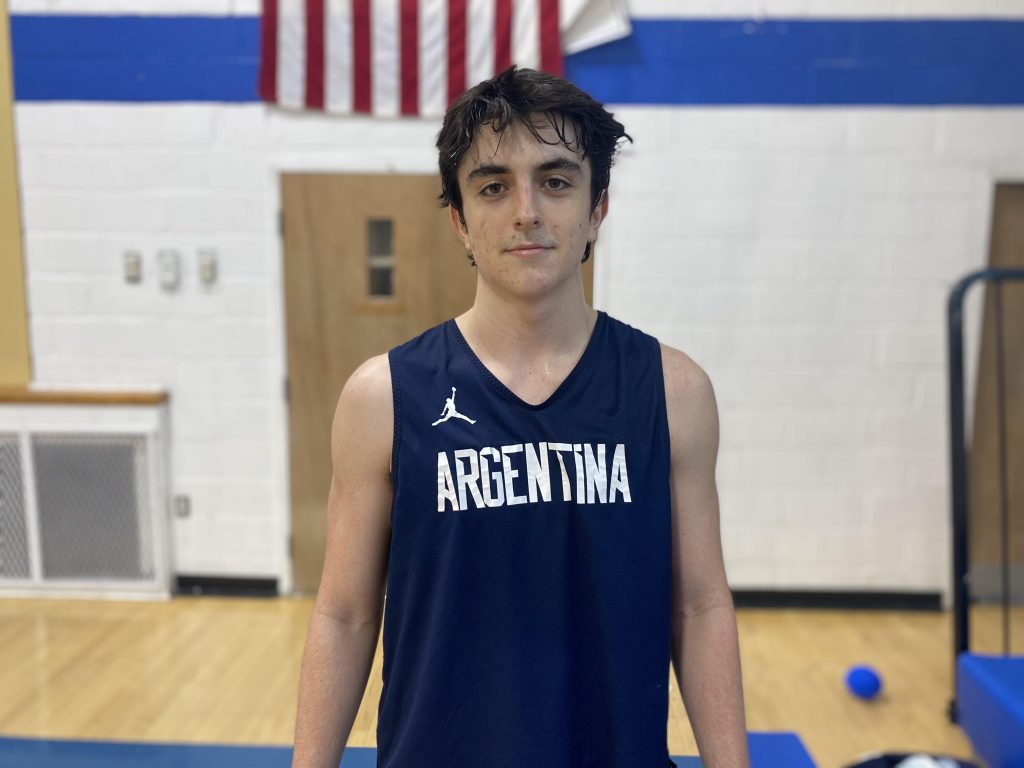 Posted On: 10/25/21 2:27 PM
Mount Carmel had a respectable run last season in the shortened schedule due to COVID. There were thoughts that they could make a push for a top 4-to-5 finish in this year's league prior to the boatload of transfers they enrolled. Now with a revamped roster and quality additions, the Cougars have the depth, skill and talent to enter themselves into the contender conversation for the BCL and MIAA titles. One of those additions is 2023 guard Drazen Sinigoj.
Sinigoj recently came over from Argentina where he built quite the resume playing for the U16 national team.
"I've been over here for over a month now and the experience has been great," Sinigoj told Prep Hoops. "I've been looking for something like this. The basketball is really good here."
I recently had the chance to watch Sinigoj in action going through drills and playing pick up with other members of the Mount Carmel roster. Whereas many players from Europe seem to look overwhelmed by the speed and physicality of the American game, Sinigoj looked ahead of schedule and fully prepared for what lies ahead of him.
"I've been learning new things here every day. The style that basketball is played over here, I like it. I like the guys that I'm playing with and I think we're going to have a great season."
Sinigoj stands at a solid 6'3-6'4 and can really shoot the basketball from beyond the arc. Whether it's standstill off the catch, coming off pin down screens or a quick stop and catch in transition, he has good pace, balance and form on his jumper. Pairing him next to 2022 point guard Deon Perry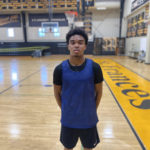 Deon Perry 5'8" | PG Mt. Carmel | 2022 State MD adds even more floor spacing where he can operate in high ball screen actions to play accordingly. 
"Deon can absorb a lot of the defense's attention so we can have a lot more space on the court. He's really a wonderful player and it's great to be on his team."
The duo should make for a talented long-range shooting combo and one that puts up plenty of points throughout the season. In terms of Sinigoj, while he isn't the most athletic player, he brings a high IQ that many European players come with. He has good feel for where the next pass should go before he even catches the ball and makes simple, fundamental passes to get it there. The speed and athleticism of players in America can always overwhelm European players at first. Expect teams to try and attack Sinigoj from the start to see if they can expose a weakness in his lateral speed, but just like on offense, he has the IQ to take angles and make heady plays when on and off the ball. 
Sinigoj will make his debut on our 2023 player rankings when the next update releases.
#FIBAU16Americas | Drazen Sinigoj (6-4 SG '05) made his debut after missing the 1st game due to protocols.

Finished with a solid all-around game: 12p (4/8 3p), 4r, 5a, 1s, 1b.

Displayed a high IQ and maturity in his game. Solid player, already experienced among seniors. pic.twitter.com/afFnpi4Njs

— Prospects Argentina (@ProspectsARG) August 25, 2021