In 49 states it is just basketball, but this is Indiana. There is no better time of year than high school basketball season in the Hoosier state. Here at Prep Hoops Indiana, our staff will set out to bring the very best coverage from throughout the state. Evansville, Gary, South Bend, Terre Haute, we will leave no corner of Indiana unturned.
Now that official practices are quickly approaching and we are just weeks away from tipping off the first game, it is time to dive head first into previewing the upcoming season. Over the coming weeks you can expect breakdowns of each class along with teams and players to watch, a look at the top Mr. Basketball and Indiana All-Star candidates, preseason team rankings, and much, much more. For even more coverage, make sure to follow our staff on Twitter: @BRamseyKSR, @kylerstaley, @HSIndianaBball, and @KrisMills37.
We began our preseason coverage in Class 1A with a look at a few of the best teams coming out of the north bracket. Now, let's turn our attention to the south. We will highlight the preseason favorite, a traditional power to keep an eye on, a sleeper team, and then name an honorable mention that we will look forward to watching this year.
Favorite: Charles A. Tindley Accelerated School
Much like Gary 21st Century to the north, Tindley has an absolute load of talent for the Class 1A level. Coach Omar Dillard returns the vast majority of his production from an 18-10 team that lost to eventual state champion Barr-Reeve in the semi-state. This team will be able to compete with the best of the best around the Indianapolis area.
6'6″ senior forward Aaron Humphrey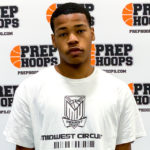 Aaron Humphrey 6'6" | PF Indianapolis Tindley | 2022 State IN was the Tigers leading scorer and rebounder last season with 14.2 points and 9.2 rebounds per game. He will be a double-double machine this year. Ranked #61 in the senior class by Prep Hoops Indiana, Humphrey is physically dominant around the basket with the footwork and agility to punish bigger defenders off of the dribble as well. He will have a pair of super athletic, talented running mates in the front court as well. 6'6″ junior Jayden Pinkston Jayden Pinkston 6'6" | PF Southport | 2023 State IN averaged 12.7 points and 5.5 rebounds as a sophomore. Pinkston can jump out of the gym and gives the Tigers a legitimate Division I prospect. 6'5″ junior Jeffery Pinkston Jeffery Pinkston 6'5" | SF Southport | 2023 State IN is back healthy and ready to contribute in a major way. The Pinkston's are ranked #13 and #31 respectively in the Class of 2023 by Prep Hoops Indiana. This trio's combination of size and talent will make them extremely hard to stop once the state tournament comes around.
Tindley won't just have size though, they have talent out on the perimeter as well. Junior guard Billy Brown Billy Brown 5'10" | PG Indianapolis Tindley | 2023 IN brings back 9.0 points per game to pace the backcourt. 5'7″ junior point guard Arlondo Hall
Arlondo Hall 5'8" | PG Tindley | 2023 IN contributed 5.9 points per game as a sophomore. Again, the overwhelming majority of minutes and points return for the Tigers off of a team that made it to semi-state. There is no reason to think that they won't return to that level and beyond in 2021-2022.
Don't Count Out: Barr-Reeve High School
It has been a heck of a three-year run at Barr-Reeve for head coach Josh Thompson. He went 26-3 before losing in the state finals in 2019, was 25-1 with the favorite to win a state title before the tournament was cancelled in 2020, and then won it all with a 29-2 record last season. So, until someone unseats the Vikings as the best program in Class 1A, it would be prudent to not count them out.
The primary reason why Barr-Reeve will still be a major contender this season is the return of Junior All-Star selection Hagen Knepp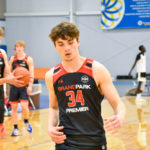 Hagen Knepp 6'4" | SF Barr-Reeve | 2022 State IN . The 6'4″ wing averaged 11.7 points per game last season and will be the Vikings leading returning scorer and rebounder. Knepp is ranked as the #49 prospect in the Class of 2022 by Prep Hoops Indiana with a ton of small college interest. Without the interior presence of Curt Hopf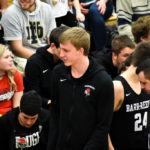 Curt Hopf 6'8" | PF Barr-Reeve | 2021 State IN or the distribution of Brycen Graber Brycen Graber 6'1" | PG Barr-Reeve | 2021 State IN , Knepp will be called upon to create his own shot much more this season.
Assisting Knepp in filling in the holes created by graduating six seniors will be senior guard Kayden Graber. He is the the only other primary rotation player returning for the Vikings. If Barr-Reeve is going to even make it out of the loaded Sectional 63 they will need more pieces to step up this season. Still, you have to imagine that Coach Thompson and company will not go away quietly after posting an 80-6 record over the prior three seasons.
Sleeper: Indianapolis Metropolitan High School
To put it simply, the Pumas return three all-conference performers while adding a transfer that will likely be their best player. That is a really solid starting point for picking a sleeper contender in Class 1A. Coach Lee Jackson enters his sixth season at Indianapolis Metropolitan with a record of 62-63 including a sectional title back in 2019. This group should be the favorite to come out of Sectional 58 and could make some noise beyond that with their athleticism and quick-strike offensive ability.
Leading the way for the Pumas this season will be Pike transfer Omari Ferguson Omari Ferguson 6'3" | SG Indianapolis Metropolitan | 2023 IN . The 6'3″ senior left-handed guard is one of the most explosive athletes in the state and should score a ton of points this winter. Ferguson was a valuable contributor at Pike last season averaging 7.3 points per game as a junior. He will pace what should be a high powered offense and talented backcourt for Indy Met.
Along with the addition of Ferguson, the Pumas bring back 5'11″ senior guard Derek Anderson who was named First Team All-GIAC last season. 6'10″ junior center David Meriweather earned Second Team honors, while 6'2″ senior forward Quincy Stamps was honorable mention. The mixture of perimeter and interior talent will make Indy Met very difficult to defend on any given night. 
Honorable Mention: North Daviess High School
Sectional 63 has been the Class 1A version of Section 10 for several years now. Both North Daviess and Loogootee have been knocking on the door of Barr-Reeve as perennial Top 10 teams in the class that can't survive their sectional. However, due to a lot of graduation at Barr-Reeve, the door may be opening for a new contender. Loogootee will certainly take their shot, but we believe that North Daviess has the best chance to unseat the Vikings and make a deep run in the state tournament.
Junior guard Jaylen Mullen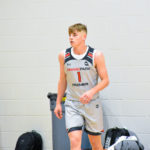 Jaylen Mullen 6'0" | PG North Daviess | 2023 State IN is one of the best players in the area and has been a major contributor for the Cougars since his freshman season. The 6'0″ Mullen averaged 14.2 points and 4.7 assists per game last season while knocking down nearly half of his three-point attempts. His ability to score the basketball will give North Daviess the firepower necessary to compete with just about anyone in Class 1A. Additionally, the Cougars have junior twins Lance and Logan Wilson that provide athleticism and shooting ability to the lineup. Both were honorable mention All-Area selections last year.
Coming off of a 19-4 season, the Cougars are hungry for more. Back-to-back seasons have ended with a first round sectional exit to Barr-Reeve. It was a two point game last year and a six point spread two seasons ago. It is time for North Daviess to get over the hump, and Jaylen Mullen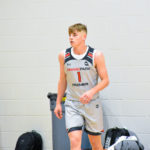 Jaylen Mullen 6'0" | PG North Daviess | 2023 State IN will try to do just that come March.