In 49 states it is just basketball, but this is Indiana. There is no better time of year than high school basketball season in the Hoosier state. Here at Prep Hoops Indiana, our staff will set out to bring the very best coverage from throughout the state. Evansville, Gary, South Bend, Terre Haute, we will leave no corner of Indiana unturned.
Now that official practices are quickly approaching and we are just weeks away from tipping off the first game, it is time to dive head first into previewing the upcoming season. Over the coming weeks you can expect breakdowns of each class along with teams and players to watch, a look at the top Mr. Basketball and Indiana All-Star candidates, preseason team rankings, and much, much more. For even more coverage, make sure to follow our staff on Twitter: @BRamseyKSR, @kylerstaley, @HSIndianaBball, and @KrisMills37.
Let's begin our preseason coverage in Class 1A with a look at a few of the best teams coming out of the north bracket. We will highlight the preseason favorite, a traditional power to keep an eye on, a sleeper team, and then name an honorable mention that we will look forward to watching this year.
Favorite: Gary 21st Century Charter
Don't be fooled by their 7-14 record a year ago. The Cougars play what is essentially a Class 4A schedule, return two dynamic scorers from last season, and added one of the top backcourt prospects in the state in Ashton Williamson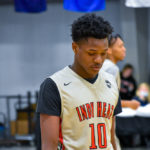 Ashton Williamson 6'2" | PG Gary 21st Century | 2023 State #287 Nation IN . Gary 21st Century is without a doubt one of the two most talented Class 1A teams in the state of Indiana this season.
6'4″ junior guard Quintin Floyd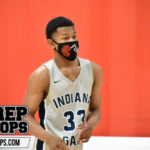 Quintin Floyd 6'4" | SG Gary 21st Century | 2023 State IN brings back a team-leading 21.6 points per game. His length and athleticism on the perimeter makes him very difficult to stop. His running mate in the backcourt is 6'3″ junior guard D.J. Moss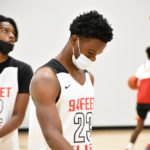 D.J. Moss 6'4" | SF Gary 21st Century | 2023 State IN . The left-handed physical wing averaged 17.7 points per game and provided an outside shooting presence for the Cougars. However, for as good as Floyd and Moss are, it is the addition of Ashton Williamson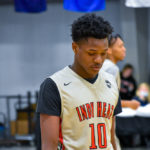 Ashton Williamson 6'2" | PG Gary 21st Century | 2023 State #287 Nation IN that catapults Gary 21st Century to the top of the Class 1A North.
Williamson is a 6'2″ dynamic guard that is ranked as the #10 prospect in the Class of 2023 by Prep Hoops Indiana. He is a legitimate Division I prospect with a lot of interest coming his way that should only increase as the season begins. Playing alongside Floyd and Moss, who are ranked 49th and 58th respectively in the class by Prep Hoops Indiana, Gary 21st Century will have one of the most dynamic backcourts in northern Indiana. Not just in Class 1A, but the entire region period.
6'8″ senior big man Eric Price Jr. will provide the interior presence while sophomore guard Lamontae Cross Lamontae Cross 5'10" | PG Bowman Academy | 2024 State IN provides depth in the backcourt. All of that talent pretty easily adds up to being the favorite to come out of the northern bracket in Class 1A.
Don't Count Out: Liberty Christian School
After winning the Class 1A state championship in 2016, it has been since the 2017 season that Liberty Christian has won a sectional. The Lions went 16-9 last season before losing to Cowan by two points in the sectional championship. They lost just two rotation pieces to graduation, but leading scorer Christian Nunn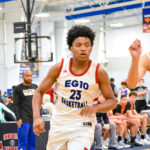 Christian Nunn 6'4" | SF Crispus Attucks | 2022 State IN transferred to Crispus Attucks for his senior year. Nunn averaged 22.5 points and 7.2 rebounds per game as a junior. That is obviously a lot of production to replace, but you shouldn't count the Lions out.
There is still plenty of returning firepower for Coach Jason Chappell. 6'7″ senior big man Adonis House Adonis House 6'7" | PF Liberty Christian | 2022 State IN will be a double-double machine this season after averaging 10 points and 6.8 rebounds per game a season ago. House had a great summer and is more than ready to take on a big portion of the production lost by Nunn's transfer. He will be one of the best forwards in Class 1A. Ranked as the #92 prospect in the Class of 2022 by Prep Hoops Indiana.
While House holds things down around the rim, the Lions have a pair of guards on the perimeter that can really score the basketball. 6'1″ junior guard Eric Troutman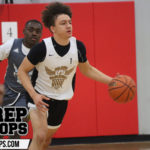 Eric Troutman 6'1" | PG Liberty Christian | 2023 State IN , ranked #98 in the Class of 2023 by Prep Hoops Indiana, averaged 8.3 points, 3.6 rebounds, and a team-leading 3.1 assists per game. He will be the primary ball handler that runs the show this season. 6'1″ senior guard Zack Jeffers Zack Jeffers 6'1" | PG Liberty Christian | 2022 State IN will provide some floor spacing for Troutman and House. Jeffers is an elite shooter that came in at just under 40% from deep last season and contributed 7.6 points per game. His scoring should really take a leap this season to help make up for the lost production of Nunn.
The Lions will be relying heavily on these three players to step up this season, but they should be up to the task. Liberty Christian should win their first sectional since 2017 and could surprise some people by advancing even further in the state tournament.
Sleeper: Covington High School
Similarly to Liberty Christian, Covington is going to have to replace 22.5 points per game due to the graduation of Logan Pinkerton Logan Pinkerton 5'8" | SG Covington | 2021 State IN . However, the Trojans bring everyone else back from last year's 11-7 team. They were knocked out by Lafayette Central Catholic in the sectional. LCC returns their two leading scorers, but lost two key starters. It'll be another battle there in Sectional 54, but Covington definitely could surprise some people this season.
6'6″ senior forward Savion Waddell should have a breakout senior season. He is more than ready to step up and cover the graduating production of Pinkerton. Waddell is long and athletic, averaging 12.6 points and a team-leading 7.4 rebounds per game as a junior. Look for him to be one of the better players in the area this season and a key to potentially making some noise in the state tournament.
Along with Waddell, 6'0″ senior Alan Karrfalt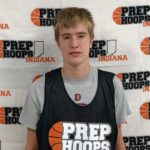 Alan Karrfalt 5'10" | PG Covington | 2022 IN is back as one of the top defenders in the area. Karrfalt earned all-conference honors after averaging 8.6 points, 3.4 rebounds, 4.1 assists, and 3.6 steals per game. He is a stat sheet stuffer that will run the show for the Trojans as their point guard. Junior Duncan Keller (4.9 points per game), senior Calvin Springer (4.1 points), and senior Nathan Ellmore (3.7 points) all were important rotation pieces last season as well.
Graduating a player like Logan Pinkerton Logan Pinkerton 5'8" | SG Covington | 2021 State IN is never easy, but returning five of your top six pieces certainly helps to soften the blow. Savion Waddell is ready to take over that "star" role and the Trojans have several pieces that provide toughness and continuity from last year's team. Look out for Covington to win Sectional 54.
Honorable Mention: Triton High School
Triton will be a senior laden group returning from a 20-6 season that ended in the regional final. Ashton Oviedo
Ashton Oviedo 5'10" | PG Triton | 2022 IN and Tyson Yates will be one of the better backcourt duos in the area while 6'4″ transfer Caden Graham will help provide some size and offensive firepower. Head Coach Jason Groves and the Trojans are used to winning and they should experience plenty of success this season. Definitely one of the top teams in the Class 1A North heading into this season.