The annual Prep Hoops Indiana Freshman Showcase took place last weekend at the Boys & Girls Club in Noblesville. The event featured over 150 of the best prospects in the Class of 2025. It was a great opportunity to see several players as they head into their first season of high school basketball. Here, we take a look at Team 16: 
Preston Comer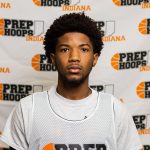 Preston Comer 6'4" | SF Fort Wayne Wayne | 2025 State IN (Bishop Luers 2025)
Comer (6'4) is a high-energy wing prospect who explodes off the floor. He had an impressive tip slam in one of the games. He also showed a smooth stroke with range that extended to the 3-point line (six threes in three games). Defensively, he was able to guard multiple positions, including taller wings and smaller guards, and was very active on the boards (11 rebounds in three games). He is a prospect I will definitely be keeping me eye on. 
Rylan Crocker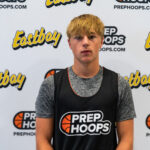 Rylan Crocker 5'11" | SG Orleans | 2025 IN (Orleans 2025)
Crocker has good length for a guard his size (5'8). He has a quick release on his jump shot and is able to rise over defenders on midrange attempts. He was crafty on drives to the basket and seemed to be involved and engaged at all times. He also defended at a high level and had multiple deflections in the games I saw him play. 
Carson Gould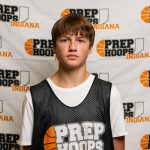 Carson Gould 5'10" | PG Warsaw | 2025 IN (Warsaw 2025)
Gould (5'9) used his quickness to get to the basket; he was one of the few players I saw that stayed low and ripped through the defense. Although he is a smaller guard, he showed the ability to finish through contact and kept his eyes on the rim. He has great form on his jump shot and was ready to catch and shoot the basketball. 
Miles Quiring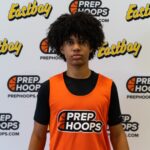 Miles Quiring 6'1" | SG Ben Davis | 2025 IN (Ben Davis 2025)
Quiring (5'10) is a shifty guard with a strong body. He was able to get in the paint with a quick first step and had a tough floater drop in one game. He caused problems in transition with his speed and was able to make plays for himself and teammates.  I liked his composure more than anything. He played at his pace. 
Eric Hopson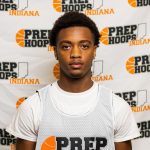 Eric Hopson 6'0" | SG Decatur Central | 2025 State IN (Decatur Central 2025)
It seemed like Hopson (5'11) never ran out of energy. He was extremely active at both ends and was a tough cover in transition. He made four threes during the event (three games), was able to get to the rim whenever he wanted and made two midrange jumpers in one game, rising over the defense for easy looks. Defensively, he showed quick hands, which led to steals and deflections. 
Dezmon Briscoe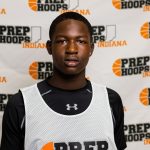 Dezmon Briscoe 6'7" | C Crispus Attucks | 2025 State IN (Crispus Attucks 2025)
Briscoe (6'6) is a lanky post prospect who has a strong lower body. He was disruptive defensively with multiple blocks in the second set of games, showing great timing on his jumps. Although he was not aggressive offensively, he did show soft touch around basket. He also looked comfortable handling the ball on the perimeter with both hands. I really like his potential. 
Zander McHenry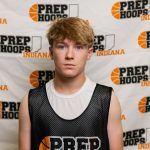 Zander McHenry 5'9" | PG Connersville | 2025 IN (Connersville 2025)
McHenry (5'8) held his own against taller and stronger players. He looked comfortable running the offense and handled the ball well with both hands against pressure. He was unselfish with the ball and showed a quick release on his jump shot. He also played scrappy defense and looked to crash the boards. 
Derrick Tharpe Jr.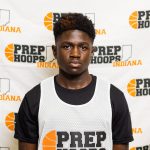 Derrick Tharpe Jr. 5'9" | PG Hammond Morton | 2025 IN (Hammond Morton 2025)
Tharpe (5'9) was hard to stop in transition with his speed and various finishing moves. He was able to get in the paint and find open shooters on the wings with sharp passes. With his quick feet and length, Tharpe could be a really special defender as he continues to grow and add muscle. He was one of the few players I saw who actually put effort into every close out. 
Brandon Williams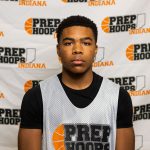 Brandon Williams 6'0" | SG South Bend Riley | 2025 State IN (South Bend Riley 2025)
Williams (5'11) was the best on-the-ball defender I saw at the event; he was aggressive, physical and showed excellent lateral quickness. Williams was also unselfish offensively and was able to get to the basket with little effort. He shot the ball well from distance (four threes in three games) and pulled up off the dribble with good rhythm. 
Chris Arvanitis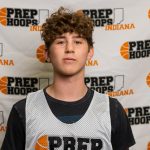 Chris Arvanitis 6'2" | SF Plainfield | 2025 IN (Plainfield 2025)
Arvanitis (6'2) has a well-rounded skillset and was one of the best passers I saw at the event, especially in transition. Offensively, he made shots from distance (four in three games) and showed a step-back midrange shot. Defensively, he stayed low when guarding the ball and was able to keep his frame in front of his man.