Prep Hoops Indiana hosted our annual Freshman Showcase on Saturday featuring over 150 of the best prospects in the Class of 2025. This was a great opportunity to see a bunch of guys as they head into their first season of high school basketball. Here, we take a look and evaluate the players that made up Team 1.
#1 Tre E. Wainwright III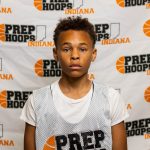 Tre E. Wainwright III 5'8" | PG Andrean | 2025 IN (Andrean H.S. 2025)- Small point guard that set the table well for his teammates throughout the day on Saturday. At just 5'5″ he has some growing to do as he physically matures, but the skill level is there right now. Wainwright displays good court vision, is a good passer, and has the ability to penetrate the defense.
#8 Aidan Colwell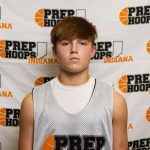 Aidan Colwell 5'8" | PG Center Grove | 2025 IN (Center Grove H.S. 2025)- Skilled guard that showed off his scoring ability both beyond the arc and attacking the basket and the Freshman Showcase. The 5'8″ Colwell knocked in shots from three-point range and had an impressive floater against size in the paint.
#50 Renn Harper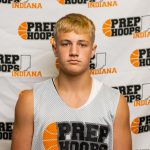 Renn Harper 5'11" | SG Parke Heritage | 2025 IN (Parke Heritage H.S. 2025)- Harper has a strong, athletic frame with good skill level on the offensive end. A 5'11″ guard, Harper attacked closeouts consistently and showed the ability to find in multiple ways as he gets into the paint. Good looking mid-range jump shot.
#51 Khalyn Williams-Thomas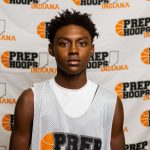 Khalyn Williams-Thomas 5'11" | PG Concordia Lutheran | 2025 State IN (Fort Wayne Concordia H.S. 2025)- Athletic 5'11″ with long arms and a knack for attacking the basket off of the dribble. Williams-Thomas looked comfortable throughout the showcasing pushing the ball hard in transition and leading the fast break. One to keep an eye on in the Fort Wayne area over the next four years.
#66 Julius Gizzi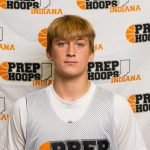 Julius Gizzi 6'3" | SG New Palestine | 2025 State IN (New Palestine H.S. 2025)- Gizzi is a super-skilled 6'0″ guard that looked dominant on the offensive end at times on Saturday. The New Palestine product scored it from all three levels with an impressive looking jump shot and the strength to get to the basket and finish inside. Very adept mid-range scorer at this point in his progression. Gizzi will score a lot of point in his high school career.
#84 Ethan Edwards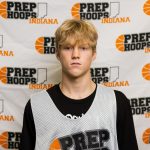 Ethan Edwards 6'3" | SG Whiteland | 2025 State IN (Whiteland H.S. 2025)- A 6'1″ guard out of Whiteland that can really shoot the basketball. Edwards has a repeatable release, solid footwork, and a good shooting stroke from beyond the arc. Along with his shooting ability, Edwards also attacked closeouts and showed the ability to finish inside. 
#106 Devion Penny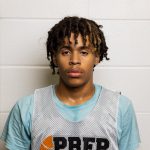 Devion Penny 6'2" | SG Lafeyette Jefferson | 2025 IN (Lafayette Jefferson H.S. 2025)- Penny didn't get to participate a lot on Saturday due to an ankle injury, but in the game I did see him participate in he quickly showed his talent level. An athletic, 6'2″ guard Penny can make all of the plays off of the dribble. Excellent in transition. He has a tight handle and can get to the basket off of the bounce whenever he wants. Nice prospect.
#107 Jack McKinsey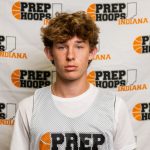 Jack McKinsey 6'3" | SG Greensburg | 2025 State IN (Greensburg H.S. 2025)- This was a prospect that really jumped out with how well he played at the Freshman Showcase on Saturday. McKinsey is a 6'2″ guard out of Greensburg with a strong, athletic frame. He consistently finished around the basket, showed the ability to go coast-to-coast in transition, and proved to be a good rebounder from the guard spot. Should be an impact freshman to watch this winter.
#147 Cannon Case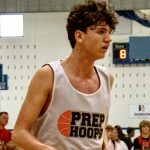 Cannon Case 6'5" | SF Shenandoah | 2025 IN (Pendleton Heights H.S. 2025)- You can't teach 6'5″ especially for a prospect in the freshman class. Case uses his length and size around the basket to effect the game on the defensive end of the floor. Blocked multiple shots throughout the day. Intriguing big man prospect in Indiana's Class of 2025.
#148 Hunter Sisson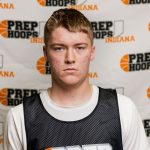 Hunter Sisson 6'6" | C Benton Central | 2025 IN (Benton Central H.S. 2025)- 6'5″ skilled big man that can stretch the defense out to three-point range offensively. Sisson is a good three-point shooter which really helps to open up things offensively. Good hands around the basket with a soft touch as well. Should have a chance to make a varsity contribution during his freshman season.