Breaking down the top individual performers in the class of 2022 from the Prep Hoops Top250 Expo at Community First Champions Athletic Center in Appleton…
Aidan Blackmon
Aidan Blackmon 6'0" | PG Wauwatosa East | 2022 WI – 2022 – G – Wauwatosa East
One of the biggest surprises on Saturday, Blackmon was a handful of opposing defenses. An unranked prospect, Blackmon was carrying his team throughout the day.  Blackmon goes to work really well in the pick n' roll. He's very smooth, plays with hesitation and change of pace, and  does a great job of going shoulder-to-shoulder with the screener, putting the help defender in an impossible situation.  The lefty just toys with bigs who get caught up in a switch, selling the drive to the rim and hitting them with a mid-range pull-up.  In transition, Blackmon's eyes will lie to defenders. He can look one way and deliver a dime in the opposite direction. With Tosa East reloading after their state championship last season, eager to see if Blackmon helps fill some huge voids left behind.
2022 guard Aidan Blackmon Aidan Blackmon 6'0" | PG Wauwatosa East | 2022 WI showed off his silky smooth game at #PHTop250.@a1dan_blackm0n pic.twitter.com/dhd0iUxHSP

— Prep Hoops Wisconsin (@PrepHoops_WI) September 20, 2021
Kenny Garth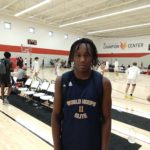 Kenny Garth 6'2" | CG Westosha Central | 2022 State WI – 2022 – G – Westosha Central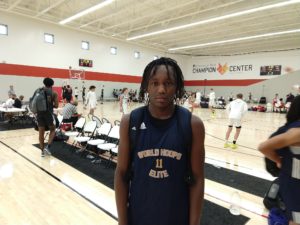 Think Garth is still a sneaky good prospect in this class. The 6-foot-2 guard is long, athletic, plays with a high motor, and brings a lot of different things to the table. Garth has always been engaged and actively defensively, With his measurables, Garth can be quite disruptive on that end of the floor. The lefty is a terrific pull-up jump shooter and is nearly automatic when he can step into his shot. He can do some intriguing things down on the block as well and knock down off-balance or fade away shots. Garth is able to play off the ball and shoot on the move. When there's a crease, Garth can knife in the gaps and do some things above the rim as well.
Asanjai Hunter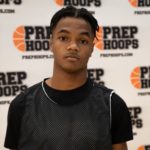 Asanjai Hunter 5'11" | PG The Prairie School | 2022 State WI – 2022 – G –  The Prairie School
There's not many prospects who turn defense into offense better than Hunter. The Prairie School standout has great instincts and anticipation on the defensive end of the floor. He's always getting his hands on the basketball as a help-side defender. Once he's out on the break, Hunter is a very, very good finisher against contact. He's not an above the rim guy, but knows how to hang and adjust his shot mid-air.  At 5-foot-10 and not really a point guard or someone who's going to create shots in the halfcourt, on or off the ball, it's tough to say how good of a prospect Hunter is as he's quite unconventional. However, having seen him in a variety of settings over the past few years, one thing is clear, he makes his teams better.
Massimo Malterer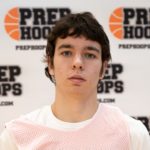 Massimo Malterer 6'0" | CG Madison East | 2022 State WI –  2022 – G – Madison East
Needed a reminder of how good this kid is after the Purgolders didn't have a season in 2021-22.  Malterer just makes getting to the rim look so easy. He's not blowing anybody away with athletic ability, but for some reason, Malterer just lives around the bucket. Malterer is very crafty with his footwork and has an excellent euro-step. Some added length allows him to finish over people as well. When  he wasn't able to get all the way to the cup,  Malterer countered with an excellent fade away jumper. In all three of his games, Malterer scored at least 26 points.
Arguably nobody had a bigger #PHTop250 than 2022 guard Massimo Malterer Massimo Malterer 6'0" | CG Madison East | 2022 State WI .

The Madison East product scored 26 points or more in all three out of his games.@Massi_malterer @PHTop250Expo pic.twitter.com/G5zhLaRtIa

— Prep Hoops Wisconsin (@PrepHoops_WI) September 20, 2021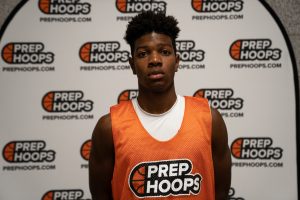 Grant Martin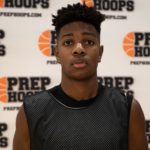 Grant Martin 6'0" | CG Menomonee Falls | 2022 State WI – 2022 – SG – Menomonee Falls
Martin usually plays pretty well at these and Saturday was no exception. A potential good find at the small school level, Martin flies under the radar during the high school season, playing next to two Division 1 prospects. He's quietly been one of the best shooters in the state over the last few seasons. Martin has worked really hard to round out his game as well. He'll make most of his hay from beyond the arc, but the 5-foot-11 guard is capable of attacking the rim on occasion with his tight handles and low center of gravity.   He's always been a better player than what his ranking might suggest as he's an undersized shooting guard.  Appreciate the chip Martin continues to keep on his shoulder though and feels the need to prove himself when he steps on the floor against top competition. 
John Pitta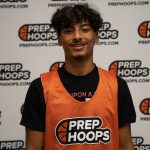 John Pitta 6'0" | CG Whitnall | 2022 State WI – 2022 – G – Whitnall
Pitta is an explosive offensive weapon that just doesn't have an off switch. The Whitnall guard has a lot of tools as a scorer and a shot creator.  He's always been very good in transition, able to get coast-to-coast with the basketball, but looked  very strong as a mid-range shooter on Saturday. Pitta does a great job of getting into defenders,  creating space via a step-back, and rising over the top. A hard worker, Pitta is one of those prospects that gets the most out of his talent and clearly loves the game.
Grant Martin Grant Martin 6'0" | CG Menomonee Falls | 2022 State WI = SPLASH@grantxmartin #PHTop250 pic.twitter.com/GnxCnnrN14

— Prep Hoops Wisconsin (@PrepHoops_WI) September 20, 2021
John Pitta John Pitta 6'0" | CG Whitnall | 2022 State WI can score that rock.#PHTop250 @pitta_john pic.twitter.com/jRJ3THl391

— Prep Hoops Wisconsin (@PrepHoops_WI) September 20, 2021
Kalerick Terrell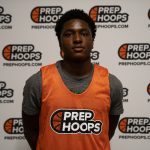 Kalerick Terrell 5'8" | PG Germantown | 2022 WI – 2022 – PG – Germantown
Maybe the biggest surprise of the day, Terrell was putting on a show.  An unranked prospect, Terrell averaged just 1.2 points per game last season for Germantown.  Terrell was just balling on Saturday, winning a big share of his isolation battles. Terrell is fast on the ball, able to break down defenders and either create a shot or drive and dish. Terrell can shoot it from the outside as well.  The 5-foot-11 guard showed some impressive range and a high-arcing shot.  With the Warhawks losing numerous key seniors from last season's squad, there's  room for Terrell to move to the forefront of this roster.
Kalerick Terrell Kalerick Terrell 5'8" | PG Germantown | 2022 WI was one of the biggest surprise performers at #PHTop250.@KalerickTerrell pic.twitter.com/SEj0SJCDXd

— Prep Hoops Wisconsin (@PrepHoops_WI) September 20, 2021
Up Next:
Monday: Class of 2023 Top Performers
Tuesday: Class of 2024 Top Performers
Wednesday: Sleeper Standouts