Before the fall showcase season begins to kick into high gear this month. Let's commence a "pre-pre" season preview by looking at individual skill sets during month of September. As we get on the other side of the showcases I'll have the more traditional (i.e frontcouts, backcourts etc) season preview. 
Editorial Note: I limited it to the class of 2022 and players I saw in person this summer. So don't worry Kareem Rozier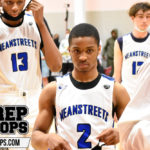 Kareem Rozier 5'9" | PG Orchard Lake St. Mary's | 2022 State MI and RJ Taylor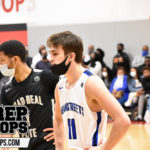 RJ Taylor 5'11" | PG Grand Blanc | 2023 State #262 Nation MI fans— the coverage will come shortly 
Mekhi Ellison Mekhi Ellison 5'11" | PG Flint Carman-Ainsworth | 2021 State MI 5-11 Flint Carman Ainsworth Really has it all as far as a ball handler. Speed, power, and sudden change of direction. Also helps that he is virtually ambidextrous. Just as good going to either the right or left. Not the biggest prospect but makes up for it with guile and a efficient floater. Standout tournament was the Brawl for the Ball in Fort Wayne. Along with Beecher's Carmelo Harris Carmelo Harris 6'0" | CG Flint Beecher | 2022 State MI led Flint's Finest to undefeated mark and the overall championship. Point guard play runs in the family and he plays like a kid who grew up in a gym. 
Juwan Maxey Juwan Maxey 6'3" | CG Detroit Renaissance | 2022 State MI 6-0 Detroit Renaissance Speed is the name of the game with this prospect. Accelerates quickly with the ability to stop on a dime. Does this blur routine while maintaining a tight and controlled handle. As you would expect the speed and handle really pop when out in transition. After the sudden stop often uses a quick behind the back dribble to set up a pull up jumper. Played well with Bates Fundamentals Red throughout the entire spring and summer.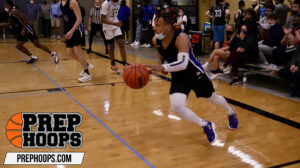 Ashton Atwater Ashton Atwater 6'0" | CG Otsego | 2022 State MI 6-0 Otsego Strongest ball handler on this list. Has a sturdy frame and absolutely pounds the ball to the floor. This accords a high level of control that's makes him hard to turnover. Consummate floor general whose first and second options are finding open teammates. Like Ellison, also has guard play in his blood and excels penetrating from both the left and right. Had a good summer for MBA National. 
Luke Davis Luke Davis 6'1" | PG Pennfield | 2022 State MI 6-1 Battle Creek Pennfield  Tallest player on this list. Davis is an excellent penetrator and a pass first point guard. Has an explosive crossover and is crafty in how he uses it. Not a overwhelming  finisher at the rim but excels in long kick outs for open threes. Highly competitive and accomplished player who followed up his Division 2 state final appearance with a big AAU season for United Persuit. Not just a leader on the hardwood. Has posted some eye popping early statistics as the quarterback for the always stout Pennfield football squad. 
Scott Sims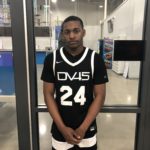 Scott Sims 5'10" | PG Kalamazoo Central | 2022 State MI 5-11 Kalamazoo Central (pictured at top of article) Out of all these ball handling wizards. Sims is probably the best operator in pick and roll situations. After bouncing around a bit at the beginning of the grassroots season. Sims settled in nicely with DV45 on the Prep Hoops Circuit. He excelled at finding teammates rolling to the basket. This allowed Gerald Crawford III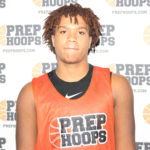 Gerald Crawford III 6'6" | PF Kalamazoo Central | 2021 State MI and Nick Ellis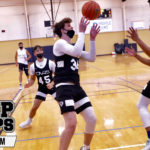 Nick Ellis 6'7" | PF Grand Ledge | 2022 State MI to have breakout campaigns. Good athlete who uses his handle to easily get to his spots both in transition and the half court. Fearless going to the basket and has the ability to finish above the rim at 5-11.