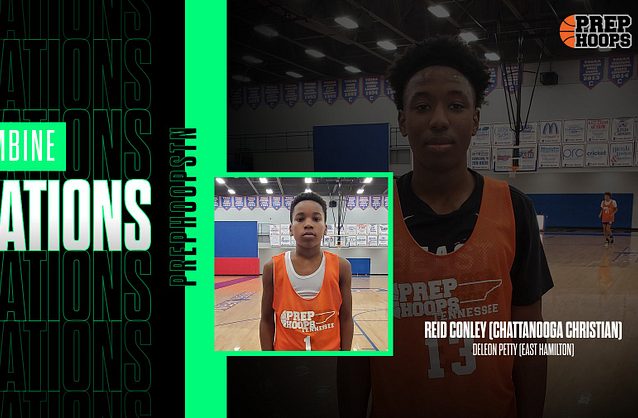 Posted On: 09/28/21 8:48 PM
The annual @PrepHoopsTN Summer Combine featured nearly 50 aspiring college prospects.  For the rest of September we will be featuring the campers with evaluations and measurements from the day.
DeLeon Petty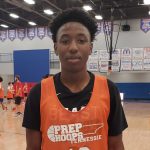 DeLeon Petty 6'0" | PG East Hamilton | 2022 State TN | 6'0" PG | East Hamilton
How did he measure against the competition?
Class of 2022
6'0″
PrepHoopsTN Combine All-Star
Wingspan — 5'11.25″
Standing Reach — 7'8″
Height w/ shoes — 6'0″
Hand Span — 8.0″
Hand Length — 7.0″
3/4 Court Sprint — 3.58, 3.50
Lane Agility — 13.48, 12.80
Camp Ranking — #15
State Ranking – #101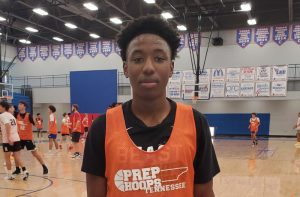 NBA Stylistic Comparison: 2019 Kings De'Aaron Fox
College Projection: NAIA-
A strength is change of direction and change of pace.  The Lane Agility time was ok, with the 12.80, but still looks quite a bit slower than Petty's game typically suggests.  For frame of reference, 12.80 was around 25th out of 48 combine participants and Petty was one of the older, and most physically mature prospects in the building.  In other words, as a guard who relies upon quickness, Petty should be fighting for the best Lane Agility time in a combine setting such as this.  When the '22 guard stepped onto the court in a basketball capacity he certainly was one of the quickest players in the gym.  
Transferred from Ooltewah to East Hamilton High School this off-season.
He is ready for tougher, more physical practice opponents. Petty is outgoing and personable. Mature. 
Ready to compete any day. Wants to be involved in every play.  Petty needs touches to come to life. 
Poor defensive discipline.  Can get caught gambling or lunging quite often.
Quicker than most combine attendees.  Quick feet.  The burst is better than most. Petty created problems with the feet.
Needs to prove he can score consistently against college-bound players in order to become a college prospect.
Reid Conley Reid Conley 5'6" | PG Chattanooga Christian | 2026 TN | 5'6" PG | Chattanooga Christian
How did he measure against the competition?
NBA Stylistic Comparison: 2019 Raptors Fred VanVleet
Reid Conley Reid Conley 5'6" | PG Chattanooga Christian | 2026 TN moves well off the ball.  Understands floor spacing. Not explosive at this early point. Conley is extremely light on his feet.  Needs more upper body strength. Plays with an uncommon hunger. 
Reid and his family knew he would be the youngest and smallest participant at this event.  Still, he embraced the challenge and demonstrated an elevated basketball maturity for his age.  There was little chance he was going to absorb contact and finish in the paint against 17 year old men, but Conley did what he could do well.  At this point Conley is skilled and aware offensively.  He can dribble and score when given time. 
Working on the controllables are vital to his basketball future.  Integrate pull-up jumpers.  Finish with the left hand.  Focus on transition defense.  These are all things every young player can improve.   
Conley is in a strong, advantageous place for a '26 prospect.
Follow @AndrewForce8 and @PrepHoopsTN for the latest.