Breaking down some 2024 standouts from Saturday's Top 250 Expo at the Boys & Girls Club of Noblesville. 
Lyna Brooks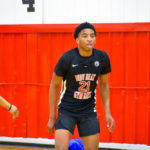 Lyna Brooks 6'4" | SG Arthur Hill | 2024 MI (Franklin Central 2024)
After seeing him play for the first time at the Top 250 Expo, it is easy to see why Brooks is the No. 2 prospect in our 2024 rankings. He makes difficult plays look easy and has a polished skillset for a sophomore. Brooks (6'4) was able to create looks for himself or teammates in transition. I like his confidence, as well, as he was not afraid to control the offense when needed. Brooks can score at all three levels and has range that extends beyond the 3-point line. He is a player who can cause problems defensively with his length, instincts and quick feet. 
Easy dunk for Franklin Central 2024 G Lyna Brooks @lyna_brooks. Like his length and skillset, playmaker in transition. Confident player. #PHTop250 | @PrepHoopsIN pic.twitter.com/db0jdwfQKL

— Kris Mills (@KrisMills37) September 25, 2021
Christian Woodson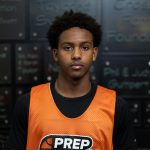 Christian Woodson 5'10" | PG North Central | 2024 State IN (North Central 2024)
Woodson was one of the best 3-point shooters I saw Saturday. He has a smooth and consistent jump shot. I like his poise, as well, as Woodson was under control at all times during the event. When defenders rushed to him on the perimeter, he showed the ability to get to the basket and finish through contact. Defensively, with his strong core, Woodson (5'10) was able to stay in front of opposing ball handlers. Unselfish player but was not afraid to score when the opportunity presented itself.
Cole Duncan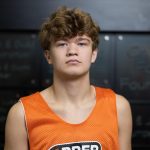 Cole Duncan 6'8" | C Cowan | 2024 IN (Cowan 2024)
At 6'7, Duncan is a long and lanky prospect who showed nice touch around the basket during the event. He was able to get to his spots and showed zero hesitation when looking to score (see video below). He was aggressive on the boards (quick first jump) and could become a monster offensive rebounder if he continues to fill out. Looks like he may grow another 2-3 inches. I think he is a player who could step out and defend a smaller guard or wing — if needed. 
I've seen a lot of talent today in the 2024 class. Cowan 6'7 F Cole Duncan @ColeDuncan05 is one example. He shows nice touch here. #PHTop250 | @PrepHoopsIN pic.twitter.com/BO4KmxjNLH

— Kris Mills (@KrisMills37) September 25, 2021
Camron Casky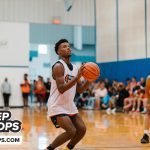 Camron Casky 6'4" Pike | 2024 IN (Pike 2024)
Casky does not look like a sophomore. At 6'4, he has a strong body and uses it to his advantage, especially when finishing on drives to the basket. I thought he was one of the most unselfish players at the event as he was able to create scoring opportunities for his teammates. Casky looks to get out and run in transition and can grab a rebound and take it the other way in a hurry. He has a chance to be an elite perimeter defender with his strength, length and competitiveness. 
Joey Schmitz
Joey Schmitz 6'2" | PG Center Grove | 2024 State IN (Center Grove 2024)
Schmitz, like Woodson, was another standout shooter from the event. He did not force shots but was able to make contested 3-pointers. High IQ player who has a nice feel for the game and sees the floor well. Can handle the ball under pressure with both hands. Defensively, Schmitz (6'1) took pride in staying in front of the guy he was guarding Saturday. He is currently at No. 20 in our 2024 rankings. 
Cannen Houser
Cannen Houser 6'4" | SG Fort Wayne Carroll | 2024 State IN (Carroll 2024)
Houser plays with a ton of confidence. He can shoot it from distance with accuracy, but I thought he was at his best when attacking the basket. He has crafty handles and looks for open teammates when the help-side defense takes away his scoring opportunity. Versatile scorer, had a nice floater drop on one play during the event. Defensively, Houser (6'3) is aggressive and uses his long arms and quick feet to cause havoc in passing lanes. 
Had a great weekend at the Prep Hoops Top 250 showcase❕@JaMalHOWELL260 @Coach_TPalmer @ZT17Hoops @PrepHoopsIN @coachabbott @ChargersHoops @BRamseyKSR @kylerstaley @baumhoops @Nick_Baumgart @HSIndianaBball @brandonp_32 @CourtsideIND pic.twitter.com/fjSlNHIcAR

— Cannen Houser (@CannenHouser) September 28, 2021