 Posted On: 09/7/21 1:57 PM
November 1st is scheduled as the start of boys basketball season in Florida. That is followed by preseason tournaments from Nov. 15th – 20th. Two days later is the official start of the regular season.
That means we are essentially two months away from action. It will come very quickly as we know.
Who are contenders this season in Broward County? Please click here for my piece on Palm Beach County.
I would like to add I will be going into more detail on some of these teams in the future. So don't fret if I left a school out.
Let's look into it.
Calvary Christian Academy: (Last season: 17-7/3A state champions)
Call them the Alabama football of South Florida right now. Calvary Christian returns numerous D-1 recruits off a team that won a state championship. A majority of their losses a season ago were to teams nationally ranked. You have to believe playing that competition will help them this season. Overall, I believe a goal for this team is to get to GEICO Nationals. I think 2023 Carl Cherenfant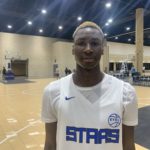 Carl Cherenfant 6'4" | CG Ft. Lauderdale Calvary Christian | 2023 State #94 Nation FL is a big difference this fall. The 6-foot-5 guard had a great postseason and a fantastic