 Posted On: 09/14/21 3:20 PM
An exciting group of players make up the initial 2024 rankings. The short list omits some small school players who made their varsity debuts as freshmen. And it leaves off some big school guys who were really impressive on the club scene. Those players will have a chance to join the list, and to move up dramatically as the 2024 class sorts itself out.
But for now, here are the players who merited ranking 17-21 in the first version of the 2024 ranking:
17 Jaxon Klein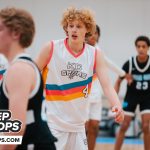 Jaxon Klein 6'5" | SF Blue Valley Northwest | 2024 State KS , 6-foot-5 small forward, Blue Valley Northwest HS:
Klein was one of the most impressive high-energy players on the club circuit this summer. He was a rim-running, hard-driving and high-flying dynamo for the KC Spurs. Klein has the length and athleticism to expect to play at the varsity level soon. The Huskies graduated some brilliant 2021s and will have holes to fill this fall.
18 Josiah Polynice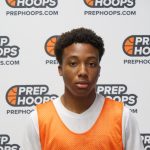 Josiah Polynice 5'11" | PG Olathe South | 2024 State KS , 6-foot point guard, Olathe South HS:
A solidly built and physically mature point guard, Polynice has a physical advantage over most guards his age. He loves to play up tempo and to get in the lane to use his size. He draws a lot of fouls and plays through contact. He sees the floor and is not just a score-first driver. He plays with smooth poise and confidence.
19 Eli Lawson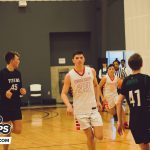 Eli Lawson 6'6" | C Bennington | 2024 State KS , 6-foot-6 center, Bennington HS:
Lawson should be considered one of the top bigs in the 2024 class, at least among the smaller schools. He was certainly one of the most productive. He was one of the top scorers among all freshmen with 12.8 points per game, and one of the top rebounders with 6.7 per outing. He showed he's capable of carrying a team when he ripped off 31 points against Marion. He's primarily a scorer from the lane, hitting 52% of his attempts. Defensively, he also contributed 1.2 steals and 1.2 blocks a game.
20 Cole Linton Cole Linton 6'0" | CG Goodland | 2024 State KS , 6-foot combo guard, Goodland HS:
Coaches who know the western section of the state praised Linton as an up-and-comer. As a ninth grader, Linton made a nice contribution across the board, averaging 8.0 points, 2.9 rebounds, 1.1 assists and 1.1 steals. Goodland loses some really good graduates, but returns a strong group of 2023s and 2024s who will step in with Linton as a leader. Linton is also a standout pitcher on the baseball diamond, making all-league as a rookie.
21 Peyton Ryan Peyton Ryan 5'9" | CG Central Plains | 2024 State KS , 5-foot-9 combo guard, Central Plains HS:
Ryan follows in the footsteps of his all-American sister and is already making a name for himself. Ryan is one of the top small-school tennis players in the state, and he will be a force on the basketball court for three more seasons. He did it all as a ninth grader for the Oilers, averaging 12.2 points, 3.3 rebounds, 1.8 assists and 1.6 steals.