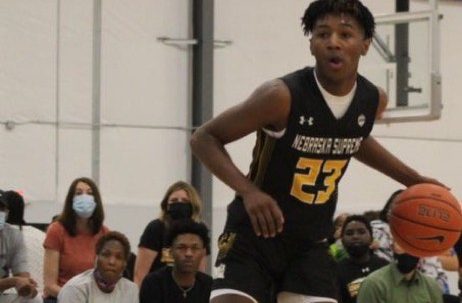 Posted On: 09/8/21 9:21 AM
Continuing our series on the updated 2023 rankings with a piece today on the new talent added to the rankings between numbers 26 and 55. A lot of great players on this list who earned a ton of stock on the spring and summer circuits and have the potential to really break out this season on the high school scene.
#26 Chris Harris Chris Harris 6'7" | SF Andover | 2023 State KS , 6'7 Wing, Andover: Another talented player on the Andover roster added to our 2023 rankings. It is a loaded group and Harris will fit right into the fold bringing with him a solid handle, ability to attack defenders, and guard at a nice level. Harris is a talented player who should have a really solid year utilizing his extremely long, athletic, and versatile skill set.
#28 Dillon Mong Dillon Mong 6'6" | SF Shawnee Mission East | 2023 State KS , 6'7 Wing, Shawnee Mission East: Mong has some shoes to fill with Townsend and Reynolds leaving, but he has the talented and versatile skill set to take the mantle. Extremely athletic and has a massive motor to go with it. Very active on both ends of the floor, has the ability to stretch the floor, can guard a variety of positions, and can