 Posted On: 08/6/21 6:15 AM
Having three experienced and talented players to work off each other is a luxury not many teams have going into next season.
Here are a few of the top trios to watch in 1A:
Cair Paravel (1A1):
Noah Hastert Noah Hastert 6'6" | C Cair Paravel | 2022 State KS , 6-foot-6 forward, 2022:
Zach Clark Zach Clark 6'3" | SF Cair Paravel | 2022 State KS , 6-foot-3 forward, 2022:
Luke Fay, 6-foot guard, 2023:
Hastert was first to start drawing attention at tiny CPLS. The Lions started making waves against KSHSAA schools a couple of years ago. Then he showed his fundamental game against club competition. Next Clark started turning heads with his explosiveness. And transfer Fay added deep shooting and scoring from the wing. This will be a trio to watch as the Lions try to earn respect against public school competition.
Solomon (1A1):
Caden Acosta, 6-foot-1 guard/forward, 2022:
Makaen Hastings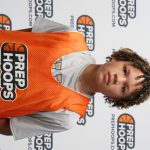 Makaen Hastings 5'10" | PG Solomon | 2023 State KS , 5-foot-9 guard, 2023:
Spencer Coup, 5-foot-10 guard, 2024:
The Gorillas will be about as guard-rich as you can imagine a 1A team being. Hastings has been a scoring threat since his freshman season. His flashy game and perimeter shooting have earned 1A honorable mention the past two seasons. He tossed in 17.3 points and dished out 3.5 assists as a sophomore. Acosta was an