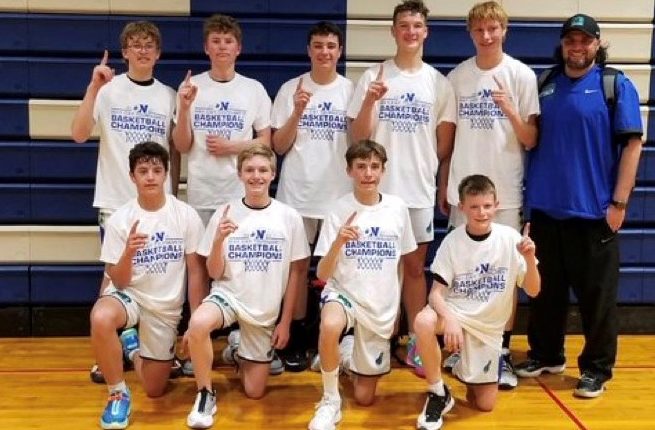 Posted On: 08/9/21 9:23 PM
We have a solid group of players on this 14U ND Attack team. They are from all across the state of North Dakota. The ND Attack team had a quality summer, improved as players, and they had some fun along the way! I am looking forward to seeing how these guys grew over the summer and to see what type of Impact that they have during the school season.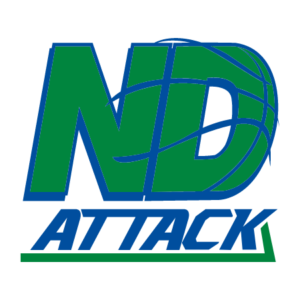 Comments from coach Bryce Laxdal
This was a really fun group to coach, they quickly gelled as a team and became very good friends. This team is full of future All-Region and All-State type guys, maybe even a State Champ or two. I am very excited to watch them grow and develop as players in the next few seasons. We ended the summer with 14 wins and had great contributions from everyone, that's what really stuck out to me about this team. 
ND ATTACK ROSTER
Ben Gudajtes Ben Gudajtes 5'11" | SG Midway/Minto | 2025 State ND (2025) |5-10 G| Midway/Minto - High basketball IQ, great defender.
Brady Haugen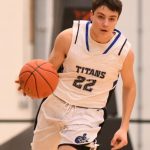 Brady Haugen 6'2" | SF Griggs County Central | 2025 State ND (2025) |6-1 F| Griggs County Central -    Great inside out guy, who can drive baseline and score with ease.
Ben Gudajtes Ben Gudajtes 5'11" | SG Midway/Minto | 2025 State ND (2025) |5-10 G| Midway/Minto - High basketball IQ, great defender. Brady Haugen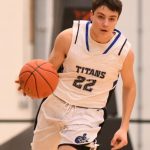 Brady Haugen 6'2" | SF Griggs County Central | 2025 State ND (2025) |6-1 F| Griggs County Central -    Great inside out guy, who can drive baseline and score with ease. Calvin Garmann Calvin Garmann 6'5" | PF Watford City | 2025 State ND (2025) |6-4 F| Watford City - Very hard worker, super athletic and can score inside different ways. Drew Passa Drew Passa 5'2" | SG Drayton/Valley/Edinburg | 2025 State ND (2025) |5-2 G| Drayton/Valley/Edinburg - Dead 3, when he gets his shot off he doesn't miss often. Grant Cosley Grant Cosley 5'9" | SG North Border | 2025 State ND (2025) |5-7 G| North Border - Ran the show for us, great defender. Jace Dillman Jace Dillman 5'7" | SG Jamestown | 2025 State ND (2025) |5-5 G| Jamestown - Great shooter with a great basketball IQ, future coach. Kaden Pierce (2025) |6-0 G| Warren/Alvarado/Oslo (MN) - Very physical score who can pull up or get to the rim easy. Nolan Weidner Nolan Weidner 5'8" | SG Dickinson | 2025 State ND (2025) |5-6 G| Dickinson - Another great outside threat, who can handle the ball. Karter Peterson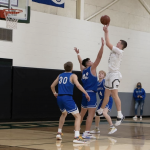 Karter Peterson 6'4" | SF Thompson | 2025 State ND (2025) |6-2 G| Thompson - Elite scorer, can score inside or out.  Schedule  MN Comets Shootout (St. Cloud, MN) April 17 & 18  Pentagon Spring Jam (Sioux Falls, SD) April 24-25  AYBT Tournament (Harrisburg, SD) May 2 Pentagon Hardwood Challenge (Sioux Falls, SD) June 5-6  Great Plains Comet Alliance (St. Cloud) June 24-26 Recognitions Best Rebounder:  Calvin Garmann Calvin Garmann 6'5" | PF Watford City | 2025 State ND   Top Scorer:  Karter Peterson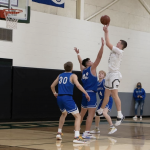 Karter Peterson 6'4" | SF Thompson | 2025 State ND   Defensive stopper:  Ben Gudajtes Ben Gudajtes 5'11" | SG Midway/Minto | 2025 State ND   Most Improved:   Nolan Weidner Nolan Weidner 5'8" | SG Dickinson | 2025 State ND   Hardest Worker:  Grant Cosley Grant Cosley 5'9" | SG North Border | 2025 State ND   Most Unselfish:   Drew Passa Drew Passa 5'2" | SG Drayton/Valley/Edinburg | 2025 State ND   Mr. Gritt:  Brady Haugen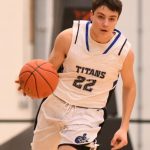 Brady Haugen 6'2" | SF Griggs County Central | 2025 State ND   Best Rim Protector:  Karter Peterson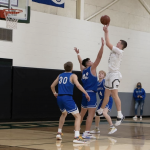 Karter Peterson 6'4" | SF Thompson | 2025 State ND