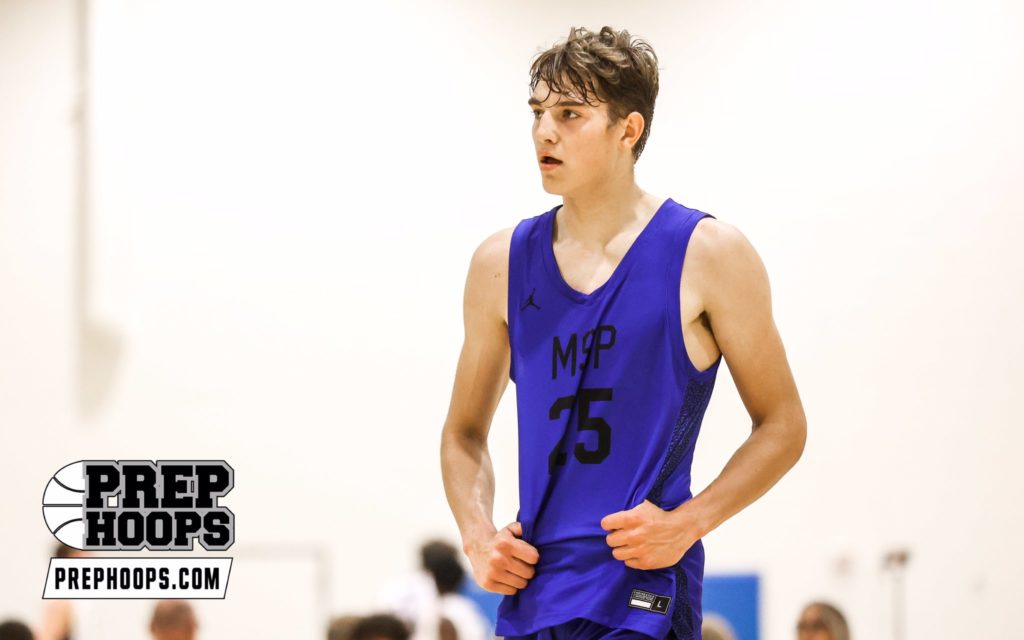 Posted On: 08/1/21 7:54 AM
The Prep Hoops Hard Work Finals brought the best of the upper Midwest to the Twin Cities and the contests were outstanding all day.  Close games and drama were everywhere! We try and fill you in on all the happenings while also putting the spotlight on the day's top performers. 
The Kinsey Summer
Logan Kinsey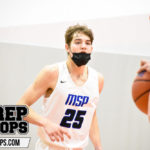 Logan Kinsey 6'6" | PF Spring Lake Park | 2022 State MN of Spring Lake Park had a nice junior season but not a season that prepared the masses for what was to come these past four months.  MSP Elite is basically a Spring Lake Park team (plus one other guy) and they've had a really nice four months of basketball under Coach Sean Jensen. Within that run Kinsey earned a scholarship from Minnesota State-Moorhead, accepted it, and just like that, his recruitment was done.  He was committed before many schools had a chance to get his name written on their big board in the confernce room! 
Logan stands 6-foot-6 and has a great deal of ability.  It starts with his mobility at six foot, six inches tall.  Kinsey runs really well and is quick off his feet which allows him to finish in highlight ways plus rebound at the rim in big numbers.  He's more than just a track athlete, Kinsey also moves his feet well meaning he could be a great defender in college. 
So all the physical measures are there but what about skill? Motor?  Every time I have seen Kinsey play the skill and motor is there too.  We at Prep Hoops have seen him use the jumper more than the dribble so it's easier to speak on that.  Today Kinsey hit four threes as a part of his 22 points against D1 Minnesota Prospects and the effort was there for 14 boards.  
The Dragons got in early and grabbed a steal.  How big of a steal? At this point I think it's a major steal because Logan is playing like a top 25 level prospect in a stacked year for talent. That would mean he is a potential division one level player?  Absolutely. 
Nasir, Clutch Performer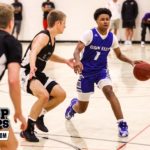 The clutch performer of the day was Nasir Whitlock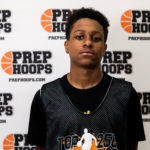 Nasir Whitlock 6'1" | PG DeLaSalle | 2023 State MN of Gain Elite, a 2023 guard playing up in the 17 and Under division.  Whitlock led Gain Elite to a 3-0 Saturday and has the team in the Grind Region quarterfinals this morning against 14th ranked (in state) Minnesota Fury Narum who upset 6th ranked Minnesota Lightning in overtime.  Gain Elite earned their spot in the quarters with two final minute victories. 
Nasir put the game away against Team 1848 making all ten of his foul shot attempts.  He scored 18 points and dished out six assists.  Most of those assists were to cutters Nasir found while creating with the dribble.  It was a two score contest in the final minute and Nasir put the game away at the foul line in the clutch. 
More dramatic was the late night 64-61 win over Starks Elite who came into the game with a 25-6 record ranked 16th in the state.  With the score tied at 61, Starks Elite allowed Whitlock to run about 75 seconds off the clock and take the last shot.  With five seconds to go Nasir moved off the ball screen for a three. Going left into his shot, Nasir was fouled on the shooting arm.  He went to the stripe and made all three attempts. Whitlock scored 22 points with four assists scoring on 7 of 16 attempts and 8 of 9 foul shots.
Whitlock's approach to the game reminds me a bit of the way Marcus Carr – the All Big Ten guard from Minnesota now at Texas – has such great control of the ball screen, the creation, and how his skill breaks the other team down (not comparing him to Carr physically or level of play right now, just how their skills and approach control the offense).  He will grind defenses out and force them to foul him or Nasir gets to the space for a comfortable attempt.  Teammates move off of Whitlock and are often rewarded with cuts or shots at the arc. 
Mr Dependable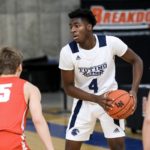 You won't find players more trusted than CJ O'Hara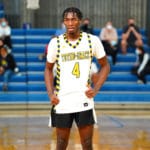 CJ O'Hara 6'4" | SG Totino-Grace | 2023 State #171 Nation MN of Totino-Grace High School.  CJ is playing with Gain Elite this weekend and nothing has changed.  The common comparison used for O'Hara is Sacar Anim only in more of a two guard form.  Sacar was the same type of athletic, dependable worker and it landed him a spot at Marquette.  
Coaches love a player like O'Hara because they know what they are going to get.  With a guy who is labeled as a shooter, you have to hope the shot is on.  If you have a player that is super athletic you better hope that he gets touches in space.  With O'Hara, I call him a competitor and competitors always compete.  Competitors always defend.  Competitors always cut hard, rebound, and give everything they have. 
Today O'Hara was faced with the challenge of Team 1848, a hard working team but a smaller team.  CJ put 18 points in the book with six boards on 7 of 11 shooting and all scores were at the rim.  His man couldn't move with CJ on the attack, his man couldn't move with him on the cut, and O'Hara's man couldn't handle him when he posted up, so that is how O'Hara scored.  CJ arrived at the start of Gain Elite's night game at halftime and in only 15 minutes of play he scored 11 points on 5 of 6 shooting. 
No nonsense, just productive.  That is CJ O'Hara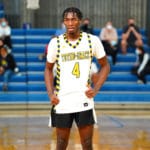 CJ O'Hara 6'4" | SG Totino-Grace | 2023 State #171 Nation MN and that is why I think he will be loved by college basketball coaches at the division one level. 
Conner Barney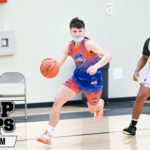 Conner Barney 6'3" | SF Cloquet | 2022 State MN – As Tough as They Come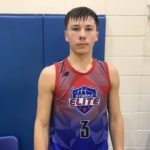 One of the toughest players I saw all day was 6-foot-3, 190 pound Conner Barney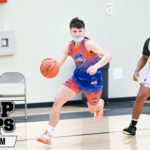 Conner Barney 6'3" | SF Cloquet | 2022 State MN of Starks Elite and Cloquet High School.  This young man just comes at you and doesn't stop.  Barney is a better athlete than expected and he puts that agility to good use.  He's a constant and basketball love players that are constants because they will consistently give you effort to defend, effort to hustle, effort to board, and effort to get to the cup with or without the ball.
Starks Elite went toe to toe with Gain Elite (the teams were ranked 15th and 16th in the 17u rankings so the 64-61 last minute game was a perfect match-up) and in doing so, Barney went toe to toe with a pair of top five 2023 kids in Minnesota:  CJ O'Hara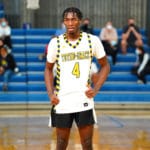 CJ O'Hara 6'4" | SG Totino-Grace | 2023 State #171 Nation MN and Chiddi Obiazor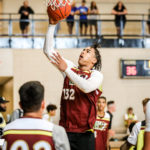 Chiddi Obiazor 6'5" | SF Eden Prairie | 2023 State #165 Nation MN .  And Conner more than held his own. 
Barney scored 22 points on 9 of 13 shooting continually using leverage and an extra effort with a step or cut to find an angle to the rim. Barney is also quick off his feet so he was able to beat the help to the attempt or he was able to leap into space that defenders couldn't contest.
Really excited to hear about the type of senior year he will have at Cloquet. 
Hard Work Final Chunk Notes
Sam West




Chiddi Obiazor

Chiddi

Obiazor

6'5" | SF

Eden Prairie | 2023

State

#

165

Nation

MN

.  Eight shots, half of them dunks, all of the attempts were makes.  Chiddi is so quick off his feet that Team 1848 simply couldn't rotate to him or drop down to cover him.  At 6'6 he has physical gifts that few have.  What I also like about Obiazor, in addition to the active scores, is that he is better with a pair of dribbles than people think.  Twice more today Chiddi scored for Gain Elite taking players off the bounce.  In the late game against Team Starks Chiddi had a dozen points and the most impressive part was the 6 of 6 shooting at the foul line. 
Team 1848 guard

Chris Mitchell

Chris

Mitchell

6'1" | CG

Notre Dame | 2022

State

WI

gives it everything he has.  Mitchell, from Notre Dame HS, gives his team everything he has and it almost resulted in a 21 point comeback victory vs Gain Elite.  Mitchell's ball pressure defense as well as his well positioned defense a pass away played a big part in forcing turnovers.  He scored 21 points with four assists plus chased down seven boards.  Loved the effort from the 6'1 2022 talent. 

Sam West of Minnesota Fury Narum led his team to an overtime win over Minnesota Lightning scoring a late game lay-up and two more lay-ins in overtime for a one point victory.  The term "lay-up" can often be overlooked as a simple play but West's three late scores were much more than that.  West hard cut to the rim for the three scores out-hustling others and knifing into space with his 6-foot-4 frame for crucial baskets that won his team the game.  Scored 23 in a big win over the Lightning (only the Lightning's 5th loss of the season). 

I love the way

Will Van Scoy

Will

Van Scoy

6'1" | PG

Duluth East | 2022

State

MN

of Starks Elite (Duluth East) passes the basketball.  His feel and leads opened my eyes. Van Scoy has been hampered with a torn ACL for a year but is starting to get back to where he was.  Looking forward to seeing him at full strength because this is a player that local college basketball would love when it comes to feel for the game as a passer/primary ball handler. 

Yesterday I became comfortable enough to say that Connor Beauchamp (WOTN 6'4 wing) – who was a deeper bench player for Lakeville South last winter – will not only be a main piece for the Cougars next winter, he could be one of their best all around players.  And Connor will be a college basketball prospect that MIAC schools will love.  Two way consistent and productive all 17u season long. 

WOTN could not stop

Peyton Newbern

Peyton

Newbern

6'5" | SF

Robbinsdale Armstrong | 2022

State

MN

from getting to the basket.  The Robbinsdale Armstrong guard from Real Phenom has grown to 6-foot-4 or 6-foot-5 and like his brothers and father before him, Peyton has a comfort handling the basketball.  WOTN is a great defensive team but Newbern sliced them with his attacks for 18 points at the rim.  Newbern has taken a big step forward as a prospect. 
College coaches lined the baseline to see

JaSean Glover

JaSean

Glover

6'3" | SG

Madelia | 2022

State

MN

of the Southwest Minnesota Stars and he didn't disappoint.  Glover – a 6'4 guard from Madelia – played both guard spots yesterday and played them both well.  His combination of explosive agility, strength, and skill allowed Glover to be a constant getting to the rim. Even more, I loved the emotion he showed yesterday as you could see the game and his team meant a lot to him.  This is a full scholarship guy that I think has a lot left to show. 
Hard Work Final Quick Hitters
Ahjany Lee

Ahjany

Lee

6'10" | C

Totino-Grace | 2022

State

#

115

Nation

MN

continues to play really well.  Scored a dozen against MSP Elite with six boards playing about half the game.  Hit the fallaway off of one leg a couple different times. 

Buom Jock

Buom

Jock

6'5" | SF

Mankato West | 2022

VA

also played well for the D1 Minnesota Prospects scoring 13 points.  Scored on 6 of 11 attempts including a few different explosive finishes late.  A number of division two coaches watched his team play this morning and we have to believe he is a main focus. 

Jamal Ambrose

Jamal

Ambrose

6'10" | C

Eastview | 2022

State

MN

of Gain Elite looks every bit of 6'10 and that shooting touch you are hearing about is very legit.  One of the softest releases in the class and the shot comes out of the hands of a center (from Eastview).  Hit three threes in the late night win over Starks Elite. 

Jalen Flowers

Jalen

Flowers

6'1" | PG

Green Bay East | 2022

State

WI

is one of the best ball pressuring guards that I have seen out of Wisconsin this summer.  He nearly helped his Team 1848 squad come from 21 down to pull off a big comeback win.  It wasn't just his defense, Flowers scored 14 points as well. 

Carter Bjerke

Carter

Bjerke

6'8" | PF

Wayzata | 2022

State

MN

put his team on his back at one point beating Sacred Hoops.  It was his three, his scores at the rim, a steal into an assist, and more importantly it was the energy he brought.  His teammates followed that emotion and earned a spot in the elite eight. 

Mikele Kambalo

Mikele

Kambalo

5'8" | PG

SF Washington | 2022

State

SD

of Sacred Hoops was the smallest player on the floor vs D1 Minnesota Prospects and at times the opposing guards tried to intimidate him.  It didn't work.  In fact what it did was pick up Mikele's level of play forcing turnovers and hitting back to back threes. 
Really like that touch we saw

Tash Lunday

Tash

Lunday

6'5" | PF

Flandreau | 2022

State

SD

of Sacred Hoops use when he stretched the big D1 Minnesota Prospects frontline to the arc.  When he is hitting that he is so tough to defend, and it opens the eyes of college coaches too. 

Impressed with the way Prince Aggapia (Robbinsdale Cooper) played for Real Phenom.  Had an 18 point game against WOTN shooting the ball well and cutting for transition attempts. 

Ben Buesgens

Ben

Buesgens

5'10" | PG

Farmington | 2022

State

MN

of WOTN was often defended by a smaller guard much shorter and lighter than him so he took advantage all game.  Ben cut to the rim and kept the player behind his path, Ben muscled the player to the rim, and Buesgens hit open threes when that player couldn't contest the shot.  His 15 points were crucial to the win especially the late scores. 

Speaking of Farmington, Noah Halverson of Real Phenom opened some eyes yesterday with his 15 points.  

Gani Stevens of Heat Hoyt is on my list now as a big to keep an eye on.  He's 6'7 and plays the five.  Doesn't play outside of himself, just battles in the post and does a great job holding position and getting into his balanced turn.