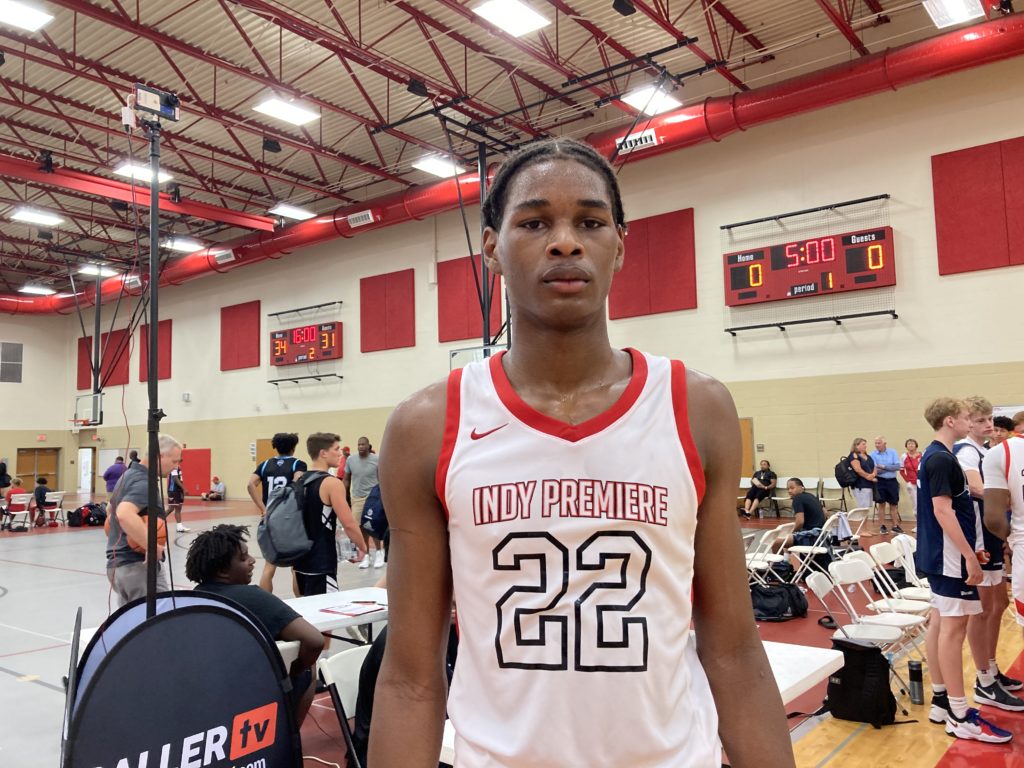 Posted On: 08/2/21 4:00 PM
The Prep Hoops Circuit concluded on Sunday.  We were in Indianapolis for the final day at the Grit Region Finals.  Below is what we saw on the last day of the summer in Grit Region Finals: Scotty B's Sunday Notebook!
EBA Ice Wins 3 OT Thriller over All In Athletics Phenom Blue
This one was an epic contest to start the day off at 8 AM.  EBA Ice recorded an 83-82 win in triple OT.  For EBA Ice Caleb Hannah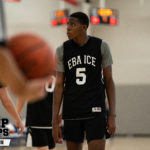 Caleb Hannah 6'6" | SF Orr | 2022 State IL was outstanding.  The Orr power forward has a lot of positive momentum heading into his senior campaign.  Really like his projectability along with how well he can shoot it from three at his size.  Drained an array of triples along with transition dunks in an 18 point outing.  Ethan Gallagher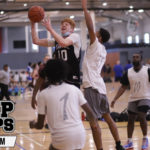 Ethan Gallagher 6'4" | SG Lockport Township | 2022 State IL out of Lockport is a skilled scorer that has range and can put it on the deck which he did for 15 points.  Springfield Lanphier unsigned senior Michael Ousley Michael Ousley 6'0" | PG Springfield Lanphier | 2021 State IL was the story on the other side for All In.  He was on a mission with his spinning finishes and reverse layups netting 34 points.  Great late addition for a small college or JUCO.
Full Package Falls Despite Comeback Attempt from Star
The Full Package 16U team has been one of the most fun to watch this spring and summer.  They have shooters and skilled ball handlers all over the floor.  They lost to Upnext Elite in their morning game on Sunday 71-66.  New Trier 2023 shooting guard Jake Fiegen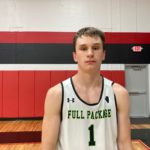 Jake Fiegen 6'3" | PG New Trier | 2023 State IL dropped 20 points including 14 in the second half.  Elite shooter that anytime it leaves his hands you think it is going in.  Posted up smaller defenders and got on the glass.  Better athlete than given credit.  D1s need to take notice!  Rokas Castillo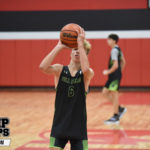 Rokas Castillo 5'11" | PG Lemont | 2023 State IL is a slick handling point guard that shoots it at a high level from deep and can finish with nifty layups in the paint.  The Lemont point guard had 16 points.
Illinois Bears Close Out Summer in Impressive Fashion over MBA Lakeshore
The Illinois Bears finished their final game with a 76-65 win over MBA Lakeshore.  They got a balance effort with everyone contributing to the victory.  Best performance we have seen out of Waterloo combo guard Ty Lenhardt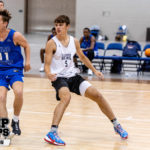 Ty Lenhardt 6'3" | PG Waterloo | 2022 State IL all spring and summer.  He drained threes, scored in the open floor, and hit some pull ups for 17 points.  Saxton Hoepker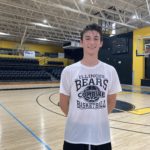 Saxton Hoepker 6'6" | SF Nashville | 2022 State IL from Nashville made money over the last month with his play.  The Nashville 6'6" four man was very good defensively blocking shots and finishing in the paint for 13 points.  Breese Central 2022 shooting guard Brady Moore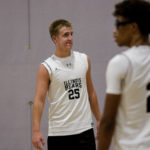 Brady Moore 6'1" | SG Breese Central | 2022 State IL did his usual deal with his toughness around the hoop scoring on slashes and in transition.  This groups top prospect Mascoutah's Justin King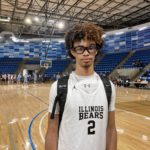 Justin King 6'4" | PG Mascoutah | 2022 State IL put it all together for a stretch in this game.  Lengthy guard had a reverse layup, put back, pull up three, coast to coast take, and then closed out the half with a three.  Brady Bosma led the MBA Lakeshore squad with 16 points.  Sharp shooter that is a crisp passer as well.  Ben Nelson is a big bodied post that was efficient scoring on the block with physical post ups and carving out space.
Indy Premiere Team Rock 15U Tops Basketball Paradise in Instant Classic
This game was so fun!  It looked like early on it was going to be a blowout as Indy Premiere ran out to a 17-2 lead.  Basketball Paradise steadily came back.  They are a team full of guards that can shoot it and share the ball.  The game went down to the wire with Hillcrest's Isaiah Green putting in a missed shot at the buzzer for the win 69-67.  St. Rita 2024 power forward Morez Johnson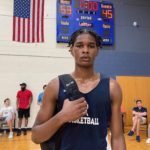 Morez Johnson 6'9" | PF St. Rita | 2024 State IL is one of the premier young prospects in the state of Illinois.  He played like it.  Looked like a man among boys swatting jump shots right back at guards on the perimeter while protecting the rim at the same time.  Snatched rebounds in traffic.  When his team needed a bucket he got it on the block, scoring from the mid-post, and even hit a clutch three late for 17 points.  The game winner went in by Green who played a huge role in the win.  He is a tough and athletic combo guard that showed a better passing feel than we had seen previously while still getting his points netting 13 in the win.  Limestone standout guard Dekwon Brown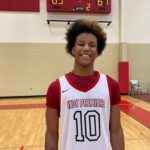 Dekwon Brown 6'3" | PG Limestone Community Highschool | 2024 State IL pushed in the open floor with his speed for 10 points.  Daniel Garza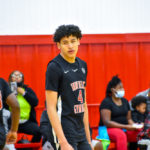 Daniel Garza 6'5" | PF Bishop Noll | 2024 State IN from Bishop Noll was a super intriguing prospect as a lefty combo forward that flies in for rebounds and slashed with force.  Preston Saia Preston Saia 6'6" | SG Bosco Institute | 2024 IN out of Don Bosco Prep is a thick bodied shooter to track long term.  Basketball Paradise got things going with Nick Schroeder.  The 6'2" Metea Valley shooting guard drained an array of threes with such a clean looking shot for 18 points.  He has been their most consistent prospect during the spring and summer.  Luke Kinkade is a 5'10" point guard from Neuqua Valley that can also really drain shots from deep along with nifty layups as he dropped 21 points.  Yorkville 6'8" five man Jason Jakstys emerged with a strong performance.  Had a couple post nice moves against Johnson showcasing a hook shot and spin move for 10 points.
Veteran All In Athletics Mitchem Group Knock Off Young Guards of BC Elite
All-In Athletics Mitchem scored a 75-66 victory over BC Elite.  AIA had several 2021 prospects on their team that will be headed to college next year in Frank Taylor and Georgie Connor who provided versatility.  Taylor scored in the post and finished well around the hoop.  Connor was tough on the glass and boards.  Zachary Rosen from Rochelle Zell was their top 2022 prospect.  We liked what we saw out of the lefty point guard.  Crafty mid-range game where he knocked in several jumpers.  Also got to the line for 16 points.  BC Elite played up on the 17U level, but primarily were led by 2023s.  Their best is Camron Williford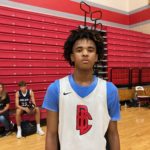 Camron Williford 6'0" | PG Hyde Park | 2023 State IL .  The Hyde Park slender 5'10" guard has some projectability and was so smooth getting in the lane for finishes at the rack.  He netted 29 points.  Da'marion Morris Da'marion Morris 5'10" | PG Hyde Park | 2023 State IL is a lead guard that brings toughness while Lincoln Park's Myan Whitfield is an athletic scoring guard.
Team Teague vs Indy Premiere Team Rock Features Top Prospects at Event
This 15U semi final contest might have featured the top two long term prospects in the event in Morez Johnson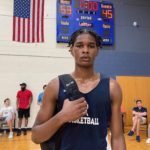 Morez Johnson 6'9" | PF St. Rita | 2024 State IL from Indy Premiere and Jalen Haralson of Team Teague.  Both are very good now with even higher long term ceilings.  Team Teague captured the win advancing to the championship game.  Haralson scored 12 points showing off a versatile game.  The wing opened up with an alley-oop.  He hit the glass, connected from mid-range, and drained a pair of threes.  He is a 2025 prospect playing up that could be the top prospect in Indiana in that class.  A couple of other 2025s shined for Team Teague.  Mark Zackery is a slender scoring guard that is creative with the ball in his hands and is a bucket threat from all over the floor for 16 points.  Deric Cannady went for 20 points from his guard spot.  Shifty handles and a pesky on ball defender.  Also popped a couple threes.  Indy Premiere got a nice effort from Limestone point guard Dekwon Brown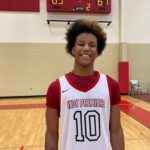 Dekwon Brown 6'3" | PG Limestone Community Highschool | 2024 State IL who is in the conversation for the top point guard in the Illinois 2024 class.  So explosive with the rock in his hands getting downhill where he converted acrobatic finishes and euro steps.  Good outlet passer and can get others involved.  Went for 13 points.  Isaiah Green suffered a rolled ankle, but before that he used his speed, power, and athleticism making plays at the cup along with being a sound distributor.   Morez Johnson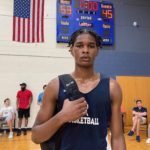 Morez Johnson 6'9" | PF St. Rita | 2024 State IL from St. Rita was a force on the offensive glass, worked well in the pick/roll, and hit from 15 feet for 14 points.
Chicago Lockdown Closes Summer Strong in Victory over Archangels
This Illinois matchup featured a pair of balanced teams that played well throughout the spring and summer on the PHC.  Chicago Lockdown got the win behind the play of their 7'2" center Conrad Luczynski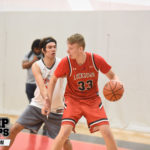 Conrad Luczynski 7'2" | C Bartlett | 2022 State IL .  Best effort we have seen from the Bartlett five man this spring/summer.  He got post touches and did damage with them on seals and assertive moves on the block.  Also rebounded and swatted shots.  He scored 10 points.  St. Francis point guard Sebastian Miller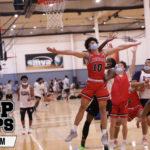 Sebastian Miller 6'2" | PG Wheaton St. Francis | 2022 State IL shot it well from all three levels showcasing his ability to up buckets from the perimeter for 18 points.  Like what Canton 6'6" four man Turner Plumer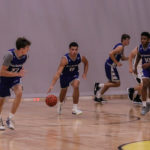 Turner Plumer 6'5" | PF Canton | 2022 State IL brought to the table in the second half with his mobile game in the paint along with hitting baseline jumpers.
Quick Hitters
A couple prospects caught our eye for the Chicago Demons 17U.  Lashawn Pollard Lashawn Pollard 6'3" | SF Chicago Vocational | 2022 State IL from Vocational is a 6'4" combo forward with a strong body.  Good defender, rebounds, and flashes skill 15 feet in.  Amarion Stephens out of Simeon looked good in the backcourt with his slick handles and passing with flair.
Good day for the guard dominated Chicago Impact 17U team as they spread the wealth between four guys in Corieon Baker (Riverside Brookfield) 18 points, Skylar Crudup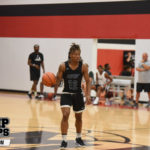 Skylar Crudup 6'0" | PG Joliet West | 2022 IL (Joliet West) 13 points, Dakari Presley (Michell Clark) 13 points, and Dahmarion Murrell (Riverside Brookfield) 11 points.
Champaign Heat lost a close one to DV45 64-62.  Another big game for Bolingbrook point guard Jaydin Dunlap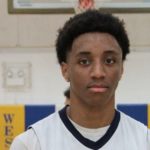 Jaydin Dunlap 6'1" | PG Bolingbrook | 2022 State IL as he scored 20 points.  David Hubbard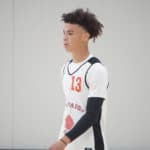 David Hubbard 6'4" | SG Champaign Centennial | 2022 State IL had 13 points while Martez Rhodes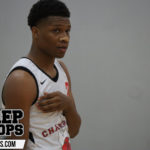 Martez Rhodes 6'3" | SG Danville | 2022 State IL went for 12 points.
Anthony Taylor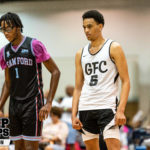 Anthony Taylor 6'6" | SF Richards | 2021 State IL from Grind Family Chicago is a great late add for a JUCO.  The plus sized Richards unsigned senior wing has a fluid offensive game with projectability.  Scores with a feathery shot from deep and has long strides off the bounce. 
Marco Fitch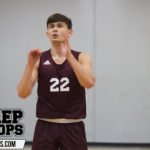 Marco Fitch 6'0" | PG Bloomington North | 2022 State IN was outstanding all weekend.  He is going to be a program changer for the small college that gets him.  The IE Blaze Select guard is a gritty leader that is lights out from the perimeter with his shooting.