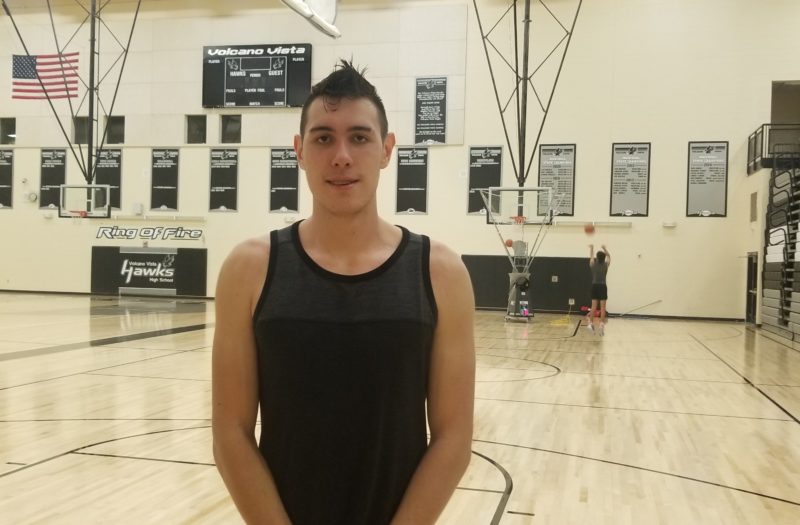 Posted On: 08/6/21 12:59 AM
The state of New Mexico is a basketball state, as Volcano Vista HC Greg Brown Says (In New Mexico) "Basketball is King". That point has been hammered home recently on both our Prep Hoops and Prephoops Next Circuit. JB White proved to be a power on our middle school circuit, battling some of the country's premier programs. ABC took home the 17U crown of our Hustle region circuit, validating the quality and depth of New Mexico Basketball. I pulled up to VV, to check out an open run put together by Brown, and ABC coach Brandon Mason. In this article, we take a look at some potential prospects who showed up for the workout. 
6'8 PF Saint Francis (TX) 2025 – Walls may be leaving the state, but he made to much of an impression to be ignored. If any player "looks the part" It's the 6'8 incoming freshmen. Walls has a 7-foot wingspan to go along with some increasing wing skills. He stepped outside and knocked down a couple threes in pick-up action while showing off his usual shot-blocking and rim protection skills. 
Sean Alter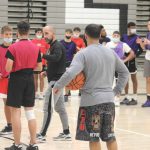 Sean Alter 6'8" | PF Volcano Vista | 2023 State NM 6'8 PF Volcano Vista 2023 (featured image) – Alter was an interesting player who caught my eye during pick-up action. He has good size and played with activity. I was intrigued by his low post ability as the right-handed player delivered a nice left-handed jump hook over the aforementioned Walls. The only question I had was his athletic ability, which he put to rest with a Thunderous reverse jam off 1 step. 
Gideon Harris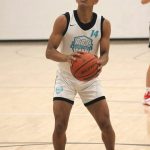 Gideon Harris 6'2" | SF ABC Prep | 2023 State NM 6'1 SG Del Norte 2023 – It's impossible to walk into a gym where Gid the Kid is playing and not notice him. A card-carrying member of my high motor team, Harris made an impact in the workout simply by out hustling opponents for loose balls and displaying his freakish rebounding ability. 
Kenyon Aguino 6'5 PF Volcano Vista 2025 – Aguino caught my eye while playing in the Team Swoosh portion of the run. He showed a willingness to post hard, soft hands and a nice touch around the rim. He looked like a Varisty caliber player in the workout, but when I found out he was an incoming freshman, he moved into potential prospect range. 
Hudson Brown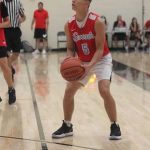 Hudson Brown 5'8" | PG Volcano Vista | 2025 NM PG Volcano Vista 2025 – Got to give some love to Brown. I didn't get an official height so I decided not to post it, but he was one of the shortest players on the floor. Despite his size, Brown was one of the better players in his group. A coach's kid with a high IQ, Brown shot the ball fairly well in the games I saw and even stayed after to get shots up on the gun. 
Latavious Morris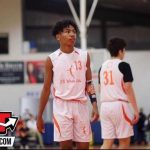 Latavious Morris 5'7" | PG Atrisco Heritage | 2025 State NM 5'6 PG Atrisco Heritage 2025 – I got to see a ton of Morris on our circuit this year, so I was happy to see him at the workout. He showed off his top rate wiggle, using crossovers and Spin moves to get past defenders, get into the lane, and finish. A two-way athlete Morris is also a cornerback and receiver on the football field. 
Dylan Chavez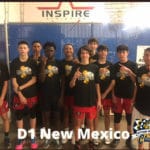 Dylan Chavez 6'4" | SG ABC Prep | 2024 State NM 6'3 SG ABC Prep 2024 – Chavez is one of the top players in the class of 2024, so it was great to see him at the workout. I have been critical of his ability to go left in the past, but to his credit, he showed an improved ability to attack opponents with his off-hand. What can't be doubted is his shooting ability, Chavez knocked down several deep threes during the workout.