The Three Rivers Conference will make it's debut in 2021-22 with teams coming from the now defunct Cross County Conference, Metro Buckeye Conference, and Southwestern Buckeye League among others. The conference will have teams in D2 through D4 come tournament time. With so many questions about the new conference, I will spend this article addressing some of my predictions on what to expect this year in the inaugural season.
1- Favorite is too difficult to pick right now
While the conference is new, many of the teams are familiar to us. The problem is determining who is the favorite among several similar teams. Miami East and Troy Christian have a lot of underclassmen talent, but does that replicate towards success in the conference as a whole? Northridge has one of the best scorers in the conference, but not much of a supporting cast around him. Milton-Union has a high octane caliber guard but again the Bulldogs lost quite a bit of their roster from last year. Lehman Catholic and Bethel can't be slept on either as both have quality talent back.
2- Player of the Year will come down to Brumbaugh or Jacobs
While picking a favorite is more difficult, picking POY should be simpler. It comes down to  Blake Brumbaugh Blake Brumbaugh 6'0" | PG Milton-Union | 2023 OH (2023) from Milton-Union or  Antoine Jacobs Antoine Jacobs 6'3" | CG Dayton Northridge | 2022 OH (2022) from Northridge. Brumbaugh has the speed and athleticism to excel in small school basketball and has added some muscle to his frame to use physicality as well. Jacobs can straight score the ball. Extremely versatile as a scorer and able to do it in high volumes. While there could be some additional sleepers, these two seem to be the favorites as they are two of the best prospects in the conference.
3- Troy Christian is young and on the prow
The Eagles come over to the TRC after spending time in the Metro Buckeye Conference. During their tenure, TC successfully won MBC titles and competed almost yearly. Now in the TRC, TC still has a chance to compete but will be one of the younger teams. Junior Ben Major has been one of the best players for the Eagles since his freshman year. Sophomore Parker Penrod has been a typical Troy Christian PG and excelled in his very early career. The Eagles used 3 freshmen last year in their rotation and only lose 2 players total from last season's 14-9 team. This is a group that will be relevant over the next 2-3 seasons.
4- Don't sleep on Bethel
The Bees have a new face in town as former Northmont head coach Shane Kincer takes over the program. Kincer will have some familiar faces to Bethel fans with his team. Seniors Casey Keesee and Will Reittinger both return from all-conference showings in the CCC last year. Seniors are needed to excel in any level of high school basketball. Kincer's experience at the D1 high school level plus having two talented seniors means the Bees are in the running regardless of who is in their conference.
5- Miami East looks scary for the next few years
Similar to Troy Christian, Miami East looks like a possible powerhouse in D3 for years to come. Sophomores  Jacob Roeth
Jacob Roeth 6'1" | PG Miami East | 2024 OH and  Wes Enis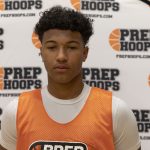 Wes Enis 6'2" | SG Miami East | 2024 State OH return after having solid freshman campaigns in the CCC last year. Enis especially looks like an upperclassmen with his powerful football-like frame and physicality looking beyond his young age. The Vikings have a lot to be excited about over the next few years especially as they continue to develop their other talent in the 2023/2024 classes.