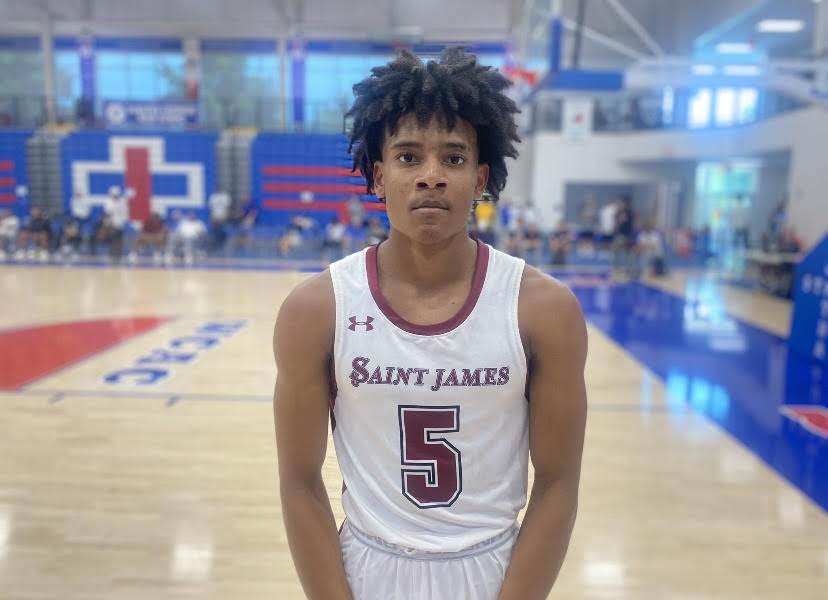 Posted On: 08/26/21 3:30 PM
This summer we had the chance to see plenty of prospect take advantage of stages that weren't available last summer due to the pandemic. 2023 St. James/Team Takeover guard Solomon Ball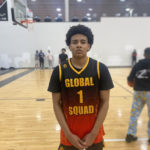 Solomon Ball 6'3" | CG Saint James | 2023 State MD was one who not only got to show off his polished skillset, but also his improved body and frame.
The 6-foot-3 lefty played up on Team Takeover 17U this summer on the EYBL Circuit, which helped in a plethora of ways.
"It was great for me because I've always wanted to play on the big stage that the EYBL offers," Ball told Prep Hoops. "It was good for me to play up and even though I've reclassed, those guys that I was playing against were reclasses too, so the fact that I'm playing up and still producing was good. When we got to Peach Jam I was put into the starting lineup for like the last 10 games, so I was able to show colleges what I could do and it helped."
A mixture of the exposure to better competition and natural maturing of his body helped Ball unleash new parts of his game that caught college coach's attention.
"My athleticism went off the charts and it even picked up after Peach Jam, too. I dont remember what my vert was before, but my running vert is now at 44. I'm able to play at the rim with anyone. I've been working with my trainer and on programs that have been getting me more athletic. Also physically, just being able to take contact around the rim and still finish. My shooting is still steady-I'm able to stroke it when I need to. Also playing the one. I think the last game of EYBL I really showed how I can play the position."
Ball made the move from Scotland Prep to St. James, a program that struggled the year before last. He spoke on some reasons that he made that decision:
"One of the bigger things to point out about St. James is about how academic heavy it is. That was a big thing for me because I had to get credits back from me being at Scotland Prep. They have a good basketball program and a good coach. I just want to bring them back on the map. The lineup that people saw at DMV Live wasn't our whole team. For most of those games we had 5-to-6 players. We picked up a lot of shooters who can space the floor and that gives guys like me space to attack and kick out. I know I'll have to score and I can when I need to, but I'm just looking forward to taking on the challenge of being the man. I just want to get the team back to a winning record again. That's my focus."
On the recruiting front, Ball heard from over two dozen schools this summer. Of that group, Virginia Tech, VCU, George Washington and Temple have been very consistent. 
"One of the things they like the most about me is my length because I'm able to guard a lot of different positions. I've picked up weight and have a 6-foot-10 wingspan. I'm able to guard anyone at the high school level especially in my conference. I'm still able to get rebounds for my position and I feel like a lot of these coaches didn't realize my athleticism until this summer. They also like that I can make plays and still score in a balanced way."
Ball is poised for a major year statistically. He's going to be the lead guard and primary play maker for St. James, so you can expect the ball in his hands a lot. The southpaw should benefit from his time this summer on the EYBL Circuit and may receive a bump in the 2023 player rankings, where he currently ranks as No. 11 overall.
Some clips from this AAU season w TTO pic.twitter.com/nUu6c3VGdT

— Solo????????????‍???? #BETONYOURSELF (@solo_ball5) June 13, 2021