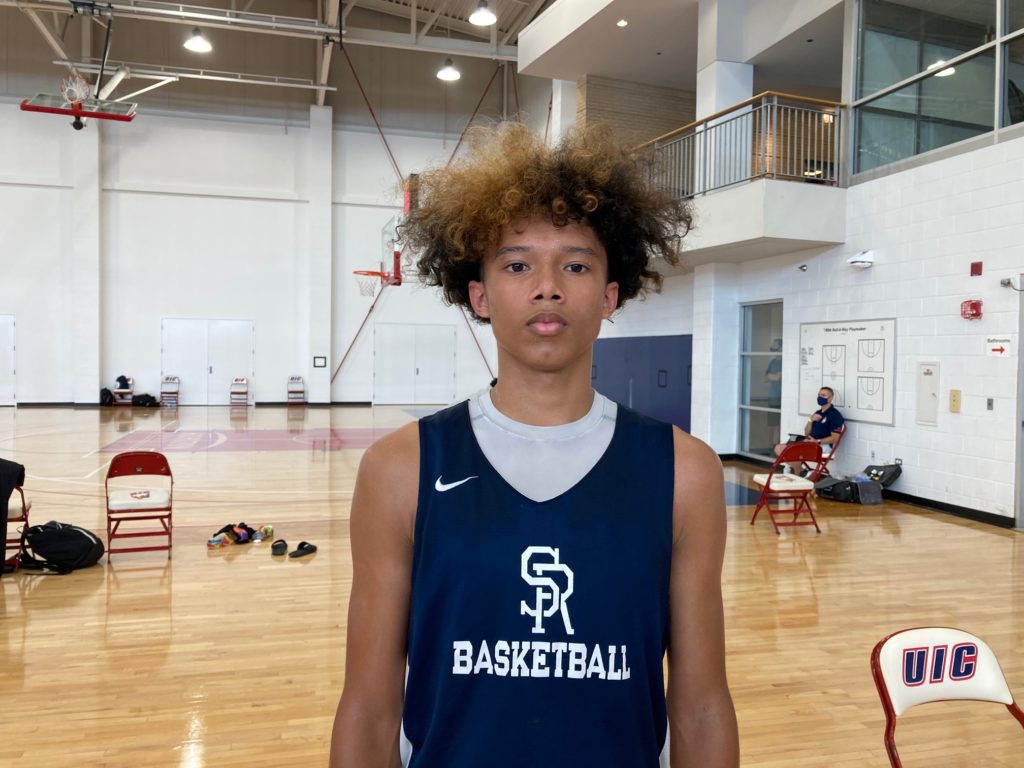 Posted On: 07/1/21 12:00 PM
On Wednesday PHI was in the house for the UIC Team Camp. If featured teams from around the state including many top prospects. We examine what we saw at the event in UIC Team Camp: Wednesday Notebook!
St Rita Starting to Click at End of June
St Rita looked the best we have seen them this month at UIC. They were without a couple players but the more limited roster seemed to benefit them. Jaedin Reyna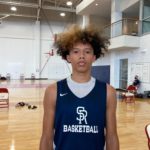 Jaedin Reyna 6'0" | PG St. Rita | 2024 State IL ran the show at the point. The 2024 floor general is a blur with the ball in the open floor. High IQ passer who gets others involved while still creating his own offense. The jump shot was flowing from three throughout the day. Good on ball defender that pressures opposing guards. Must have impressed the Flames coaches as he landed an offer after their last game.  The 2024 twin towers also brought it! James Brown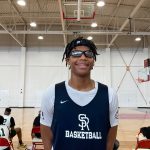 James Brown 6'9" | C St. Rita | 2024 State IL was completely dominant on the glass all day long. He snatched rebounds on both ends of the floor cleaning up the offensive glass for second chance points. Finished dump off passes and was quick with his moves around the basket. His 2024 running mate Morez Johnson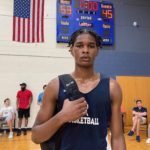 Morez Johnson 6'9" | PF St. Rita | 2024 State IL might have an even higher ceiling. He is just scratching the surface of where he can be long-term. Great frame and athleticism at the four spot. Quick spin moves, seals, and tip ins did the damage on the offensive end. The 2023 class also had a couple stand out performers. Long and rangy Evan Jackson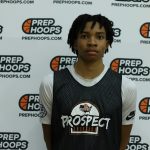 Evan Jackson 6'7" | SF De La Salle Institute | 2023 State IL is a combo forward that is bouncy around the hoop and runs the floor well. Kaiden Space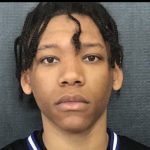 Kaiden Space 6'1" | PG St. Rita | 2023 State IL is a strong bodied guard that can make open shots and I understands the game.
Rockford Guilford Duo Worth Tracking
The Rockford Guilford backcourt of Malachi Johnson and Mekhi Doby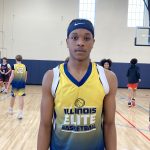 Mekhi Doby 6'2" | SG Rockford Guilford | 2023 State IL are two to track long term. Johnson was the best on this day. The 2024 combo has a strong frame knocking in jumpers from three and pulling up from mid-range. Overall he was at his best getting downhill and showing some passing feel. Doby is a 2023 two guard that has a chance to develop into a nice defender along with being a good passer for an off guard.
Pence Lands Offer After Camp
St Joseph Ogden made the trip up from Springfield to play some high-level competition. The reason that they are at the camp is their 2023 wing Ty Pence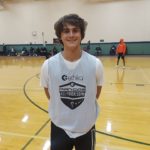 Ty Pence 6'4" | SG St. Joseph Ogden | 2023 State #295 Nation IL . The off guard is a plus athlete which was shown as he had several blocks and as the day went on threw down a couple nasty alley-oops. The jump shot is his biggest strength at this stage. It was a little bit on and off throughout the day. Shoots a good ball and gets elevation off the floor. We were impressed with how well he scored off the bounce using creativity along with strong straight line slashes. Projects is a really nice mid-major player.
Martin Leads Next Group for Mundelein
With the graduation of Conor Enright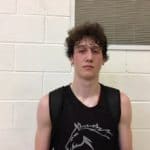 Conor Enright 6'1" | PG Mundelein | 2021 State IL and Scottie Ebube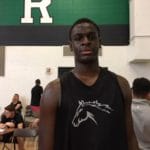 Scottie Ebube 6'7" | C Mundelein | 2021 State #247 Nation IL it is now 2023 power forward Chris Martin Chris Martin 6'6" | PF Mundelein | 2023 State IL 's turn to be the man. The junior is a broad shouldered and bruising post that rebounds well in his area. Showed good footwork on a couple spin moves and can handle it out of mid-post. Also hit a step back shot on the block.
Orr Shares the Production
There wasn't one prospect who dominated for Orr in the game we saw rather they had a collective effort. The top prospect on their team is 2022 Caleb Hannah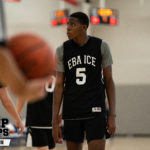 Caleb Hannah 6'7" | PF Orr | 2022 State IL who presents a long and athletic build at the combo forward spot. Rim runner that is quick to the offensive glass. Leontae Lilly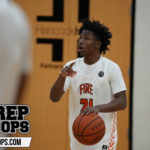 Leontae Lilly 5'8" | PG Orr | 2022 State IL is another senior who has experience. Runs the show and gets others involved while hitting a jumper every now and then as well as being a pesky defender. A couple names that emerged were seniors Vell Hughes & Davion McCarthy who should find homes at the small college level.
Smith Shows He is Among Best in 2024
Lincoln Park 2024 big man Jaden Smith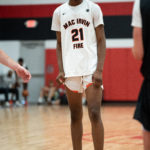 Jaden Smith 6'8" | C Kenwood | 2024 State IL proved he is among the top prospects in his class. The post swatted shots all day long. He was a force on the defensive end. Offensively got several put backs and finished quick passes from his guards in the lane. A lot of developmental and physical upside here. High-majors need to be on him already.
Simeon Wins One of the Best Games of June
The best game of the day was Simeon against OPRF.  It was an up-tempo contest with tons of prospects on the floor.  Simeon recorded the close win.  The top performer was 2023 power forward Miles Rubin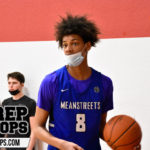 Miles Rubin 6'7" | PF Simeon | 2023 State #276 Nation IL .  The Wolverines junior scored 21 points in the running clock game.  Threw down a ton of lobs.  Took his opponent off the bounce on the baseline.  Bouncy on the offensive glass.  Force defensively on glass and swatting shots.  Overall super explosive on both ends.  His brother Wesley Rubin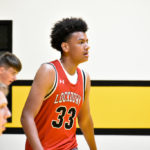 Wesley Rubin 6'7" | PF Simeon | 2023 State IL also contributed with skill around the hoop for several scores.  The Simeon guards sliced and diced up the OPRF defense.  Jalen Griffith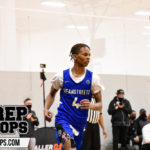 Jalen Griffith 5'9" | PG Simeon | 2023 State IL made plays off the bounce with his killer handles.  He has it on a string getting to the hoop for layups and threw some outstanding passes all game long!  Avyion Morris Avyion Morris 5'9" | PG Simeon | 2022 State IL is the heart and soul of this team.  Pesky defender that is shifty off the bounce on the offensive end being able to dish it off for a dime.  JayQuan Adams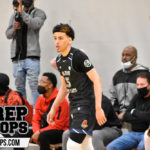 JayQuan Adams 6'4" | SG Simeon | 2022 State IL continues to steadily see his stock rise heading into his senior campaign.  Plus athlete with size on the wing that is a major factor defensively and in transition.
OPRF Duo Stock Continues to Climb
The Oak Park River Forest 1-2 punch of Justin Mullins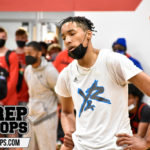 Justin Mullins 6'5" | SF Oak Park-River Forest | 2022 State IL and Sam Lewis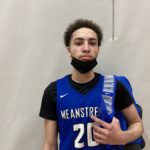 Sam Lewis 6'5" | SF Oak Park-River Forest | 2023 State #219 Nation IL were fantastic in both games we saw.  Mullins is a high level utility wing that has a lot of momentum going into July.  The area that separated the 2022 small forward on Wednesday was how well he shot it from the perimeter.  Knocked in shots at a super high clip from the three along with pulling up in the mid-range.  Also skied high for a couple of monster jams.  Rebounds for his position, sound defender, and makes winning plays.  Lewis is a 2023 shooting guard with such a beautiful looking shot.  The feathery shot goes in over and over again.  Also mixed in quite a few slick takes off the bounce and in transition.  Versatile scorer that is a straight bucket getter!  The OPRF supporting cast did their job with consistent play as well.  Team to watch heading into next season!
Marist 2023 Core
The Marist squad has a solid group of 2023 prospects that are the primary focus of their team.  It starts with Xavier Sulaiman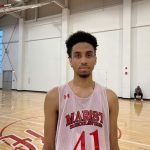 Xavier Sulaiman 6'3" | SG Marist | 2023 State IL who is a rangy combo guard.  He only played about half the game, but went for 13 points hitting a pair of threes.  When playing off the ball showcases good shot prep being ready to let it fly when it hits his hands.  Also converted in the lane with several acrobatic finishes.  Kaden White is a lefty two guard that drained a pair of triples.  Mason Ross got loose in the open floor and drained pull up mid-range shots.
Quick Hitters
Johnsburg 2023 shooting guard Dylan Schmidt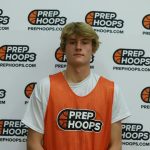 Dylan Schmidt 6'2" | SG Johnsburg | 2023 State IL is a name to track as a skilled wing with perimeter shooting potential.
Marshall Gehrke could be the top prospect to come from Antioch in a while. Good sized 2025 wing with strength.
Von Steuben 2023 post Kevin Anthony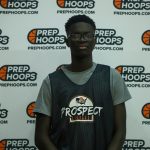 Kevin Anthony 6'8" | PF Von Steuben | 2023 State IL is a long and lean shot blocker that protected the rim all game long. Hit a corner three and flashed offensive potential.