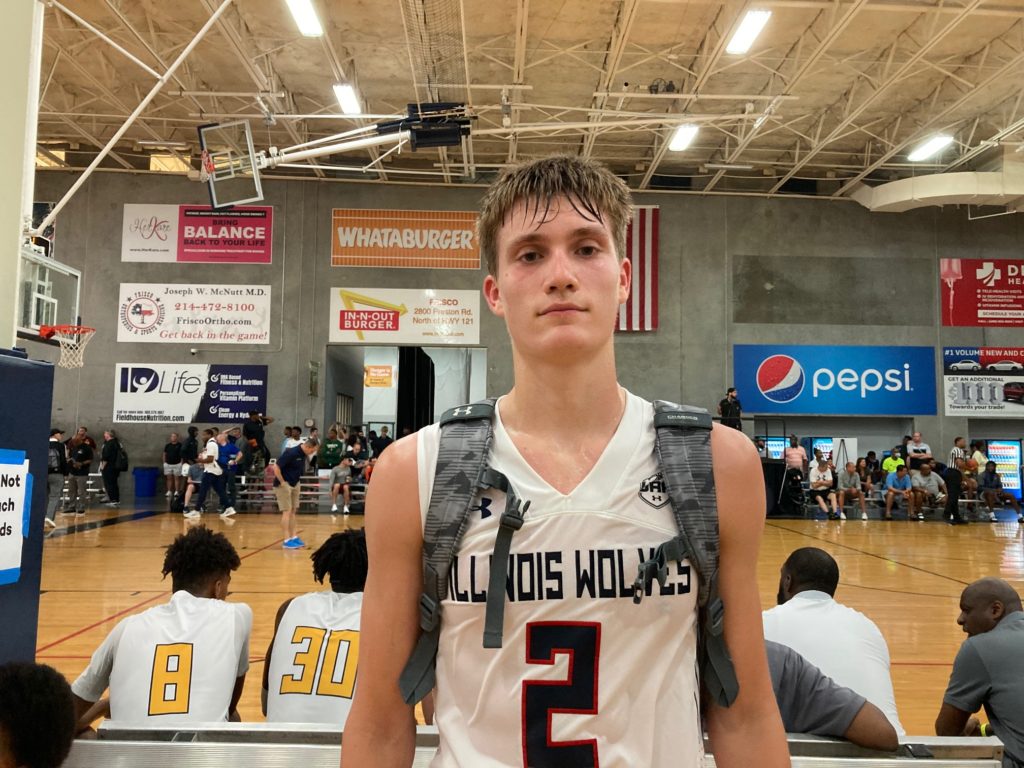 Posted On: 07/29/21 3:00 PM
The past two weekends Prep Hoops Illinois headed over to Under Armour Association action in Dallas and Indianapolis on Friday morning to check out the Illinois programs that were in action.  We got a good look at three of the UAA and UA Rise programs and break down what we saw in UAA: Illinois Programs Recap!
Illinois Wolves Win UAA Crown
We caught two games from the Illinois Wolves during July with one in Dallas and one in Indianapolis.  In Dallas we saw their only loss of the month against a really good Team Curry squad.  Despite the loss we were incredibly impressed with how well they shared the ball and their three top prospects performed.  Yorkville Christian's Jaden Schutt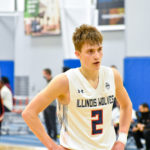 Jaden Schutt 6'5" | SG Yorkville Christian | 2022 State #90 Nation IL lived up to his reputation as the best shooter in 2022 in Illinois.  You are almost surprised when it doesn't go in.  Great moving without the ball and threw down some jams as well on back cuts.  Went for 16 points.  Braden Huff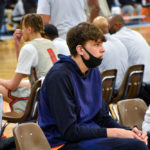 Braden Huff 6'9" | PF Glenbard West | 2022 State #84 Nation IL from Glenbard West was really good in this one as well.  The lefty stretch four hit a pair of threes, put it on the deck, and was crafty finishing in the lane.  He had 17 points.  Tuscola point guard Jalen Quinn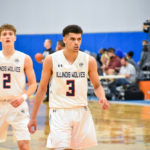 Jalen Quinn 6'3" | PG Tuscola | 2022 State #203 Nation IL made a super strong case for the top point guard spot in the rising senior class.  Works great around ball screens coming off them for layups where he can finish on floaters so well with either hand.  Converted over and over again at the rim.  Crisp passer and playmaker had 13 points.  Glenbrook South point guard Cooper Noard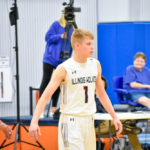 Cooper Noard 6'2" | PG Glenbrook South | 2022 State IL showed how well he can shoot it from his lead guards spot draining three triples for 9 points.
This past weekend in Indianapolis they opened bracket play as one of the favorites to take home the crown, but got everything they could handle against Team Breakdown.  In the end the Wolves stars stepped up and carried them across the finish line for a first-round win.  Schutt was fantastic once again.  He had 26 points in the victory including six from beyond the arc.  Mixed in some reverse layups and athletic finishes, but it was his shooting that proved to be elite.  Quinn and Huff were quiet, but stepped up when needed.  Huff hit a key three and passed it well for 7 points.  Quinn displayed quickness on his burst off the bounce.  Gets in the lane and draws contact.  Went for 8 points.  Glenbard West wing Caden Pierce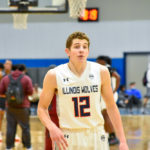 Caden Pierce 6'5" | SG Glenbard West | 2022 State IL made some huge intangible plays with his passing and rebounding late along with a key and-1 to secure the win in a 7 point outing.
On Sunday the Illinois Wolves captured the UAA championship in a win over Riverside Hawks 64-53.  Once again it was Schutt who led the way with 21 points in the victory.
Breakaway Shoots Lights Out
In Indianapolis we were able to catch Breakaway's game against AAO Flight.  They came out on fire in their 8 AM contest.  Ben VanderWal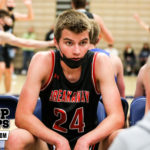 Ben VanderWal 6'5" | SF Timothy Christian | 2022 State #237 Nation IL was phenomenal in the win.  Timothy Christian small forward has plus positional size with an elite shot and plus athleticism.  The later was shown off with several monster dunks early in the contest.  Runs the floor hard and can put it on the deck with more creativity than we had seen in the past.  The elite shooter drained three from distance in a 23 point performance.  Mid-majors should be all over him.  Bobby Durkin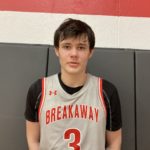 Bobby Durkin 6'5" | SF Glenbard West | 2022 State IL from Glenbard West is a plus plus shooter in his own right.  Good size with deep range on his shot as he connected on three from distance for 12 points.  Both John Paul Hanley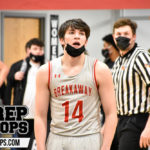 John Paul Hanley 6'2" | SG Riverside Brookfield | 2022 State IL (Riverside Brookfield) and Garrett Bolte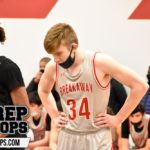 Garrett Bolte 6'6" | PF Hinsdale South | 2022 State IL (Hinsdale South) each hit a pair of threes as well and should find homes at the small college level.
Fundamental U Plays Tough in UAA Finals Bracket First Round
Fundamental U got a chance to play in the UAA bracket against Canada Elite.  They were right there the whole game coming up just short.  New Trier's Jackson Munro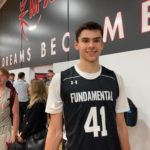 Jackson Munro 6'8" | C New Trier | 2022 State IL impressed once again.  The skilled four man drained pick/pop threes, finished in the paint on quick moves through contact, and displayed touch on the block.  Went for 19 points.  Picking up quite a few offers right now!  Libertyville power forward Chase Bonder Chase Bonder 6'6" | PF Libertyville | 2022 State IL got to the foul line and converted dump offs for 8 points.  Bryce Moore Bryce Moore 6'3" | PG Carmel | 2022 State IL from Carmel brings athleticism, defense, and shot making in the backcourt as he hit a pair of threes for 8 points.