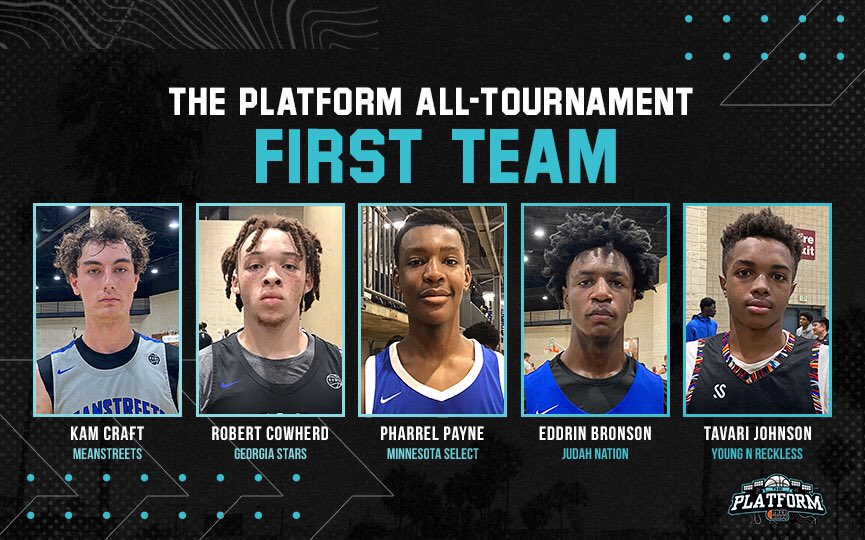 Posted On: 07/13/21 5:59 PM
The Best of the Best, The Platform 17U All Tournament Team from Birmingham, Alabama. Nationally known names mixing with top up and comers! Prep Hoops at it's finest. 
The Platform First Team
Eddrin Bronson Eddrin Bronson 6'1" | PG Tampa Catholic | 2023 State FL of Judah Nation. Bronson is a nationally ranked 2023 talent at the back end of the top 250 but after this weekend he's trending up after leading his team to four Platform victories.  One of the toughest players to stop off the bounce all weekend, Bronson was scoring at the rim in bulk which has led to a bulk of calls from schools. 
Kam Craft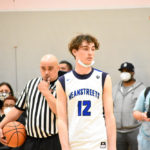 Kam Craft 6'5" | SF TSF | 2022 State #54 Nation GA of Meanstreets.  Kraft led Meanstreets to a 5-0 record and had one of the most outstanding performances of the weekend when he went for 31 on one of the best defenders at the event.  Craft is a four star top 100 talent in the Prep Hoops national rankings and he played every bit like a national standout in front of future head coach Travis Steele. 
Robert Cowherd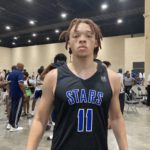 Robert Cowherd 6'5" | SG Southern California Academy | 2022 #77 Nation of Georgia Stars.  One of the toughest and most consistent guards in Birmingham at any event, Robert put the ball down and put numbers up on everything in front of him guiding the Stars to 4-1.  Cowherd is a top 150 talent in the Prep Hoops national rankings and likely pushing up. With Ole Miss, Baylor, Xavier, and Minnesota watching him close Cowherd had a great first weekend. 
Tavari Johnson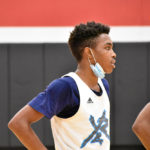 Tavari Johnson 5'11" | PG Lyons | 2022 State #171 Nation IL of Young N Reckless. Between his two 20 point games, the massive assist total for the weekend (six plus a game against strong teams), and the game winner against LivOn, Johnson had a weekend he won't forget, nor will others.  You could make a case that he had the biggest impact of any player for his team considering how crucial his playmaking was at all parts of the game. 
Pharrel Payne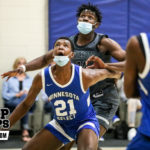 Pharrel Payne 6'9" | C Park Of Cottage Grove | 2022 State #84 Nation MN of Minnesota Select. Payne proved his top 100 ranking this weekend going head to head with three top 100 talents from the 2022 and 2023s classes, and severely outplaying them.  Payne averaged 16 points and 13 rebounds for the weekend leading Select over the Georgia Stars and a couple other teams.  Payne removed nationally ranked players from the block to board and finish consistently.  Minnesota was a constant at his games while Illinois, Xavier, Iowa State, Baylor, and South Carolina where among those that also looked on. 
The Platform Second Team
Davion Sykes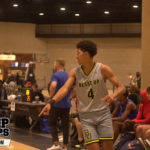 Davion Sykes 6'6" | SG Duncanville | 2022 State TX of Beast Up. One of the surprises of the event, the scoring ability of Sykes will earn him a number of division one calls the rest of the month. 
Parker Friedrichsen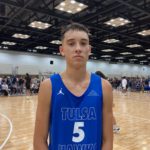 Parker Friedrichsen 6'4" | SG Bixby | 2023 State #84 Nation OK of Tulsa Hawks. The top 100 2023 shooting and quick separation specialist put a number of big totals on the board once again. 
Ryan Conwell of EG10.  Cornwell ranked with the weekend scoring leaders and will likely double his mid-major scholarship offer count.  I could see the A10, Mountain West, and Missouri Valley coming next. 
Mekhi Collins Mekhi Collins 6'8" | PF Faith Family Academy | 2021 State TX of Minnesota Fury. Collins went head to head with division one scholarship wings and matched them nearly every game.  High major football offered talent loves hoops and is considering it strongly so division one schools you can certainly make that call. 
of LivOn. The potential of Kyran is impressive and his explosive production in several of the games this weekend led to three solid wins for LivON Fleur De Lis. 
Ty Rodgers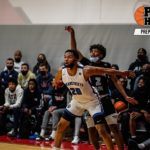 Ty Rodgers 6'6" | SF Grand Blanc | 2022 #34 Nation IN of Meanstreets. When it comes to defenses nobody disrupted teams like the 56th ranked player in our national rankings.  Tom Izzo was there watching Rogers led his team's defense while rebounding in bulk and averaging double digiits. 
The Platform Third Team
AJ Casey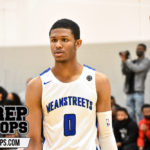 AJ Casey 6'8" | PF Whitney Young | 2022 State #55 Nation IL of Meanstreets. The 5-star 22nd ranked player in the country had 24 points on 10 of 11 shooting the one game I saw and another eight rim finishes the other game. 
Colby Garland of Old School Wings. One of the biggest surprises of the weekend was the 26 a contest from Garland who has a Nate Mason style game. 
Bryson Dawkins of Alabama Celtics. Dawkins was as explosive as he usually is and had local mids and lows praying that high majors didn't step over to see him. .
Antwaun Massey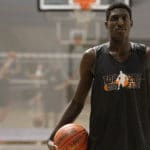 Antwaun Massey 6'8" | PF Minnesota Prep | 2022 #249 Nation MN of KC Spurs. Massey is 6-foot-8 and growing.  His game has grown tremendously since we last saw him this winter with Minnesota Prep Academy.  Sure division one talent. 
Reggie Bass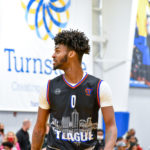 Reggie Bass 6'4" | SG Arsenal Tech | 2022 State #175 Nation IN of Team Teague. The best game this Illinois commit had was his 29 against the Minnesota Fury.  The 138th ranked player in the country. 
The Platform Fourth Team
Jalen Hampton Jalen Hampton 6'6" | SF Surge Christian | 2021 FL of MPJ Elite. MPJ Elite was so balanced it was tough to pick one guy but Hampton was the best over the weekend. 
Mady Traore of Georgia Stars. A seven footer that forced teams to stay away from the paint all weekend.  Top 100 level prospect. 
Caleb Young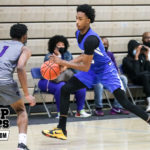 Caleb Young 6'4" | SG Pensacola | 2022 State FL of Judah Nation.  The Judah trio is so tough to guard and the dribble separation game of Young led to four wins
Jah Quinones of Judah Nation. When it comes to toughness, Jah is in a class to himself. 
JV Seat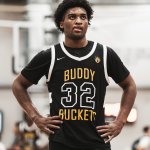 JV Seat 6'3" | SF Edmond Memorial | 2022 State #250 Nation OK of Team Buddy Buckets.  Seat led Buddy Buckets to three weekend wins.