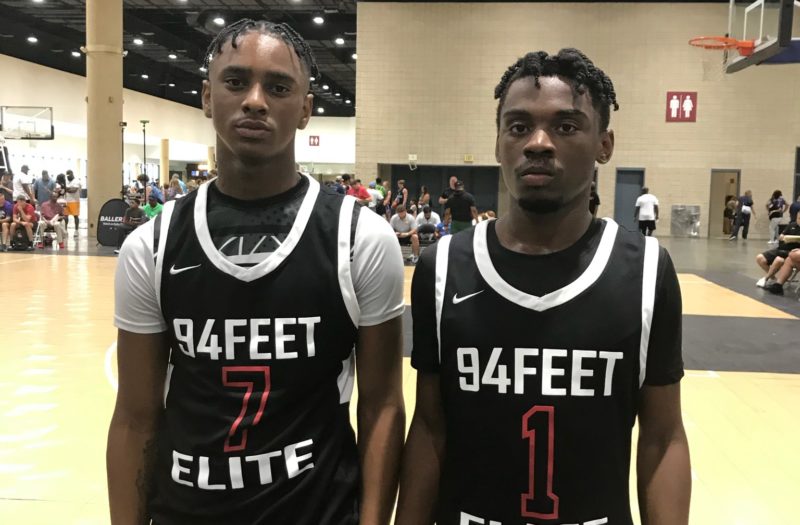 Posted On: 07/12/21 8:55 PM
The Platform concluded Sunday evening with several teams and players in the 15U division leaving lasting impressions on coaches and scouts. This was a well-ran tournament, and as a Birmingham native, I was proud my city was chosen to host such a wonderful showcase for prep ball players from all over the nation. The following is a list of all of the 15U point guards that stood out from this weekend.  
Braylon Frazier 5'10/160 PG, Woodz Elite
A kid that takes pride in being a disruptor on defense. He locked down opposing point guards all weekend while maintaining his own level of offense. He is a very strong finisher and showed good vision with a few eye-popping no-look passes in transition. He led his team to an impressive undefeated weekend.
Carmello Taylor 6'0/170 PG, 94 Feet Elite
A smooth athlete that loves to compete on both ends of the floor. Carmello was the best finisher at the rim that I saw from the point guard position. He has elite body control in the air and nice creativity that allowed him to maneuver and make shots at close range despite being heavily contested by much bigger players.
Noah Cutler 5'9/150 PG, Athletes of Influence
An extremely confident athlete that plays with an energy and swag that his team feeds off. From a skill perspective, there is nothing Noah can't do at the point guard position. He's fast, has elite handles, has a good first step, and can score at all levels. He was a double-double threat (points and assists) every game. 
Lamontae Cross 5'7/150 PG, 94 Feet Elite
Lamontae led his team all weekend showing an impressive competitive fire and will to win. He is a maestro on the court that loves to drive baseline and make plays for others. He also has the speed and quickness to get to his spots at will and make teams pay.
Trovary Cavil 5'10/155 PG, KC Spurs
A pest on defense that made it tough for offensive players all weekend. He has active hands and good strength to battle bigger guards for positioning and rebounds. He also showed a good ability to finish at the rim with both hands. He has a good three-point shot and had the best floater I saw all weekend.
Brady Bluhm 5'9/155 PG, Chapman Basketball Academy
A coach on the floor. Brady has a veteran-like feel for the game and instincts that allow him to always be one step ahead of the defense. He understands angles and has developed a crafty style that allows him to be an effective finisher at the rim. He also has good vision and a quick first step that made it impossible for defenders to stay in front of him.
Jaden Baker 6'0/170 PG, Spartans Elite
Jaden is just a baller. He led his team to the most impressive weekend of the tournament going 4-0, all wins coming in blowout fashion. He was the leader, the tone-setter, and was the main reason his team rarely came out flat and handled business like the well-oiled machine that they are. 
Jomar Collazo 5'10/160 PG, Florida Suns
Jomar has an elite first step that allowed him to blow past defenders all weekend. His body control and strength were also impressive as he made several tough finishes in the half-court and on fast breaks. He's extremely active on defense, making opposing players pay immediately when they did not secure the ball in his presence. He also caused plenty of deflections and kept his teammates involved with accurate and timely passes that allowed them to go right into their shot.
Joe Wimberly 5'8/150 PG, Iron City Huskies
Joe was the unquestioned leader of the Huskies that directed both the offense and defense like a true veteran of the sport. He wasn't a kid that chased stats, as highlighted by the "hockey" assist plays he racked up by simply putting his guys in the right spot and making the right play at the right time. When his team became stagnant on offense, he picked his spots to be aggressive and get them back on track. My favorite part about his game was how he handled the ball all game and rarely made turnovers or was careless with the ball.