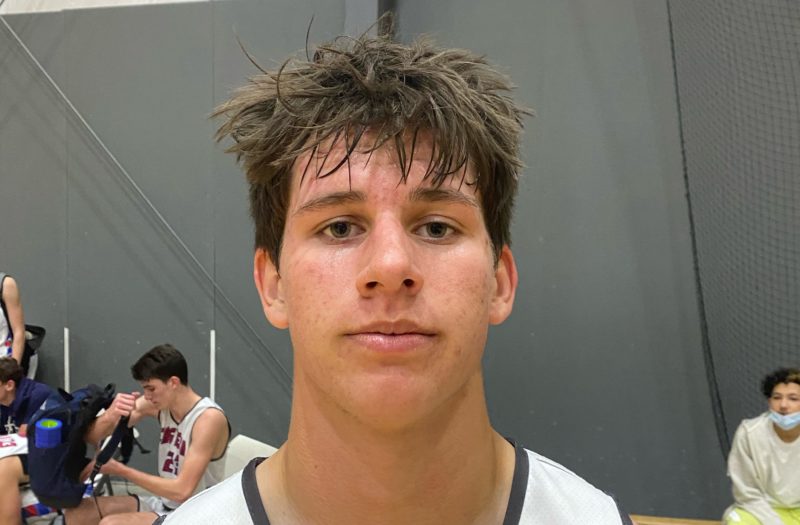 Posted On: 07/1/21 3:40 PM
The 1A State Invitational at Cedar Park Christian High School is allowing the top teams (including top class of 2021 players) to compete one last time for the "unofficial" State Championship. The 8 team, single elimination format opened up Wednesday, June 30 and the State Champs will be crowned on Friday, July 2.
Game 1 Lynden Christian 82 Freeman 64
Andrew Hommes 6-5 Wing 2022 Lynden Christian
Hommes scored 16 despite being on the bench with early foul trouble. He possesses all the tools to be a high level prospect and his day two showdown vs Logan Britt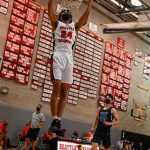 Logan Britt 6'4" | CG Seattle Academy | 2022 State WA will be a battle of two of the top juniors in the state.
Logan Dykstra 6-4 Post 2021 Lynden Christian
The steady senior scored 10 points and provided a calming presence when his team fell behind early against Freeman. He is an excellent screener, gritty rebounder and obvious team leader.
Tyler Sipma 5-11 Point Guard 2023 Lynden Christian
A tough, strong, and highly determined defender, Sipma also has excellent ball-handling skills, great court awareness and the moxie needed by a point guard to play at the next level. He put up 14 in his team's opening round win to move into the semifinals and looks anxious to win two more.
Boen Phelps Boen Phelps 6'2" | SG Freeman | 2023 State WA 6-2 Point Guard 2023 Freeman High School
The All-League point guard who gets 15 points a game showed elite speed and quickness. He is extremely aggressive and relentless on defense and fearless attacking the basket on offense. He scored 16 in the loss to Lynden Christian but is definitely a four year prospect with two years of high school ball still ahead of him.
Quin Goldsmith 6-4 Wing 2022 Freeman High School
Another All-leaguer getting 15 a game, the rangy and long Goldsmith is as much a scorer as he is a shooter. He understands angles and reads defenders well. He is able to get shots off quickly and maneuver around bigger defenders and go over smaller ones. He scored 19 and looked like he could score that much at the next level as well.
Tayler Wells 6-4 Wing 2022 Freeman High School
The confident and on balance post, plays bigger than his listed height. He put up fifteen points and showed he can face-up from fifteen feet, post up close to the basket, and attack the hoop off the dribble.
Game 2 Seattle Academy 84 Chelan 60
Teja Singh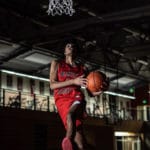 Teja Singh 6'2" | CG Seattle Academy | 2021 State WA 6-2 Point Guard 2021 Seattle Academy
The fluid floor general hit four threes against Chelan on his way to 16 points. Great decision-maker who showed aggressive patience while on offense.  He had more ball-handling duties with Debruhl on the bench with a sprained ankle.
Leo DeBruhl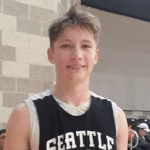 Leo DeBruhl 6'3" | PG Seattle Academy | 2021 State WA 6-3 Combo Guard  2021 Seattle Academy The team MVP sat this one out and remains questionable for the rest of the State Invitational.
Joe Cookson Joe Cookson 6'6" | SF Seattle Academy | 2021 State WA 6-6 Wing 2021 Seattle Academy
The high energy inside/outside dual threat shot the ball well from deep, hitting three from beyond the arch on his way to 21 points.
Logan Britt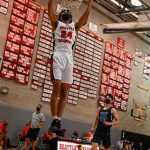 Logan Britt 6'4" | CG Seattle Academy | 2022 State WA 6-5 Wing 2022 Seattle Academy
Britt was a monster in the first game with 21 first half points. He finished with 28 including four threes all with a Chelan defender in his face. This performance will have him moving up the recruiting lists. He is definitely a Division 2 prospect and more games like this during the evaluation period will have him on the radar of Division 1 programs.
Nate Harding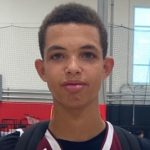 Nate Harding 6'1" | PG Chelan | 2022 State WA 6-1 Point Guard 2022 Chelan High School
A true scoring point guard, Harding rose to the level of the competition against number one Seattle Academy. He hit five threes on his way to 19 points and his second half defense on the red-hot Logan Britt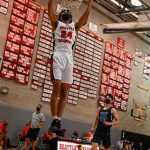 Logan Britt 6'4" | CG Seattle Academy | 2022 State WA showed he can play on that side of the ball as well.
Reed Stamps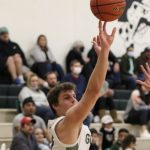 Reed Stamps 6'6" | PF Chelan | 2022 State WA 6-6 Wing 2022 Chelan High School
An inside and outside threat with good court vision, Stamps scored 13 points and grabbed many defensive rebounds in traffic.
Braiden Boyd 6-5 Wing 2022 Chelan High School
Another dual threat scorer, Boyd bullied his way down low and showed a smooth three point stroke as he hit for 11 points.