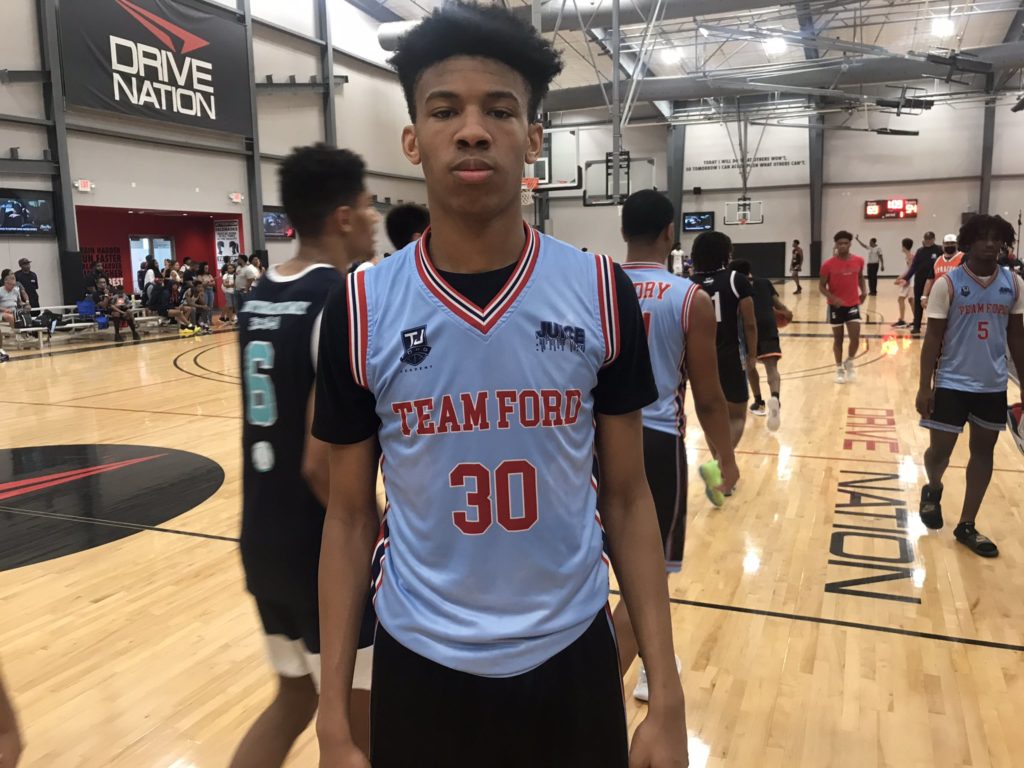 Posted On: 07/21/21 3:38 PM
The talent from the state of Texas that caught our eye at the Prep Hoops Exclusive.  Here are division one level talented names that impressed last weekend!
Five Best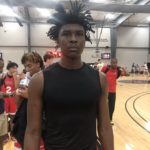 Marcel Bryant Marcel Bryant 6'7" | PF Round Rock Cedar Ridge | 2022 State TX of Nike Pro Skills Black (6'7 PF, Cedar Ridge HS, 2022).  Marcel Bryant Marcel Bryant 6'7" | PF Round Rock Cedar Ridge | 2022 State TX has a chance to explode when it comes to recruiting interest.  There are things about Bryant that are rare for a guy at 6'7 and 225 pounds: the way he runs the floor, quickness off his feet, agility in how he turns on the floor, lateral quickness that is raw but full of potential.  Bryant collected defensive rebounds like a lot of kids collect likes on social media plus Marcel showed the willingness to work around the basket.  Physically he is there and when you total 23 (and 14 followed by 18 and 14, those double-doubles catch a lot of attention. 
Jimel Cofer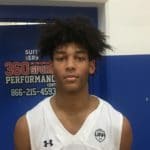 Jimel Cofer 6'4" | CG Universal Academy | 2021 State TX of Max Levels Elite (6'3 Guard, Universal Academy, 2021). I don't know the Jimel Cofer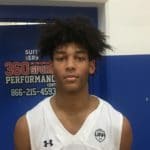 Jimel Cofer 6'4" | CG Universal Academy | 2021 State TX story but I do know that this unsigned senior is very talented.  At 6-foot-3 he was able to get a progressive dribble down when defenders were in decent position (too strong so he still turned the corner) or he used his quickness to turn the corner when the defender was late to react.  Cofer handled the ball for his team as there is good comfort there but he also played the scoring role shooting a strong percentage for his 18 plus per game this weekend.  A physical attacking player, Cofer went at the rim aggressively drawing a big number of fouls.  A certain division one talent regardless of what route he will be taking six/seven weeks from now. 
Kyron Henderson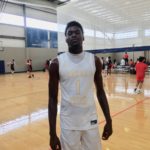 Kyron Henderson 6'6" | PF Dallas Kimball | 2022 State TX of Texas Swish (6'6 Forward, Kimball HS, 2022). There wasn't an athlete like Henderson in the gym all weekend.  In fact, you can count on one hand how many athletes are like this explosive forward on the entire Prep Hoops Circuit!  I will take it one step further, I have spent the past two days watching EYBL games and I believe he would be the most athletic player or one of the two most athletic players in most of those games as well!  Henderson went at the cup for twelve field goals in the game I watched (five dunks) but even more impressive was the dozen boards.  Kyron was constantly active rebounding, running the floor, contesting shots, and being vocal.  The only negative I saw was that he wasn't playing on Sunday! A high major football offered player, if he wanted to Kyron would be a high major hooper as well.  Personally I can't wait to see him catch touchdown passes or throw down dunks at the next level. 
Kiante Williams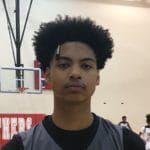 Kiante Williams 6'10" | SF Lubbock Estacado | 2022 State TX of Max Levels Elite (6'9 Forward, Lubbock Estacado HS, 2022). Williams is a rare talent in that he stands 6-foot-9 or maybe even 6-foot-10 and he has skills that have to be defended 20 feet from the basket.  For his size Williams has great handles and a developing touch.  He's always on balance going to the rim and he moves fluidly with the basketball.  Started the weekend off a bit slow but as he got going 8/9 field goal games were the normal.  Williams is such a tough match-up because nine out of ten bigs will not be able to move with him away from the basket and when they try, Williams is so big he can score over the help that remains after turning past the biggest player on the floor.  Williams has high major potential and with more work he could be a consistent high major producer. 
Dariyus Woodson of TJ Ford Basketball (6'7 Forward, Goose Creek Memorial HS, 2022). Woodson is a true sleeper but I believe a true talent.  He's another Texas sized skilled forward with comfort away from the cup.  Woodson is a left handed skill player that hit multiple threes in both games I watched over the weekend.  His change of direction at 6-foot-7 is made simple because Woodson has such a great feel as a ball handling big.  Went by bigs that couldn't move with him laterally and then extended that left handed touch with high percentage results.  Had a pair of 20+ point games and we think he's a division one sleeper of a talent that teams should locate soon. You don't see long 6'7 talents that are agile, skilled at the arc, and left handed like Woodson is. 
Next Up (Five More That Could)
Nate Borchardt Nate Borchardt 6'1" | PG Lampasas | 2022 State TX of Nike Pro Skills Red (6'1 Guard, Lampasas HS, 2022).   Borchardt was one of the most skilled and confident players I watched.  Looks like a scholarship level player to me. 
Eric Brown Eric Brown 6'1" | SG Steele | 2022 State TX Jr of Arnold Elite (6'3 SG, Byron Steele HS, 2022). Brown has some of the most explosive bounce in the gym as he can accelerate or get off his feet quicker than just about everybody. Top producer on his team.
Jayven Cofer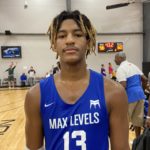 Jayven Cofer 6'2" | CG San Marcos | 2023 State TX of Max Levels Elite (6'3 PG, Universal Academy, 2023). Cofer's attack was so tough even the best teams had trouble rotating to or moving with it.  Has division one level scoring abilities.
Bryan Etumnu of TJ Ford Basketball (6'5 Forward, Kempner HS, 2022).  Bryan is one of the longer and more active players I saw, he made a great impact defensively.  He's raw but has the potential to be a scholarship player. 
TJ Ford Jr of TJ Basketball (5'10 PG, Ridge Point HS, 2023).  Ford's quickness with the basketball was eye-popping and his acceleration to the rim ranks with the best I've seen.  
Savion Red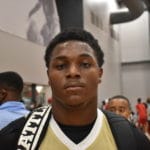 Savion Red 6'2" | CG Grand Prairie | 2022 State TX of Texas Swish (6'2 SG, Grand Prairie HS, 2022). Red scored with both toughness and skill in both games we saw.  Strong guard with skill.