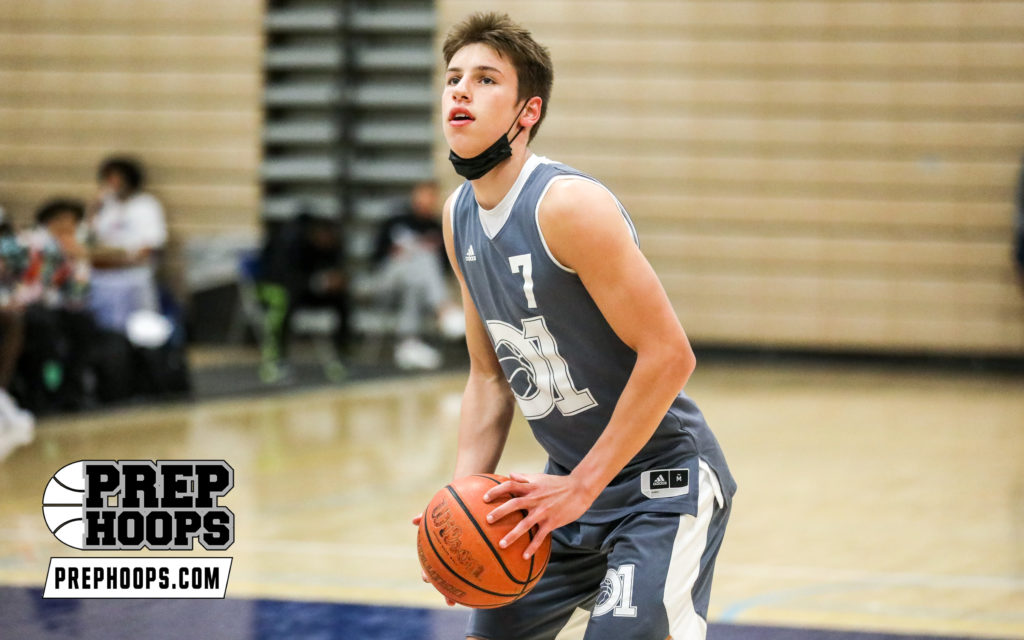 Posted On: 07/28/21 2:40 PM
Sunday.  The last day of the open period involving AAU basketball teams.  The final day of the Prep Hoops 2K21.  Here are the headliners….
Janicki Makes a Splash
When people look back on the career of Jack Janicki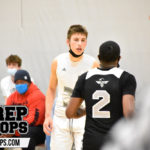 Jack Janicki 6'4" | CG White Bear Lake | 2023 State #160 Nation MN , this past weekend will be one they point to as a potential breakout time period. 
Janicki, a 2023 from White Bear Lake High School and a key component on the D1 Minnesota 16s, is the 160th ranked player in the 2023 class nationally.  Jack played every bit the part of that in Indianapolis.  
Janicki led his team to a 4-0 record last weekend and played a big part in every win (all games were close contests).  In the Minnesota showdown of the top 16u teams in state (D1 Minnesota and Minnesota Fury), Janicki gave his team an early double figure lead with three quick treys and a fourth jumper.  As the game moved to clutch spots it was Janicki handling the ball, and Jack throwing down a pair of late dunks for a 72-70 win. 
Against the Wisconsin Crusaders, the D1 Minnesota 16s faced a late game deficit until their pressuring defense (more on that later) and four threes from Janicki changed the momentum.  Jack's final score inside the final ten seconds was a 64-62 three point game winner and another clutch play from the lefty.
Jack Janicki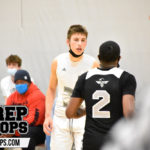 Jack Janicki 6'4" | CG White Bear Lake | 2023 State #160 Nation MN proved to be not just a winner and a competitor this weekend, he was clutch in big games spots against some of the best teams in the Midwest. 
Donald Hand: Big Guard, Big Success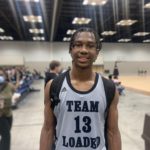 When the Prep Hoops 2022 national rankings are resorted in the next 4-5 weeks one player that will be getting a bump will be 6'5 guard Donald Hand Jr of Team Loaded Virginia.  Team Loaded was the unstoppable force of the Prep Hoops 2K21 winning four of their five games by double digits (the eight point win over D1 Minnesota was at one point a 36-9 Team Loaded edge) and Hand was a key piece to the every game success. 
A week prior Team Loaded VA finished as a quarterfinalist in the Adidas 3SSB championships in Omaha. Hand put up consistent numbers in Omaha and then followed through with similar performances in Indy. 
Boston College, South Florida, Maryland, Virginia Tech, Clemson, and VCU were among the schools that tracked Hand closely in Indy.  What did they see?  For that we go basketball in bullet points:
At 6-foot-5 Hand is a player that can consistently create his own shot off the dribble.  He's most dangerous in quick turn around situations or after a ball reversal but when Hand is up against the clock with a man on him he can create in tough spots as well. 

It's not just a scoring touch, Hand keeps a high percentage shooting number because he takes good shots and consistently shares the ball/creates for others. 

This weekend Hand consistently hit double digits against division one offered wings scoring with the pull-up or the contested rim attack

Hand can play the guard spots at 6-foot-5 because of the comfortable handle and because Donald is an agile guard that moves well. 
Ayouba The Defender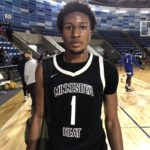 I'm so impressed with the way Ayouba Berthe Ayouba Berthe 6'5" | SF Park Center | 2022 State MN of Minnesota Heat has defended I don't care if he scores once in a game or seven times in a game, his effort on the defensive end is so valuable he's earned this space. 
Can an MVP level defender earn a college scholarship at some point to a four year school?  We are about to see.  
Berthe was a four basket player for top five ranked Park Center High School and was often a four basket player for the Minnesota Heat as a slashing/active off ball moving 6'4 wing.  That said, this is about defense.  
When the Minnesota Heat take the floor Berthe finds the other team's most talented player and goes to work.  At a strong 6-foot-4 there is no player that is going to muscle past Berthe so to beat him you have to get Berthe off balance to either sprint to the rim or shoot over him.  That is a very difficult task.  
Berthe's lateral steps are taken with agility and most importantly, with intelligent calculations.  He's a deep stance worker that beats guys to spots and often turns his man into uncomfortable situations.  Ayouba is a tough player to screen because of his strength and his deep stance which he uses to fight over the top of a screen.  Finally, if you try and shoot over Berthe, the timing of his contesting hand mixed with good length is an instant bother to a shooter. 
First Team all 2K21 Defender. 
Levi Birkholz, The Full Game Battle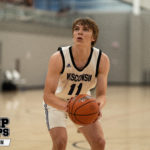 Levi Birkholz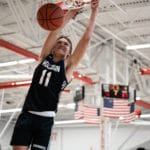 Levi Birkholz 6'2" | SG Lakeside Lutheran | 2023 State WI of Wisconsin Crusaders 16s never stops coming at you. Few players on the Prep Hoops Circuit have scored at all three levels like Levi this spring/summer and even fewer do it without taking bad shots.  When the 6'2 guard starts cooking your offense better try and change the momentum because defensively you are in trouble. 
Birkholz opened this month winning a game with a buzzer beater and he hasn't stopped putting up July numbers.  Levi totalled 24 points on 11 of 17 shooting against D1 Minnesota plus Levi grabbed ten boards and dished out four assists.  He mixed attacks with jumpers forcing defenders to trip all over the Indianapolis Convention Center. 
What makes things even tougher is that Birkholz is constantly in motion and an explosive finisher going at the rim.  If you turn your head to the ball Levi will cut hard on you and the possession is likely over.  When Levi gets two steps to the rim the result is a high rising lay-up over length or a one hand throw down.  And if you play back on your heels in fear of the attack we saw him hit jumpers with range.  
One of the top 16 and Under stock risers on the Prep Hoops Circuit.
Pepperdine's Top 150 Steal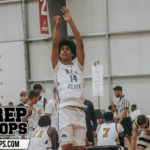 MPJ Elite 6'10 big Jevon Porter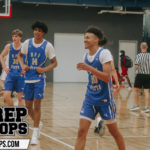 Jevon Porter 6'11" | SF Father Tolton | 2022 State #159 Nation MO is ranked in the top 150/160 area by various services including Prep Hoops and we think a player of this ability going to Pepperdine is a total steal. 
Porter's size is listed at both 6-foot-10 and 6-foot-11 plus he moves very well at his size.  That agility allows Jevon to sprint up the floor ahead of his man, it allows him to shuffle on ball screens and to shuffle for his deep post help, and that agility is clear on those two/three step sprint to the rim putbacks and active scores.  Most players at his size aren't able to match those results which is where Porter put up his 30 against EG10 and his 20 plus in the previous game. 
Making Porter even tougher is that continually developing shooting touch.  Jevon rarely forces a jumper but when they come to him within the offensive flow Jevon will catch a reversal in the corner and hit a three or baseline 17 footer.  Porter will use a dribble and take a jumper, or he will face-up and score out of the post.  
We saw all of this and then some at the 2K21 in Indy. 
Jamar Franklin Dominoes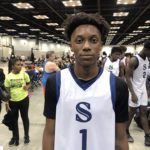 Dominoes.  When the fall they fall hard, they fall in a direction, and every action leads to another action.  Jamar Franklin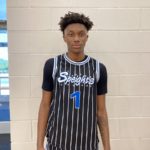 Jamar Franklin 6'1" | CG Rockledge | 2022 State FL is a 6-foot-2 combo guard from Rockledge High School in Florida and he plays with Team Speights. 
Franklin was having a good weekend making schools on-hand that had offered, like Boston U, SIUE, Morehead State, Radford, and North Alabama, feel good about their decision.  Then came the Team Speights game with D1 Minnesota.  Franklin worked his way into space (or stepped outside the college three point line) to hit six threes scoring 28 points on 10 of 16 shooting.  Not only did Franklin score the efficient 28, he did it over a high major offered 6'5 player that is a good defender. 
Shortly after the 28 point game the dominoes fell.  Northern Kentucky.  Illinois-Chicago. Louisiana Tech.  Murray State.  Louisiana-Monroe.  UMass-Lowell.  All of these programs offered Franklin in the next 48 hours.  
2K21 Notes
Ahjany Lee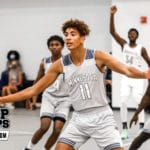 Ahjany Lee 6'10" | C Totino-Grace | 2022 State #115 Nation MN of D1 Minnesota Prospects.  Kentucky assistant coach Bruiser Flint was in the building early Sunday morning and saw Lee hit two first half threes, dunk the ball twice, and score going at the cup twice in the first half.  It was the finishing touch on a great weekend from Ahjany. 
Samuel Musungu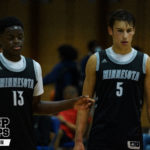 Samuel Musungu 6'1" | PG Andover | 2023 State MN of D1 Minnesota 16s.  It's been a long time since I've seen a player change a game defensively at the guard position like I saw Sam when his defensive pressured helped D1 Minnesota beat the Wisconsin Crusaders.  Sam had six steals including the game winner at the buzzer, he scored 19 points many of which came in after forcing a turnover, and he totaled five boards with four assists.  He was strong all weekend and certainly has opened eyes in terms of what he can be in the future. 
Matt Enright Matt Enright 5'10" | PG Webster Groves | 2022 State MO of MPJ Elite. They call him Matty Ice and Matty was certainly a cold hearted player going at his weekend opponents.  Enright led MPJ Elite to a 4-1 record in Indy and to say he is mainly a catch and shoot guard is grossly underestimating his ability.  Enright is a high IQ player that controlled the pace of the game with his decision making and with his verbal direction.  He's certainly a catch and hit nightmare but Enright's game also includes crafty touch scores on the move and a one-dribble ability that is only used when needed but it can quickly put two/three points on the board. 
Patrick Bath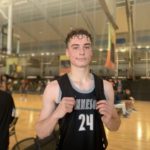 Patrick Bath 6'9" | C Totino-Grace | 2023 State #203 Nation MN of D1 Minnesota 16s.  The 6'9 2023 post has become a much better low basket player to go with his comfortable face-up shooting touch.  His shoulder turns this weekend were done with a deep low post leverage move and with a well placed shoulder freezing his man as Patrick stayed on balance to lift and finish.  Had a double-double in both games we saw this weekend as Patrick continues to improve. 
Makuei Riek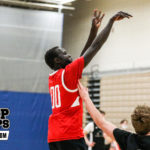 Makuei Riek 6'6" | SF Rochester Mayo | 2022 MN of Minnesota Heat.  The 6'6 wing has had a breakout 17u season and it continued Sunday morning against the Dream Chasers out of New York City.  Riek, who has to be one of the most confident players in his game you will see, made eight threes and scored 32 points in the victory.  It's one thing if Riek did this here and there but we have seen breakout games like this from him all 17u season.