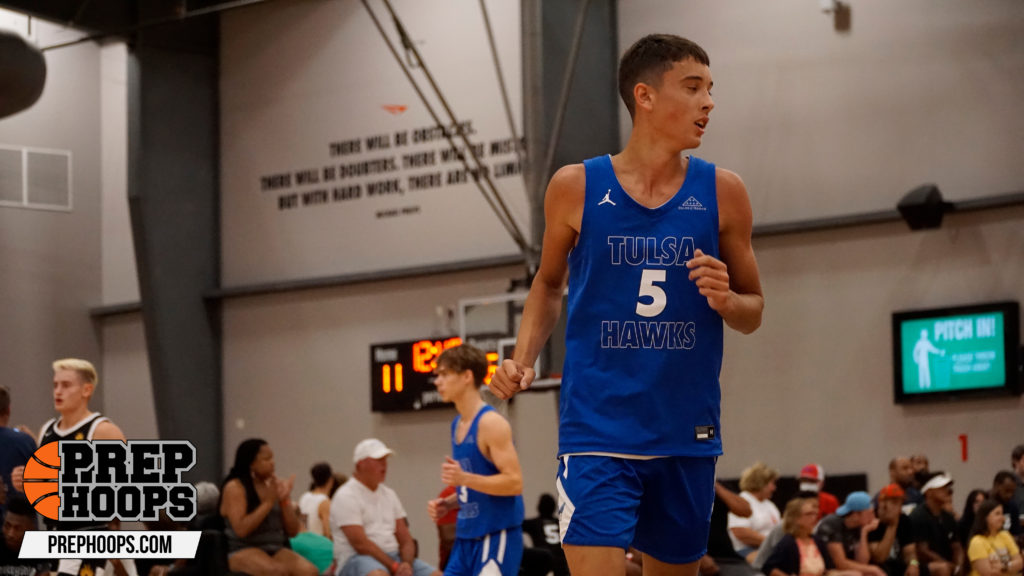 Posted On: 07/26/21 3:23 PM
Saturday was prime time for the Prep Hoops 2K21 in Indy.  The stars shined while some new talent rose up and grabbed our attention. 
Parker's Quest
At the start of the summer the scouts across the Prep Hoops Network came together for our 2023 national rankings update.  After Parker had lit the nets on fire in previous events our team came to the conclusion that Parker Friedrichsen
Parker Friedrichsen 6'4" | SG Bixby | 2023 State #92 Nation OK had earned the ranking 92nd in the country, a four star spot.  At that point the offer list was nice, but modest.  Rice, Oral Roberts, Tulsa, and a few other good schools saw the unique shooting ability and offered. 
The Tulsa Hawks star carried his high level play into the summer and schools started packing the baseline. What did they see?
29 points and eight threes vs Midwest Basketball Club from the Adidas 3SSB
38 points and a dozen threes vs BTI 
38 points on 11 of 15 shooting vs Minnesota Select
33 points vs Team Rose from Adidas
24 points vs Georgia Stars from EYBL
That's just a quick sampling of what I could find on twitter.  Fact is Parker's lighting quick release combined with range and consistency put him in the "special shooter" category.  He's way past the terms "good", "great", "excellent", and "best".  What you have here is a special shooter that is in a category shared in high school basketball by about three or four other guys.  Need more proof?  How about the scholarship opportunities flying through his phone right now: Oklahoma, Iowa, Virginia Tech, Oklahoma State, Illinois, and others. 
For any player that's a special list.  For a 2023 that's even more impressive, and maybe just the beginning. 
Team Basketball Wins the Hour ( Reed Sheppard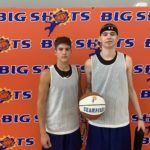 Reed Sheppard 6'3" | PG North Laurel | 2023 State #67 Nation KY )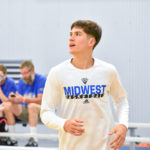 The Midwest Basketball Club vs Tulsa Hawks game grew quite the crowd.  It was a game of skill, and a game of big time performances.  Among the humans that crowded those that were working (refs, scorers table, college coaches, etc) were curious student athletes who wanted to know why Reed Sheppard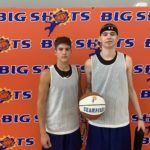 Reed Sheppard 6'3" | PG North Laurel | 2023 State #67 Nation KY had offers from Virginia, Ohio State, Kentucky, Indiana, and Louisville and they don't.  The comment "he doesn't even the score the ball" floated over shoulders in the middle of the second half when Reed was 2 of 4 from the field.  
As a 43 year old basketball traditionalist I sighed quietly, rolled the eyes, and then focused back on the court.  
At this point Sheppard had spent the game making the right first pass reads to start the possession every time, and reversed the ball for hockey assists or straight basketball assists with Richard Rolf, Mitch Rylee, and Ben Southerland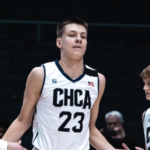 Ben Southerland 6'7" | PF Sycamore | 2022 State OH as recipients.  The defense was tired and starting to make mistakes.  Reed's defenders began to relax thinking he would keep moving the ball.  This is where Sheppard struck and the game changed to a Midwest Basketball Club win. 
Remember when I said "two of four shooting"?  Reed had five points with one three.  In the last 7-8 minutes of the game the ball started coming back to Reed in space and Sheppard took advantage with comfortable, balanced makes.  One after another the Sheppard jumper fell.  Four more threes, a couple pull-ups, scores at the rim, and a 22 point Reed Sheppard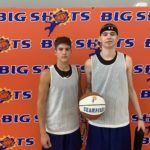 Reed Sheppard 6'3" | PG North Laurel | 2023 State #67 Nation KY game was a 93-84 Midwest Basketball Club win.  He needed only a dozen attempts to get it done.  Team basketball at it's finest.  That's why Virginia, Ohio State, and others were in the crowd thinking about their congratulatory text to Reed after the game. 
Illinois vs Illinois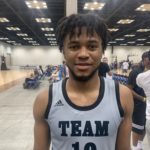 Illinois has a lot of rapid fans.  Don't believe me?  All I have to do is type " Reggie Bass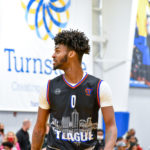 Reggie Bass 6'5" | SG Arsenal Tech | 2022 State #138 Nation IN " or " Jayden Epps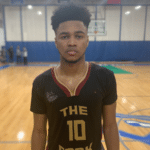 Jayden Epps 6'1" | PG Combine Academy | 2022 State #75 Nation NC " on my twitter feed and all of a sudden photos pop up of them in Illinois jerseys from the Orange Krush. So when Team Teague (the team of Bass) and Team Loaded Virginia ( Jayden Epps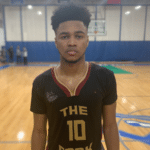 Jayden Epps 6'1" | PG Combine Academy | 2022 State #75 Nation NC ) went head to head there were Illinois fans in the crowd, Illinois fans watching twitter very close, and a couple Illinois coaches in the crowd. 
The results?
Epps as the game MVP and Bass (despite a run of several 30 point games the past two weeks) struggling until late.  Epps scored 25 on 10 of 17 field goals leading his team to a 70-47 blowout win.  Jayden started with a three point onslaught forcing the Team Teague defense to scramble wild whenever he got his body in triple threat position.  This opened the court for the secondary act which was a fearless basket attack. 
The last thing I want to do is call Epps – the 75th ranked player in the 2022 class – a Trae Young player because that's just not fair.  But to describe the way he fearlessly attacked the rim and dropped in attempts over or around the Team Teague frontcourt I do want you to think of the way Young goes at the cup and then apply it at a younger level.  The Jayden Epps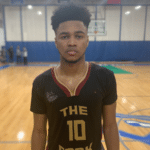 Jayden Epps 6'1" | PG Combine Academy | 2022 State #75 Nation NC attack is one of aggression and fearlessness which Illinois fans will love.  
Reggie Bass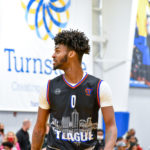 Reggie Bass 6'5" | SG Arsenal Tech | 2022 State #138 Nation IN has been playing outstanding basketball including a First Team All Tournament weekend in Dallas.  He played well for much of the 2K21 event as well.  That said, he started 0 for 9 against Team Loaded before he produced four scores in the second half.  All in all, Illinois basketball fans have a lot to be excited about. 
Pharrel the Four Star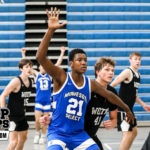 Pharrel Payne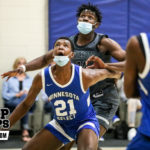 Pharrel Payne 6'9" | C Park Of Cottage Grove | 2022 State #98 Nation MN is a four star prospect ranked in the Prep Hoops national rankings as a top 100 talent.  This weekend Payne gave the college coaches in attendance a strong case as to why he ranks with the nation's best. To explain that I picked out three plays that were characteristic as to what he does for his team:
Payne stands 6'9 and 230 pounds in the post with great length.  Going head to head with a 6'10 division one offered center, Payne decided to battle his man a step off the block as opposed to denying the entry pass.  The opposing center caught and Payne kept his length high while maintaining a balance spot.  As the player pivoted middle, Payne shuffled to keep his frame in front of the center not giving up a foot of space between the ball and basket.  As the player moved to the middle of the floor Payne's length was in the perfect position to block the shot.  That is what Payne does every defensive possession.  You will see him run to the block both ways beating the other player, and then he plays that type of defense. 
Payne's first contact to his man when posting up on offense is a deep knee bend leverage move with his shoulder and hip and he wins it every time. Every time!  Then Payne keeps that position deep with arms out.  After the catch Payne has become so much better at turning on balance going over either shoulder to score.  And now that he is comfortable with both shoulders, his percentages are way up.  We are talking 8 of 10 field goals, 7 of 9, 6 of 8, every game consistent.  Not to mention his foul shooting has jumped from 55 percent to 68 percent and he's making a three each game. 
Watch him when he comes out of a game for a rest.  It's not a long rest but Pharrel don't like it.  At all!  You can tell it's not disrespectful but the look on his face is one of a child being told to go to bed in the middle of their favorite movie.  Pharrel loves to compete, he loves to win, and he loves his teammates.  When he is told to rest it quite simply makes his blood boil.  You have to love that type of competitor.
Think of the three week run from Payne and Minnesota Select.  A win over EYBL squad Georgia Stars in week one.  A 6-0 record and a championship in week two.  A win over Mass Rivals of Adidas in week three.  Altogether 37 wins and that 40 win total could come this weekend as Select goes for a regional championship. 
Team Loaded's Worker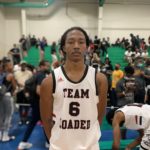 The Maliq Brown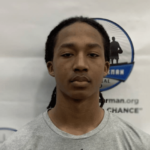 Maliq Brown 6'8" | PF Blue Ridge | 2022 State #128 Nation VA crowd included Texas A&M, VCU, Richmond, Georgetown, Virginia Tech, and a host of others.  He put a pair of double-doubles in the book on Saturday likely earning even more opportunity.  At 6'8/6'9 and about 205 pounds, Brown is one that knows his role, plays his role, and sticks to his role helping his team win (Team Loaded VA was 5-0 in Indy).
The Prep Hoops national rankings have Brown ranked 128th and this weekend Maliq proved that he's deserving of that spot and more.  Basketball has obviously moved to a pick and roll game meaning power forwards and centers must play away from the paint more than they had in the paint.  For that to happen a player must be agile and Brown is exactly that.  His lateral steps on the ball screen froze guards at a constant rate forcing desperate passes or possession restarting ball movement. And offensively Brown sets an educated, feet to the ground and body stationed through contact screen every time it's needed, 
What I love even more about Brown is the amount of active buckets he gets a game.  Brown can be a double figure scorer in college without needing the ball much because he runs the floor well, Maliq is constantly cutting hard to the rim, and he follows the ball off the rim better than most.  Those three items equal active baskets which fit perfectly for teams that have scoring guards and wings that shoot in bulk.  Add in that Brown is nearly impossible for guards to rotate down to and you have the modern day working big. 
The Fury Legend Continues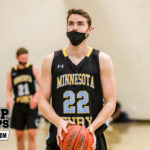 For as long as the Minnesota Fury has been playing basketball at a solid level they have been beating shoe teams.  Atlanta, Birmingham, Las Vegas, wherever, if you are a shoe team and you see the Minnesota Fury is against you, be prepared for a run.  This weekend the Fury knocked off Team Loaded NC and they did it in a convincing way. 
The biggest thing the Fury did was force feed the ball to the bigs.  Sometimes it was on the block, sometimes it was in the high post, other teams it was a catch after a ball screen.  Six-foot-8 ultra skilled Jackson Loge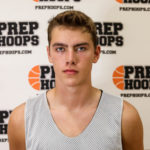 Jackson Loge 6'8" | C Morris Area | 2022 State MN scored 17 points with 11 rebounds making 7 of 11 attempts.  Six-foot-8 Brady Helgren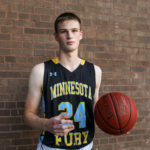 Brady Helgren 6'9" | C Edina | 2022 State MN had 16 and eight rebounds scoring on 5 of 10 shooting.  Feeding the ball to these feasting bigs was Ayden McDonald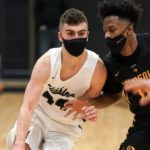 Ayden McDonald 6'4" | PG Hibbing | 2022 State MN .  Ayden went head to head with high level ball pressure and totaled seven assists with one turnover.  Add in eight boards and ten points and McDonald had a big time performance on a big stage.  
The final pieces to the 70-62 win came from the wings.  Sam Fliehe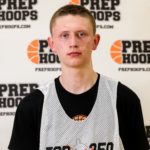 Sam Fliehe 6'5" | SF Lakeville South | 2022 State MN knocked out three triples (scored 13 points) while Mekhi Colllins played outstanding defense limiting five star win MJ Rice to 5 of 10 shooting.  Rice scored a quality 17 points but Collins kept Rice from scoring at key times late in the game. 
All together it was another Fury win over a shoe team. 
Ola-Joseph is a High Major Player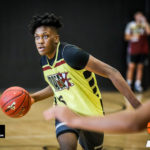 I do not have a crystal ball but I do believe strongly that Joshua Ola-Joseph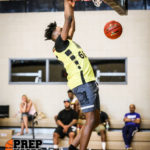 Joshua Ola-Joseph 6'7" | SF Osseo | 2022 #173 Nation of D1 Minnesota is a high major basketball player.  The length of a high major player has always been there.  The explosive drop step bounce or two step leap is better than 99 percent of the prospects you will see. His three point shooting touch is solid and can improve.  What sets him a part to me is the work rate. 
Joshua Ola-Joseph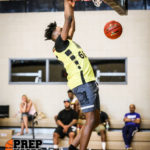 Joshua Ola-Joseph 6'7" | SF Osseo | 2022 #173 Nation was challenged by his coach to be a worker and he's listened.  Notice how after Josh scores his first thought is to sprint back on defense or instantly go to the ball to be the point man on the press.  Notice how he now enjoys physically backing down a player to catch and turn into a score.  Notice how he is vaulting into crowds to two hand board.  You add that to the physical gifts and to me he's a high major player.  Or at the very least a future Mountain West level talent making a nice contribution early. 
Ola-Joseph led D1 Minnesota over EG 10 with a late half run that included two threes and three post scores.  A game high 19 points gave D1 Minnesota a 65-55 win. 
To the Max!
On Friday night Max Shikenjanksi scored 33 points against Mass Rivals, an Adidas sponsored team.  Saturday morning he put up 30 points against Midwest Basketball Club, another Adidas sponsored team.  And Saturday afternoon despite the Minnesota Adidas program D1 Minnesota being fully aware of his abilities to explode with the scoring touch, Max Shikenjanksi put 28 points in the book in a 72-70 loss.  
If you do the math, that's 91 points against Adidas clubs, 30.3 points a game.  Most good shooters are going to have a 30+ point game every once in awhile and some will get hot and have back to back similar games.  But you are more than just a good shooter when you score 91 points combined in three games against elite 16u teams from Massachusetts, Ohio, and Minnesota.  What Max Shikenjanksi did was special. 
2K21 Notes
Leo Torbor

Leo

Torbor

6'3" | PG

Park Center | 2022

State

MN

of Minnesota Select has made as much progress as anybody.  He's handling the ball for a team that's won 37 games including some headliners over an EYBL squad and several top PH Circuit independent squads. Leo is scoring in double figures and leading the squad with a smile every game.  After weeks of tracking him North Dakota State offered Torbor a scholarship.  What I love about Leo the most is his willingness to handle (played off the ball this winter in high school) and then go back the other way and chase the other team's best player, and that's the type of stuff schools will love as well. 
D1 Minnesota 16U's 72-70 win over Minnesota Fury will give them the crown of best 16u team in Minnesota when the rankings come out on Tuesday.  The guy that led them to this big win was 6'4 wing

Jack Janicki

Jack

Janicki

6'4" | CG

White Bear Lake | 2023

State

#

160

Nation

MN

.  Jack opened the game with three triples and a jumper giving his team a double figure lead that they maintained for about 70 percent of the game. He then handled for D1 Minnesota in the middle of the contest and put two exclamation points on the victory with second half dunks.  In all Jack scored 19 points with eight rebounds and no mistakes when playing primary ball handler (note: this is a Saturday article, when we get to the Sunday article we have even more to talk about). 
Another up and comer is 6'5 forward

Anthony Allen

Anthony

Allen

6'4" | SF

Broken Arrow | 2022

State

OK

of the Tulsa Hawks. His 27 points on 11 of 15 shooting against the Midwest Basketball Club is a resume builder that he can send to a lot of schools. The 2022 likely qualifies as a combo forward because his strength allows him to be a ball screener and a potential big number rebounder.  Then you have the agility to go with it.  When going at the rim with the ball, Allen takes on the final help defender like I take on cake after a meal: you know that battle will end in a devouring. Anthony's ability to extend with either hand with great body control allows him to be a high percentage paint finisher at 6'5. 

Elvis Nnaji

Elvis

Nnaji

6'8" | C

Hopkins | 2022

State

#

217

Nation

MN

of D1 Minnesota is what he is.  And what he is at 6'9 of physical bulk that plays hard, moves well, and explodes off the ground to dunk, board, and contests shots is high major level.  There are no secrets, this future high major big plays really hard and will help a team with that agile constant effort early in his career.  With increased skill work he will be even better.  Some college is going to get a hard working frontcourt player that teammates will enjoy being around. 
Offer lists have a way of sometimes telling you that a player is taking that next step.  At 6-foot-7

Ben Southerland

Ben

Southerland

6'7" | PF

Sycamore | 2022

State

OH

is a stretch four man with a golden touch.  Those four triples and 7 of 11 shooting against the Tulsa Hawks opened the floor for others on the Midwest Basketball Club to get to work.  In noticing that Ben's last three offers are Tulsa, Iona, and Marshall you can see an upward trend coming in his opportunities. 
Against 816 Shamet (Landry Shamet's team) Ahjany Lee scored 21 with 5 boards and 3 blocks.  Ahjany knocked out two three as a part of his 6 of 11 shooting plus 7 of 8 at the foul line. Add in two strong dunks and you can see what this 6'10 super long big is a top 125 ranked player in the nation. Big potential that could blossom massively with the right coaching at the next level. 
A long shooter with the stock riser label is

Rasheed Jones

Rasheed

Jones

6'6" | SF

Arsenal Tech | 2022

State

IN

of Team Teague. Jones stands 6-foot-5 and has a goose neck touch that extends well over the defense.  Team Loaded VA plays great defense but Jones was the one guy that found the space to score putting 16 points on the board. 
2K21 Quick Hitters
If you don't offer

Kenji Scales

Kenji

Scales

6'1" | PG

Eastview | 2022

State

MN

(Minnesota Select) a D2 scholarship I will.  Seriously.  I will break into your office, use your phone and do the work for you!  
There are stocking stuffers and there are staff stuffers,

Bennett Stirtz

Bennett

Stirtz

6'5" | CG

Liberty | 2022

State

MO

of 816 Shamet is a stat stuffer. A stat line vs D1 Minnesota said 19 points, 7 boards, and 5 assists on 7 of 9 shooting.  A big time performance that included team basketball inducing play and nothing forced. 
While I am in your office let me jot the name

Kaden Vande

Kaden

Vande

6'7" | SG

Tuttle | 2022

State

OK

on your whiteboard in the office.  He's a tough, 6'7 stretch four from the Oklahoma Wolfpack. Watched him score 35 combined the last two viewings with six threes. 
Four schools I continued to run into all weekend were Wofford, Elon, Furman, and Ohio.  Saw them in the concession line using that card with the Colts logo on it.  Saw em walking back to the hotel. Saw them trying to get a seat before the Prep Hoops reporters moved in with their packets and notebooks.  So who were/what they watching?  The passing wizardry of

Ajay Sheldon

Ajay

Sheldon

6'2" | PG

Dublin Coffman | 2022

State

OH

.  Sheldon is going to make on of those teams (or others) very happy for four years. 
Some day somebody is going to watch Puolrah Gong in a college basketball game and say "wow, where did this guy come from?" He's from Mankato East and Minnesota Select and his ceiling gets bigger each day. And did you see Gong's dive on the floor securing the win over Mass Rivals?
A 2023 post that is coming along nicely is 6'9

Patrick Bath

Patrick

Bath

6'9" | C

Totino-Grace | 2023

State

#

203

Nation

MN

of D1 Minnesota.  He had a 13 point, 11 rebound performance in his team's big win over the Fury.  And hey,

Patrick Bath

Patrick

Bath

6'9" | C

Totino-Grace | 2023

State

#

203

Nation

MN

, this guy is already set for an NIL opportunity wherever goes.  Heck I just paid a fortune to Re-Bath to upgrade our house.
Let me tell you 17u teams a secret far too late:  Richard Rolf shoots the ball at a 40% Club clip at the arc so make sure you closeout well. I know you are getting this message too late but better late than never!  Good all around skill. 

Spencer Hall

Spencer

Hall

6'2" | SG

Wayzata | 2023

State

MN

of Wayzata.  Ever notice that this 2023 wing is always playing on teams that win a ton?
I think

Kendall Blue

Kendall

Blue

6'6" | SG

East Ridge | 2022

State

#

250

Nation

MN

's recruitment should take a nice job, the D1 Minnesota wing had a great weekend. 

Ryan Conwell

Ryan

Conwell

6'3" | SG

Indianapolis Pike | 2022

State

IN

with an offer from Virginia Tech!  Love that fit for Coach Mike Young.  Conwell is tough and Young has done well with tough players for years. 
Jaren Marshall for the Iowa Barnstromers win…… Yes!