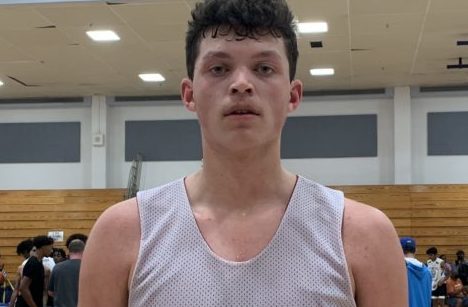 Posted On: 07/22/21 8:11 PM
The 2nd live period July 16-18 landed us at Los Pasitos JC in Livermore California. The Hoop Circuit Summer Tour featured more than 70 teams in 3 age groups 15U, 16U, 17U. Here's more of the 2023 prospects who PH thought played well.
Joseph Kennedy 6'6 F of Bay City Warriors 17U (RB) (San Francisco University HS) 2023
Kennedy played up an age in the 17U. He's more than capable of handling himself, at 6'6 the multi skilled Kennedy can play the inside/out game. He has good balance, and foot work in the post. He can hit the mid-range jumper at the high post, and will knock down 3's at the top. He'll rebound and run the court, he's  a good passer from the high post.
John Squire John Squire 6'7" | C St. Ignatius | 2023 State 6'7 PF of Lakeshow 16's Elite (ST. Ignatius HS) 2023
Squire's a big square shouldered prospect who needs to speed things up a bit, nonetheless he has an improving set of skills for the post area. He has a good touch off the glass, he'll finish with either hand, he rolls well toward the basket. He's big, takes up space in the paint, and will defend his area. He makes