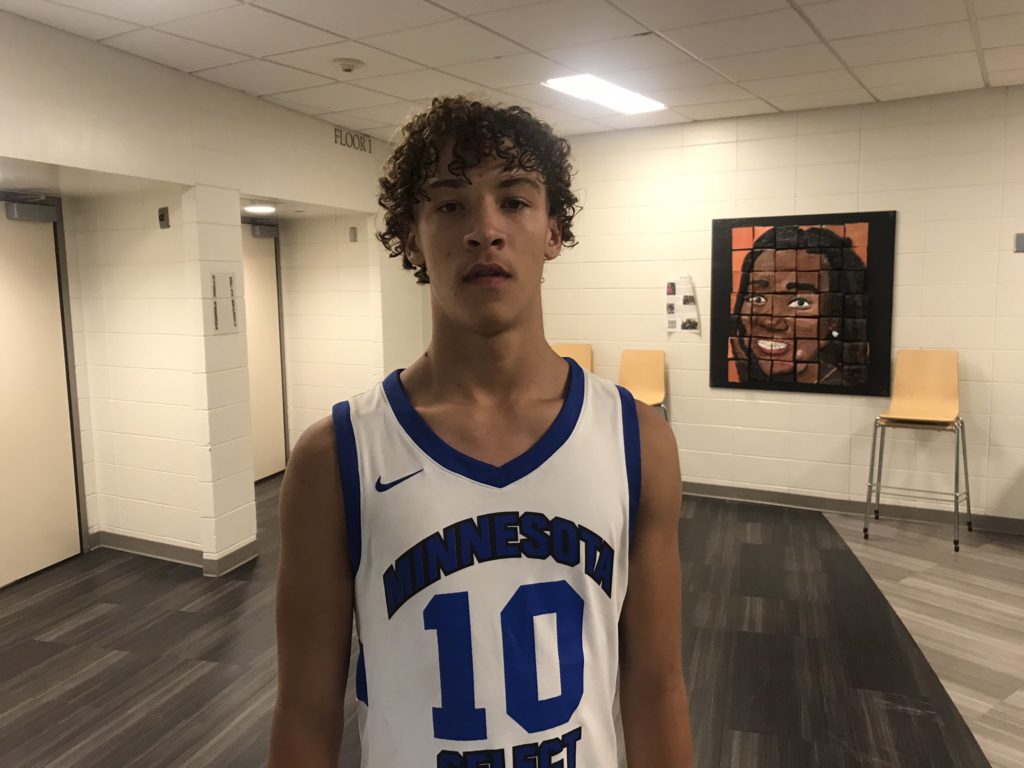 Posted On: 07/31/21 1:20 PM
The Hard Word Region Finals kicked off this morning with first round games at Wayzata High School. 
Ty Creger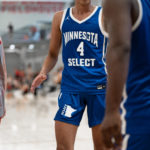 Ty Creger 6'0" | PG Owatonna | 2022 State MN , the Coach on the Floor
The Minnesota Select Mantey team knocked off the Sharks Basketball Academy 65-45 in their second game of the day.  It was a balanced team effort led by 6'1 guard Ty Creger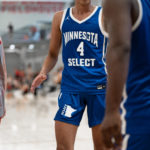 Ty Creger 6'0" | PG Owatonna | 2022 State MN . 
Ty is a part of that Owatonna Huskies squad that went to the state tournament this year and he was a central figure.  He may not get headlines that Brayden Williams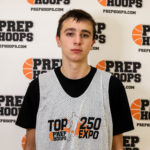 Brayden Williams 6'2" | PG Owatonna | 2022 State MN and Evan Dushek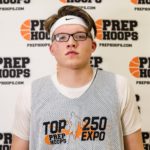 Evan Dushek 6'8" | C Owatonna | 2022 State MN get but his value is just as important.  That value was clear today. 
Creger is a level headed leader of the Select team.  He's an even keeled vocal player that others on the team look to for leadership.  The Sharks tried to pressure but Creger handled that without much of an issue (only a sly smile).  Creger rarely takes a bad shot but when he does it's later in the possession and the timing is that of a 37.5 percent level shooter.  Ty doesn't take many but when he does those shots are gold.  We also saw a couple floaters from Ty that went as Ty did a masterful job of getting players off balance. 
Select Mantey is now 31-15 on the season and Creger's been a huge part.  Bradley Frisch is big time the shooter on the wing, Sam Kuseske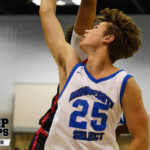 Sam Kuseske 6'6" | PF Rosemount | 2022 State MN is the man inside finishing and rebounding, and Will Drake is another that can shoot it (just knocked out five in the win over the Sharks), but leading the way has been Creger.
What kind of a leader?  Ty drove ten hours to Indy last weekend to sit on the bench with a bum ankle.  And by sit on the bench I mean, he stood up and coached as much Coacn Mantey. 
Young Lions Growing of Age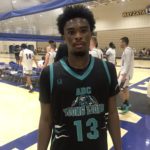 The ABC Young Lions pressured Minnesota Rise into a 64-56 victory this morning with a relentless defensive pressure that wore down a team with only one sub.  Leading the way for ABC were two players from very good Wisconsin programs: Aidan Blackmon of Wauwatosa East and Kemarion Ivory of Whitefish Bay. 
Blackmon was the 9th/10th man for Tosa East playing behind an excellent backcourt.  From what we saw this morning Blackmon is ready for a bigger role.  The Rise didn't have a player that could stop Blackmon's attack on the ball plus their help was often late leading to Aidan living at the foul line (10 of 10).  Blackmon also led the transition attack that turned a four score deficit into a four score victory.  He scored 20 points in all.
The man that pumped the energy for his team in the paint, pressuring on the wing, and scoring around the lane?  Kemarion Ivory.  The 6-foot-2 Ivory also plays for a top high school team in Wisconsin (Whitefish Bay).  After missing the start of the winter season Ivory averaged 6.5 points and 3.5 rebounds a game while also being a top defender. 
Ivory played that same role for the Young Lions offering energy and toughness.  When the Lions made a run Ivory was in the middle of every play.  He grabbed seven boards, scored 14 points, and was defending posts at times forcing scores over the top, and was also guarding the other team's top weapon on the perimeter at times. 
Three Point Titan Barrage 
The Southwest Minnesota Stars defense didn't know which way to turn.  Carson Kolles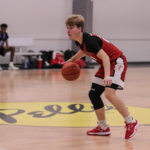 Carson Kolles 5'10" | PG Monticello | 2022 State MN and RJ Spencer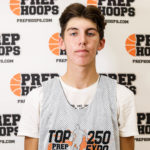 RJ Spencer 6'3" | SG Totino-Grace | 2022 State MN pushed the pace sucking in defenders while the rest of the  Northstar Titans ran to spots on the arc and sent a consistent string of jumpers to the rim that went.  
On one side the Titans had AJ Kaul of Blaine making three triples for his dozen points.  The other wing had Wyatt Sawatzke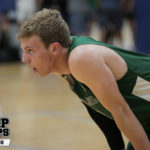 Wyatt Sawatzke 6'3" | SG Monticello | 2022 State MN of Monticello scoring at the arc and with the attack putting up 16 points.  Trevor Johnson Trevor Johnson 6'4" | PF North Branch | 2022 State MN made a pair, Knolles mixed in his creations with some scores, and then there was Orono guard Sebastian Loder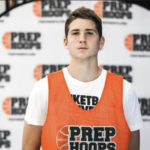 Sebastian Loder 6'2" | SG Orono | 2022 State MN .  
Loder was the player that pushed the Stars past their breaking point.  Scrambling defenders couldn't get a hand to him.  Defenders that chased Sebastian couldn't slow him and when they did chase him that left space for others to do damage.  Loder made five threes and scored 17 leading the Titans to a 68-61 first round win. 
The Titans are a team that move the ball as well as anybody and even better, they seem to enjoy watching one another succeed.  
Brayden is The Game
Owatonna guard Brayden Williams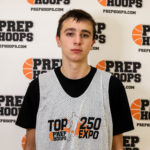 Brayden Williams 6'2" | PG Owatonna | 2022 State MN spent his winter leading Owatonna to the state tournament pushing the Huskies past Lakeville South in the title game.  In the process, Williams averaged 23 points, six rebounds, and four assists a contest shooting 43 percent from the arc.  
This 17u year Williams has been the same all around playmaker for the Minnesota Rise that he was for Owatonna.  Brayden continues to show extended range on his jumper as well as an ability to use his strength/skill combo to get past the first defender consistently.  When it comes to the second defender the Williams pull-up as well as the contact finish at the rim are the items that have helped Brayden be one of the leading 17u scorers in this state. 
Even more impressive is the all around game that Williams brings to the Rise.  In addition to the 18 points on 6 of 10 shooting, Williams consistently created shots for others (8 assists), and he was the top defensive rebounder ending possessions (12 boards).  Throw in five steals and Williams gave everything he had. 
Both baselines were full of college coaches.  Reps from the schools that have offered WIlliams – Sioux Falls, Jamestown, and Northwestern IA – as well as many others looked on. 
Jamestown Landed a Nice Forward
Carson Woodfard stands about 6'6 or maybe 6'7, he's from Redwood Valley, and he's the low post player for the Southwest Minnesota Stars.  Woodfard recently committed to Jamestown and with each Woodfard basket against the Titans today the Jamestown staff was smiling.
Woodfard scored 15 points with seven boards and he did three things that stayed in my memory: 1) the mid-range face-up jumper is completed with a nice touch, 2) the left shoulder turn into a balanced attempt looks like a great move for him, and 3) Woodfard is a block runner.  He did hit a three but most of the game Carson played within his role and offered the low post option his team needed.