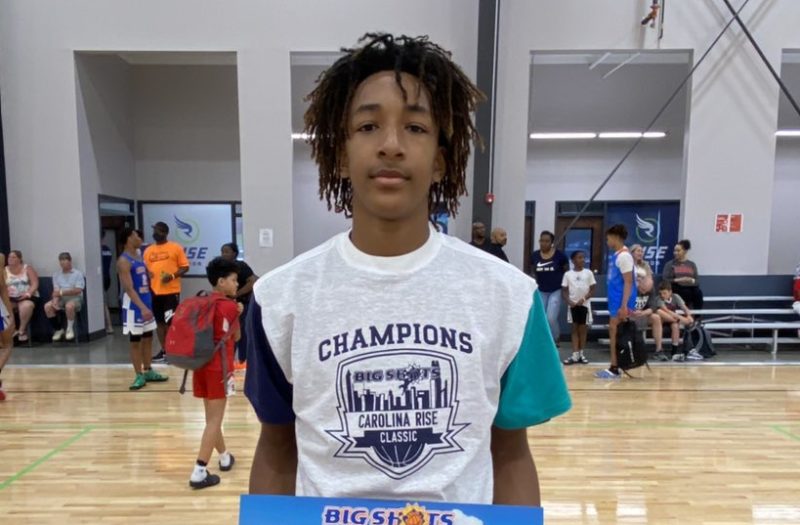 Posted On: 07/5/21 11:30 AM
The Big Shots Carolina Rise Classic brought out some top talent in the 2024 class. Here's a look at some of the standouts.
Harris was impressive in my first look at him with Team Wall. It seemed like he got better by the game with his ability to create off the bounce, finish at the rim and hit shots from anywhere on the floor while averaging 16.0 ppg. He's a budding name to know in 2024 that can make plays for himself and others in the backcourt.
Fulton is developing quite nicely as a versatile forward at 6-foot-8. He's got a strong knack for blocking shots with good timing and instincts in the paint. He's got a tight handle as well which allows him to get to the rim when needed. He runs the floor well and has a nice shot in the midrange area. He's another Team Wall prospect worth getting eyes on.
Brock continues to impress in the Team Wall rotation with his ability to be aggressive off the bounce and push the tempo. He's developed his all-around floor game to be more than just a shooter on the perimeter and it paid dividends as Team Wall won the 15U title. 
Evans is an electric prospect with a huge upside on the wing as a downhill threat. He showed off his ability to get out on the fast break and operate off the bounce on the perimeter. He's got the ability to score on all three levels already and as he fills out his frame, look for his recruitment to blossom.   
Elliott continues to impress with his ability to create at the lead guard position. He's a crafty handler with a nice first step that allows him to get paint touches and make plays for himself and others. As he improves his decision-making with the ball in his hands, look for his stock to grow in the class.