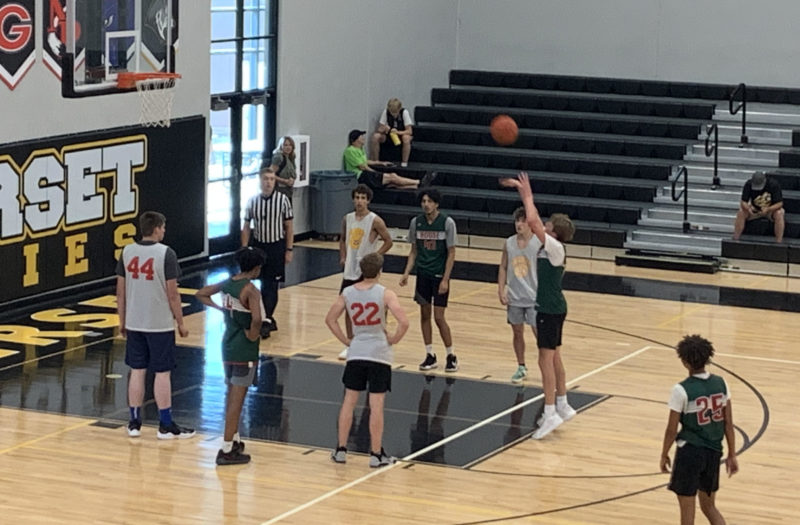 Posted On: 06/23/21 11:16 AM
2023 PF Landon Edwards (Norwalk)
A mobile big man who does a pretty good job establishing early post position and sealing his defender, Edwards flashed some potential for the Warriors in their win over Southeast Polk. He's about 6-6 and long, and he showed decent touch around the rim and great hands. He rebounds well on both ends of the floor and has some versatility defensively.
2023 SF Jackson Overton (Indianola)
Indianola keeps churning out long, athletic wings, and Overton looks to be the next in line. He's about 6-2 and has the length and athleticism to be an impact defender. He runs the floor hard, filling in the lanes, and is an effective finisher around the rim with either hand. With Kingery, Nailor and Willmott leading the way, the Indians need some impact role players who will buy into a role and play hard on both ends, and he looks more than capable of performing there.
2023 SF Aydn Netten (Van Meter)
Netten is a long, 6-3 wing who plays with a bit of an attitude. He's a tough, versatile defender who also showed the ability to score from all three levels. He played sparingly as a sophomore for the Bulldogs, but I think he will be a bigger piece of the puzzle as a junior given his two-way abilities. 
2022 PF Hunter Hinde (Van Meter)
Like Netten, Hinde played sparingly for the Bulldogs last year, but had a solid weekend. A long, 6-6 big man who runs the floor well, he showed the ability to protect the rim, defend the pick-and-roll, and score around the bucket. He gave Van Meter some nice minutes alongside fellow big Clark Fiala Clark Fiala 6'4" | C Van Meter | 2022 State IA , so don't be surprised to see Van Meter go with a bigger lineup at times this winter with Hinde and Fiala. 
2022 SF Karl Miller Karl Miller 6'4" | SF Pella | 2022 State IA (Pella)
A 6-4 scoring wing, Miller has a silky smooth stroke from behind the arc, and his ball-handling and playmaking abilities are improving. He showed a willingness to post up smaller defenders, displaying solid footwork and great touch around the bucket as well. 
2022 PF Kir Diew Kir Diew 6'8" | PF Valley | 2022 State IA (Valley)
Diew has transferred to Valley from Hoover, and he touched the ball more in his few games at this shootout than he did in a lot of games with the guard-oriented Huskies. An athletic 6-7 forward, he runs the floor well and showed some decent footwork and touch on his post touches. His strength lies in his defensive versatility, as he has the length and footwork to be a switchable defender who can protect the rim or hold his own on the perimeter.
2023 PF Luke Patton (Roland-Story)
A 6-6 forward, Patton has good size and a nice frame to continue to build upon. He did a good job defensively in the middle of their 2-3 zone, navigating traffic for his teammates as well as protecting the rim. Offensively, he showed good touch and footwork around the rim, as well as the ability to step out and knock down an occasional 3. He has good hands and rebounds well on both ends of the floor.
2023 SG Carsen Theis (Des Moines Christian)
The 6-1 junior-to-be showed some potential throughout Saturday's play as a catch-and-shoot wing. He moves well off the ball and has a quick, smooth release off the catch. He knocked down a number of 3s within the flow of the Lions offense in the pair of viewings that we had.