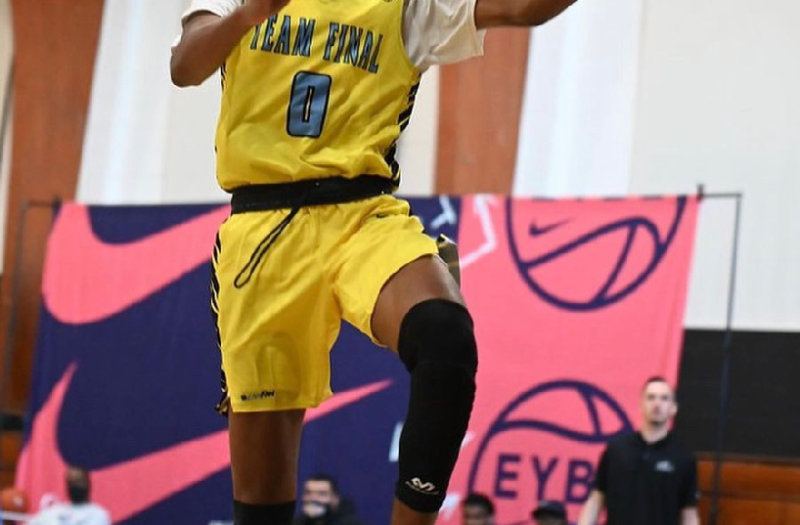 Posted On: 06/16/21 9:16 AM
Here at Prep Hoops Pennsylvania, we have developed the class of 2024 player rankings update for the summer. There are 225 players ranked throughout the state and these young men have worked hard to be a part of the expanded list. Our "stock risers" of this group of ballers have climbed the rankings with stellar performances on the court this last half of a year. Let's take a look at the solid talent!
#2… Moses Hipps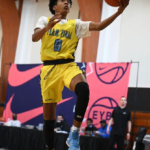 Moses Hipps 6'4" | CG Archbishop Carroll | 2024 State PA , (moved up 12 spots)
6'4 combo guard, Archbishop Carroll High School – Moses is a complete player with a variety of attributes that separate him from the pack. His ability to score in multiple ways, while still creating opportunities for his teammates is impressive to coaches. He runs the floor extremely well in transition and moves without the ball in the half-court set in a successful manner. Moses has been getting D1 interest all season and his stock will continue to rise this summer.
#3…Robert Wright lll, (moved up 29 spots)
5'10 combo guard, Neumann-Goretti High School – Robert is an all-around talented performer who rose up the rankings rather quickly since our last update. He has the skill set to be a matchup problem on offense while causing havoc on the defensive side of the ball for his opponent. This player is a floor general and team leader every time he steps on the court. Robert is garnering more division 1  interest as he plays at a high level.
#4…Touri Ketner, (moved up 18 spots)
6'5 shooting guard, Bonner-Prendergast High School – Touri has a deadly long-range jumper with an extremely quick release. which is a nightmare for the defense during a game. He rebounds very well from the wing and on the defense, he has the ability to protect the rim with blocked shots due to his athleticism. Look for this young man to make more and more positive strides this AAU and HS season. Touri is getting a good amount of recruitment from D1 schools.
#5… Amir Williams Amir Williams 6'5" | SF Neuman-Goretti | 2024 State PA , (moved up 26 spots)
6'5 small forward, Neumann-Goretti High School – Amir is an above-average player who has a knack for filling up the stat sheet in a hurry during a contest. He scores on drives, mid-range, three-point shots, and offensive rebounds which makes him extremely difficult to guard. This high-IQ performer does it all for his team. Amir has the talent to "blow up" his recruitment to more division 1 colleges and universities this off-season on the AAU circuit.
#6…Ron Brown lll, (moved up 34 spots)
5'11 shooting guard, Springside Chestnut Hill High School – Ron is an exceptionally quick and skilled guard that can score in a variety of ways during a game. Not only does he like to knock down the pull-up jumper, but he will penetrate the lane and finish with creative moves at the basket. His footwork and agility make him a terror on the defensive end of the court. Ron has developed a growing interest from division 1 schools and many more will soon follow his game. 
#11… Khaafiq Myers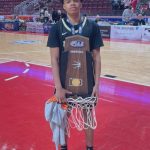 Khaafiq Myers 5'10" | PG Neumann-Goretti | 2024 State PA , (moved up 27 spots)
5'10 point guard, Neumann-Goretti High School – Khaafiq has shifty moves which bring an edge to his game, which makes him respected by his team as a leader. His creativity with the ball and away from the ball give a distinct advantage in the half-court offense, but his speed to push the ball up the floor is a major strength to his arsenal. Even after his big jump in the rankings, Khaafiq's stock will continue to rise as the months move on this summer, fall, and winter.
#17… Bez Abdul Bez Abdul 6'0" | CG Imani Christian Academy | 2024 State PA , (moved up 18 spots)
6'0 combo guard, Baldwin High School – Bez has grown as a player with his maturity and overall demeanor on the floor. His knowledge of the game and the ability to create opportunities for his teammates makes him a standout hooper. He has developed a strong three-point shot and can score in many spots on the floor. Bez is the type of player coaches love to have "running the show" for their team. 
#27… Brody McQuiston Brody McQuiston 6'3" | SF Shenango | 2024 State PA , (moved up 13 spots)
6'3 small forward, Shenango High School – Brody is a young, skilled player that continues to work at developing his game to the highest possible level. His size creates mismatches every time he steps out onto the floor. This small forward can score from the perimeter, in the post, and also from the free-throw line. Brody demonstrates the necessary fundamentals and desire to become an excellent basketball player by the time his high school career is over.
#39… Jake West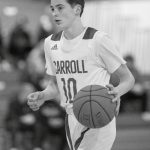 Jake West 5'10" | CG Archbishop Carroll | 2025 State PA , (moved up 39 spots)
5'10 combo guard, Archbishop Carroll – Jake despite his size is not afraid to mix it up with his opponent. His quickness, footwork, and speed make him deadly in the open floor with the ball. The high basketball IQ displayed by this young man makes him a true leader on the court, like another coach during games. Also, Jake has a quick release and an above-average perimeter shot as well and made a huge rise in our rankings update.
#40… Kirby Mooney Kirby Mooney 6'1" | SG William Tennent | 2024 State PA , (moved up 10 spots)
6'1 shooting guard, William Tennent High School – Kirby is an extremely consistent shooting guard from the three-point arc, as well as from the mid-range area. He handles the ball with limited turnovers while making precision passes to his team. His basketball knowledge makes him a leader on the court. Kirby's stock has risen this past season and will continue to climb as he performs at a high level this summer.
Make sure you take a trip out to see some of these guys this summer, fall, or winter on the court. If they continue to perform at a high level look for more steps up in the Prep Hoops rankings for the next update.