With the class of 2022 latest rankings in publication, we will now take a look at positional rankings. What better position to begin with than the 1 position……point guards. We will review the top 10 (and maybe a few others) in the class of 2022.
Top Ten
1.  John-Paul Ricks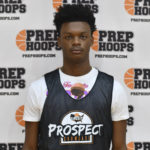 John-Paul Ricks 6'0" | PG Jehovah-Jireh | 2022 State #206 Nation LA (6'0″ / Jehovah-Jireh / OVR #5)
A state champion since he has hit the high school scene and gets better each year.  Ricks fills the lead scorer and facilitator roles no matter the competition.  From high school to grassroots, no one plays the point guard better than Ricks. 
2.  Alexzaye Johnson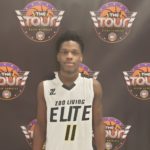 Alexzaye Johnson 6'4" | PG St Benedicts Prep | 2023 State NJ (6'3″ / Helen Cox / OVR #6) – pictured
Johnson established his reputation as a defender and caused headaches for whomever he has defended.  This past season he improved as a scorer especially from distance.  He has now become a headache on both ends and someone who will start to climb in recruiting circles.  
3.  Rayshun McCullar Rayshun McCullar 6'1" | PG Huntington | 2022 State LA (6'1″ / Huntington / OVR #17)
The Huntington point has had schools from the American, ACC, and Big 12 interested in him.  He came in as a score first point guard and has developed into a lead guard who can do it all.  His talent on the floor is undeniable.  
4.  Adam Mercier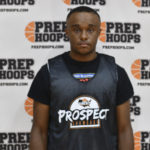 Adam Mercier 6'0" | PG Parkview Baptist | 2022 State LA (6'0″ / Family Christian / OVR #22)
Mercier scores, rebounds, and defends at a high level for Family Christian.  He gives his team to an opportunity to win every time he steps on the floor.  There is not a point guard who does more for his team than this one.  
5.  J'Michael Gray J'Michael Gray 6'0" | PG Franklin | 2022 State LA (6'1″ / Franklin / OVR #30)
The two sports star from Franklin is a former district MVP who definitely knows his way around the hardwood.  Gray knows how to get to the cup and shoots well from the mid-range.  He excels in the open floor and is the engine that makes his team go.  
6.  Tyren LeBeauf Tyren LeBeauf 5'11" | PG Hahnville | 2022 State LA (6'1″ / Hahnville / OVR #36)
The Hahnville point is a deadly outside shooter who can make a rain from anywhere behind the three point line.  He has a very good handle and can get into the paint as good as anyone.  He is as confident as any point guard there is in the Boot.  
7.  Jayden Neff
Jayden Neff 6'0" | PG Baker | 2022 State LA (6'0″ / Baker / OVR #41)
Neff is a defensive pest and has a pair of the quickest hands and feet of any guard around.  He is very good in defending in open space and can turn defense into offense quickly.  There is no other guard in this class better at finishing through contact.  Neff is very strong.  
8.  LaBrandon Butler LaBrandon Butler 6'0" | PG Rayville | 2022 LA (6'0″ / Rayville / OVR #52)
Butler plays 90 to nothing at all times.  He picks up guards from baseline to baseline and is one of the best defenders in the state at the guard position.  Butler is also an underrated scorer and can scores at a high percentage in the paint.
9.  Martin McDowell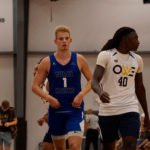 Martin McDowell 5'11" | PG Calvary Baptist | 2022 State LA (5'10″ / Calvary Baptist / OVR #56)
The Calvary point guard took a backseat to Daniel Ortiz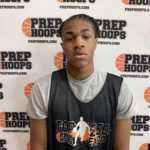 Daniel Ortiz 6'1" | CG Calvary Baptist | 2021 State LA playing lead guard last season.  Now back at the helm, McDowell looks like he has not missed a beat.  He has a very quick trigger and is one of the best shooters from the point guard position. 
10.  Ramon Ross
Ramon Ross 5'11" | PG Tara | 2022 State LA (6'0″ / Tara / OVR #58) 
A point guard who can put the ball in the basket.  Ross will take what a defense is giving him and score accordingly.  He plays best being a floor general but will score the ball if needed.  
Five Others
Tony Percy Tony Percy 5'9" | PG Rayville | 2022 State LA (5'8″ / Rayville / OVR #66)
While Percy is more of a scorer, he takes over point guard duties when LaBrandon Butler LaBrandon Butler 6'0" | PG Rayville | 2022 LA gets a blow.  He is very quick to the rack and will get the ball on the glass any way possible.  Guards cannot play with the ball while he is defending.  He will take from them. 
Nick Dyer Nick Dyer 6'2" | PG BTW (Shreveport) | 2022 State LA (6'1″ / BTW Shreveport / OVR #78)
The best mid-range shooter from the point guard position.  From either elbow to the 3 point line he is automatic.  Dyer is as tough as they come and is a great floor leader.
Kaleb Miles Kaleb Miles 5'11" | PG Wossman | 2022 State LA (5'11″ / Wossman / OVR #92)
Miles follows a long line of stud point guards from Wossman.  What he does just like the rest of them (his coach included) is play defense like his life depends on it.  His defensive play speaks for itself.  
Javonte Howard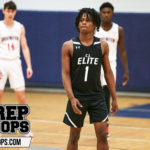 Javonte Howard 5'8" | PG Lakeview | 2022 State LA (5'7″ / Lakeview / OVR #93)
Not many 5'7″ point guards will lead there team in offensive rebounding but Howard is one that will.  Howard fights on the glass and on the defensive end during every possession.  He can score at all three levels as well which makes him rare in point guard circles.  
Kyron Williams Kyron Williams 5'10" | PG Bastrop | 2022 State LA (5'9″ / Bastrop / OVR #95)
Williams can score the ball and constantly puts pressure on defenses with his ability to get into the lane.  He is very dangerous in trapping and pressure situations.  Williams will steal the ball and finish on the other end in a blink.  
These guards not ony know to run a team but can score as well.  Height may be a reason why they are not highly recruited.  However, there are no better basketball players that the guards listed above.