The cities of Fargo and West Fargo have high-quality basketball players. Many of these players have interest from colleges and many more will gain interest as they improve their games. Who are the top prospects in Fargo and West Fargo in the 2023 class? 
Read below for the top prospects: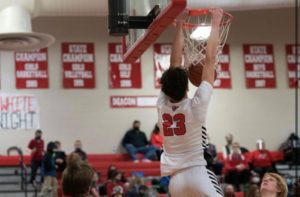 #3 Conner Kraft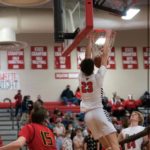 Conner Kraft 6'8" | PF Shanley | 2023 State ND |6-6 F| Shanley/Howard Pulley – He had a nice year in the EDC in 2020-21. I am expecting a phenomenal year in 2021-22. Powerful dunker, shot blocker, physically gifted, mid-range threat, improved 3-point shot, great rebounder, All-State talent. Divison-1 level talent.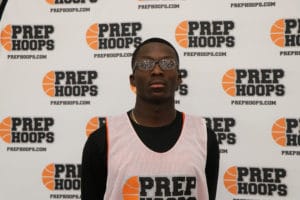 #6 Raymond Brown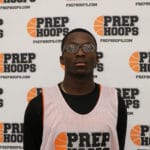 Raymond Brown 5'11" | PG Fargo Davies | 2023 State ND |5-10 G| Davies/ECI – He was a contributor on a State qualify team and he made many splashy plays throughout the year.  Lightning quick, pesky defender, excellent in transition, great rebounder, extreme hustle, becoming a serious 3-point threat, creator.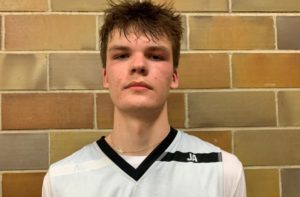 #9 Max Froslie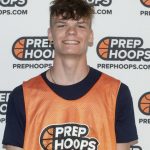 Max Froslie 6'8" | PF Fargo Davies | 2023 State ND |6-7 F| Davies/ECI – I see him as a D2 type player if he continues to develop. Who knows, Max has the size and tools to go higher. Very long, shot swatter, handles, 3-point shooter, potentially elite rebounder, see floor well, runs great, sky is the limit. 
#28 Welcome Muhoza Welcome Muhoza 6'4" | SF Fargo North | 2023 State ND |6-4 F| West Fargo/ND Tropics – He is a freakish athlete that has nothing but upside. Muhoza jumps quickly and with great elevation. His long arms make him a scary defender and rebounder. Muhoza is a slasher and athletic finisher. He has a ton of potential, we will see what happens with him once the school season starts. 
#29 Karter Menz Karter Menz 6'5" | C West Fargo Sheyenne | 2023 ND |6-5 F| West Fargo Sheyenne – This big man is another player with a high upside and a ton of potential. He had 3 dunks today at the Metro Tournament. Menz is very strong and put-together forward. He is a difficult matchup in the low-post. Karter also thrives on O-boards and quick put-backs. If he keeps working hard continues to elevate his game, I could see him playing a role for the Mustangs in the coming season. 
#30 Dylan Beyl Dylan Beyl 6'2" | SG West Fargo Sheyenne | 2023 State ND |6-3 G| WF Sheyenne/ECI – I like his versatility and length for a perimeter player. Dylan is a jack-of-all-trades. He can shoot, slash, dish, dribble, D-up, and board. His aggressiveness when attacking the basket is great. Beyl shoots it well from the outside as well. It will be interesting to see where he fits into the mix with the Mustangs next year. 
#44 Rylee Bakkegard Rylee Bakkegard 5'11" | SG Oak Grove | 2023 State ND |5-10 G| Oak Grove – He should be one of the top scorers for the Grovers this next season. Rylee is great off the bounce. He can also knock down triples at a high rate. He plays fearless and is not afraid to challenge bigger players. 
#47 Isaac Fitz Isaac Fitz 5'10" | PG West Fargo | 2023 ND |5-10 G| West Fargo/ECI – He has solid handles and shot-making ability. Fitz can also break down the defense and make plays happen. He is very active on defense and will give headaches to opposing guards. Isaac also has the potential to be a solid shooter. 
#54 Trey Hatfield Trey Hatfield 6'5" | SG Oak Grove | 2023 State ND |6-1 G| Oak Grove – He might be the next flamethrower for the Grovers. He can flat-out score. Trey can hurt you from all over the court. He is a pure shooter, but he can also get to the cup and finish.