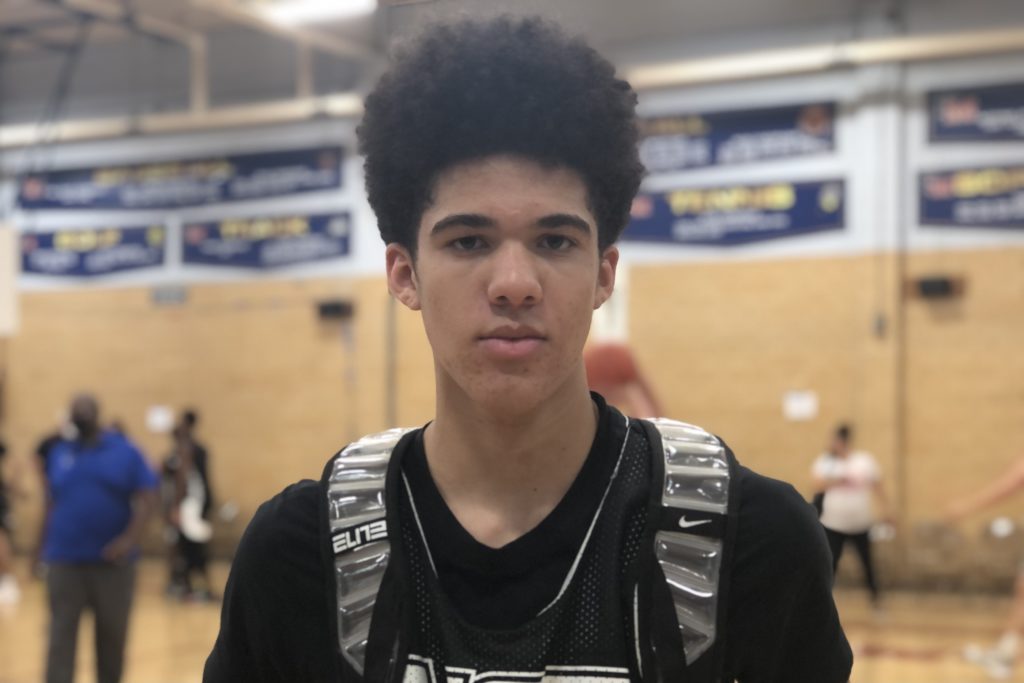 Posted On: 06/29/21 5:00 PM
There was plenty of action to take in at DMV Live. Here are my top-10 stock risers from a jam-packed slate. All numbers referenced were provided courtesy of Legit Stats.
Aire somehow improved his already high stock with his play over the weekend. He is a unique mover for his size. Aire showed that he can shadow wings on the perimeter. He plays incredible defense. Aire also runs the floor. He sprinted hard in transition. Aire showcased a confident stroke from the foul line as well. He was dominant in the last few possessions of McNamara's win over Saint James. He caught and dunked the ball twice in succession. Then he stole a pass and went coast to coast for an and-1. Aire finished with 22 points and 18 rebounds while shooting 8 of 10 from the foul line in that contest. 
#9 | Amare Johnson | 6'4″ G | National Christian (MD) '22
Shooter alert! Johnson simply did not want to miss during NCA's triumph over Prep. He scored 23 points, shooting 5 of 7 from deep and 9 of 11 overall. But Johnson also made smart plays on both ends. He made quick decisions with the ball without turning it over. He also committed a clever foul to halt a would-be fast break.
Brennan's three-point shooting has been a huge lift for his team offensively. He is regularly hitting threes while coming off pin downs now. Brennan's footwork, follow-through, and release all look good. He hit 3 of 5 attempts from long range on his way to recording 13 points and 7 rebounds against DeMatha. Brennan made some clean pick-and-roll reads. He also rotated well defensively and took a charge. Brennan showed toughness while still playing at less than 100% due to ankle discomfort. 
#7 | Kevon Corley | 6'7″ F | Rock Creek (MD) '23
Corley was an integral part of his team's win over St. Andrew's to start the live period. He shot the gaps well defensively. Corley anticipates well and plays hard. He also hit a couple of threes and had an impressive block. Corley finished the game with team-highs in points (16) and steals (3) while only missing 1 shot. 
Harris had a strong showing on Sunday to close out the live period vs. Bishop O'Connell. He is an absolute technician from the mid-range. Harris routinely draws doubles but can pass. He gets to spots. After one dribble, he can shoot over top because of his size. Harris is also very shifty. He gets low and can dance with the ball. Harris is physical and strong. He recorded 17 points and 7 rebounds in that game. 
The thing that stuck out about Nkoa-Abessolo was that he plays with an incredible motor. He covers ground. Nkoa-Abessolo has interesting defensive potential. He blocks shots in the paint but guards on the perimeter. He also intercepts and reads passes with regularity. Nkoa-Abessolo posted a full line against Paul VI. He recorded 16 points, 12 rebounds, 3 steals, 1 block, and 1 assists.
Ball was very assertive in his outing against Bishop McNamara. He hit a couple of threes, one from the catch and one step back. Ball also mixed in some floaters which were effective. He also got out in transition and finished with athleticism. Ball finished up with 19 points on 4 of 10 shooting from long range. He added 5 rebounds and an assist.
Angwafo was a key presence during his team's win over St. Frances. He used shot fakes shrewdly to keep the defense off-balance. Angwafo made some good cuts. He also caught and finished consistently. around the basket and looked comfortable while making both of his free throws. Angwafo posted 8 efficient points and 6 boards in that contest. Check out this recent piece by Colby Giacubeno highlighting Angwafo's successful weekend.
This was my first time watching Abrams in person. My takeaways are that he shot the ball well but could also handle it. Abrams is an ambidextrous finisher. He is also a fundamentally sound passer who generally makes smart decisions. Abrams showcased good footwork. He can post smaller guards and is aggressive on the boards. Abrams recorded 14 points, 2 rebounds, 2 assists, and 1 steal without committing a turnover while shooting 6 of 8 from the field including 2 of 3 from downtown in a blowout win over Ryken.
#1 | Michael Moore | 6'9″ C | National Christian (MD) '22
Moore's performance against Georgetown Prep was one of his better ones. He played very, very hard. Moore has long arms and is coordinated. He had six blocks, many of which were jaw-droppers. Moore also had a couple of strong catches and finishes.