 Posted On: 06/1/21 1:44 PM
The start of the live period marks the day the updated 2022 rankings have become live. Over 20 new players were added to the rankings, bringing the number up to 218 total prospects. Patrick School's  Zion Cruz Zion Cruz 6'4" | SG Patrick School | 2022 #26 Nation retains the top spot in the rankings, while his PSA Cardinal teammate  Will Richardson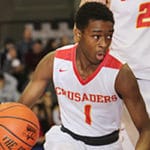 Will Richardson 6'2" | PG Bergen Catholic | 2022 State #76 Nation NJ  checks in at number two.
A reclassification and a transfer shook up the top 10 with Manasquan's  Ben Roy Ben Roy 6'2" | PG Manasquan | 2022 State #218 Nation NJ and St. Benedict's  Ziare Wells Ziare Wells 6'6" | SG Hillcrest Prep | 2022 #234 Nation AZ  rounding out the list. The former has been a two-time All-State performer and is looking to end his varsity career on a high note with a third straight All-State team. Wells has had a strong spring AAU season for NY Gauchos, which should propel his stock this summer.
The rankings are heavily influenced by the backcourt with 13 of the top 15 prospects being guards. Blair Academy's  Lual Manyang Lual Manyang 6'10" | C Blair Academy | 2022 State #232 Nation NJ is the top front court player in the class and will have a lot of attention on him as he works his way back from injury.  Drew Kania Drew Kania 6'7" | SF Gill St. Bernard's | 2022 State NJ is the top small forward and has the potential to move up the rankings as he teams up with  Denver Anglin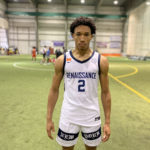 Denver Anglin 6'0" | PG Gill St. Bernard's | 2022 State #120 Nation NJ at Gill St. Bernard's.
Sean Logan Sean Logan 6'10" | PF Westfield | 2022 State NJ  is the top power forward in the class and has the potential to move even further up the rankings. The lanky 6'10 forward is one of the top shot-blockers in the class, but also has a good face-up game. Logan's range extends past the three-point line and runs the floor hard. He should get more looks from college as the summer months drag on as he suits up for Team Rio University on the UAA.
Blair Academy's  Joe Carroll Joe Carroll 6'7" | SF Blair Academy | 2022 State NJ  is the highest new addition to the rankings as he has been playing at a high level for Jersey Force this spring. The 6'7 forward is comfortable playing out on the perimeter as he has a good release on his jumper and is capable of knocking down triples in bunches. The upcoming live period is key for Carroll as colleges will be able to see his floor stretching ability in person.
The biggest stock riser in the latest rankings is Don Bosco Prep's  Nick Koch Nick Koch 6'1" | PG Don Bosco Prep | 2022 State NJ , who went up 33 spots in the update. The 5'10 guard has a good handle and is able to finish around the rim. Koch has been playing very well for the NJ Panthers during the spring, which should continue this summer.
The top five remains the same with  Corey Floyd Jr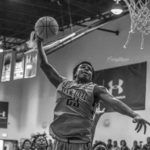 Corey Floyd Jr 6'4" | SG Roselle Catholic | 2022 NJ ., Mark Armstrong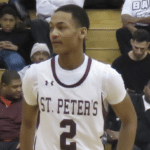 Mark Armstrong 6'2" | PG St. Peter's Prep | 2022 State #39 Nation NJ  and  Jaquan Harris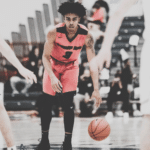 Jaquan Harris 6'4" | PG St. Thomas Aquinas | 2022 State #164 Nation NJ rounding out the group. Floyd Jr. has been a major contributor to a loaded Team Final roster, proving why the UConn commit was named a First Team All-State performer during his junior campaign. Armstrong has been playing at a high level for New Heights Lightning throughout the spring as the Villanova commit is ready for a monster senior campaign.
Harris is a play-maker with the ball in his hands as he can finish above the rim, knock down jumpers from distance and create havoc when he gets into the lane. The Seton Hall commit will be a player to watch throughout the season as he looks to lead St. Thomas Aquinas on a deep postseason run. Harris and Anglin will be fighting for the fifth spot as the latter had a huge spring season for the NY Rens.
The updated 2022 rankings are finally here as the prospects look to make a name for themselves during this live period.