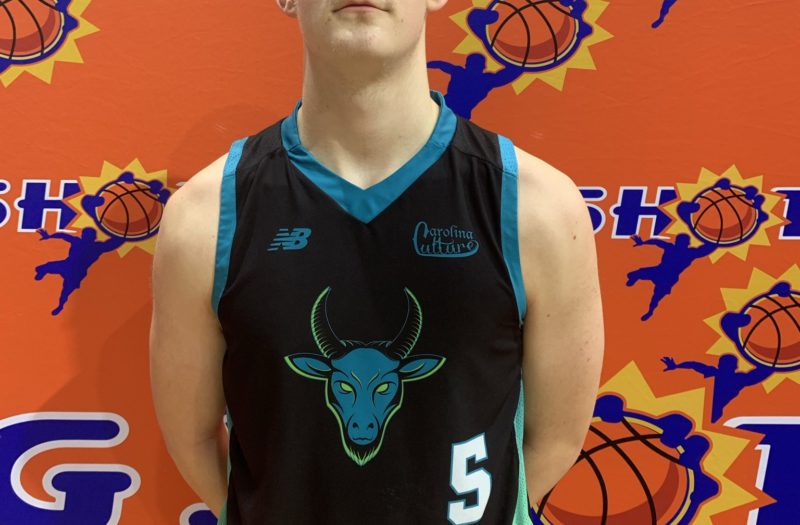 Posted On: 06/9/21 12:30 PM
The 2022 rankings in North Carolina have been updated as the July Live Period approaches. Here's a look at Part I of the Stock Risers.
No. 17 to No. 5
Wessler has seen his stock grow a ton over the spring and summer given his skillset on the hardwood. He's a mobile big man that can operate on both ends in a variety of ways. He's a burden already in the post but also has quite the IQ as a playmaker with the ball in his hands in the post and on the perimeter. His recruitment has picked up over the last few months with offers from NC State, Ohio State, Virginia Tech and Iowa to name a few and finds himself in the Top 10 rankings in the state and should certainly start garnering more national attention soon. 
No. 41 to No. 10
Berry has made waves at the lead guard spot at Winston-Salem Christian and has started turn a corner this spring with B-Maze Elite. He's a lengthy floor general already at 6-foot-4 that uses his length well to get to his spots in the paint. He's not afraid to be physical and finish tough at the cup. As he improves and shows he can knock down shots with consistency he's a prospect due for more attention on the recruiting trail. He holds offers already from Providence, ETSU, Tennessee, Auburn, Virginia Tech among others. 
No. 34 to No. 16
Sanford is a prospect who stands out right away given his size and physicality on both ends. He's a "lead by example" type prospect that likes to establish position in the post and make his presence felt around the rim. Defensively, he flies around using his length to alter shots and make an impact as a bruiser on the interior. He's a name that should grow this summer with Team Charlotte and holds offers already from App State, Western Carolina, Winthrop, South Florida, Tennessee and Charlotte.
No. 37 to No. 19
Duarte finds himself inside the Top 20 in the Class of 2022 after becoming a New Face in the recent update at Victory Christian Center. Since then, he's emerged on the grassroots scene with Upward Stars 3SSB, where he continues to turn heads. He's an electric guard that knows how to make an impact on both ends with his relentless effort, athleticism and motor. As he shows he can shoot the ball and play off the ball consistently, look for his recruitment to grow. Illinois, South Carolina, Rutgers, Creighton, St. John's and Oral Roberts are a few of the schools that have offered him.
No. 54. to No. 22
Fernald is an underrated and underrecruited name in the state of the North Carolina. He finds himself just outside the Top 20 at No. 22 given his ability as a scorer and playmaker at the forward spot. He's got the ability to score on all three levels, operate inside/out and play multiple roles on the floor. His most underrated ability might be his ability to find others in space with all the attention he draws. College coaches in need of a versatile forward should look no further.