Rylan Griffen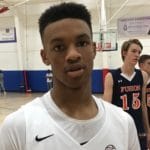 Rylan Griffen 6'5" | SG Richardson | 2022 State #72 Nation TX – Team Trae Young – G
Rylan Griffen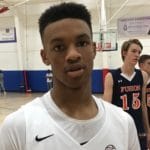 Rylan Griffen 6'5" | SG Richardson | 2022 State #72 Nation TX dunked in every single game that I watched Team Trae Young play and his ability to finish above the rim made Team Trae Young deadly. He finished lobs with ease and was also aggressive getting to the basket and had a jaw-dropping poster against MEBO.
AJ Storr – Vegas Elite – F
AJ Storr was a lob threat for Vegas Elite but also a monster in transition. Him and Dior Johnson have a great feel for each other's game and once Storr got running in transition he would often find himself finishing strong above the rim.
Ernest Udeh – Southeast Elite – F
Ernest Uduh is an excellent lob finisher and all three of his buckets in the game that I saw Southeast Elite play New Heights Lightning were dunks. Two of the dunks were off of lobs and the other dunk was created off of an offensive rebound in which he finished with a strong two-hand jam.
Caylen Goff-Brown – Team Trae Young – G
Caylen Goff-Brown was one of the most athletic players at the Circuit League and he was dunking in almost every single game that Team Trae Young played in. In transition, Goff-Brown would often finish above the rim but what was most intriguing about his game is how he would finish above the rim even in the half-court. He finished some putbacks, finished inside off of feeds from other guards, and even finished a nasty back-scratcher in which he drove down the baseline and punched it home for one of the best dunks of the weekend.
Youssouf Singare – New Heights Lightning – F
Youssouf Singare finished with seven points and four rebounds in just 13 minutes of action in New Heights Lightning's game against Southeast Elite and his ability to finish above the rim was the first thing about his game that caught my eye. Due to the quick play of the guards for New Heights Lightning, Singare often found himself open under the rim and he finished several dunks. He also attempted to dunk through contact and took advantage of his chances at the free-throw line as he shot 3-4.
Alex Anamekwe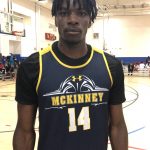 Alex Anamekwe 6'6" | PF McKinney | 2022 State TX – Team Trae Young – F
Alex Anamekwe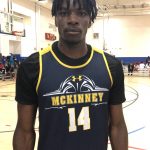 Alex Anamekwe 6'6" | PF McKinney | 2022 State TX 's game-winning putback slam as time expired in Team Trae Young's win over MEBO was one of the top plays of the weekend. Anamekwe was also a consistent lob threat and he finished several dunks off on inbounds plays for him. He will jump with anyone.
Solomon Washington – Team Thad – F
If Solomon Washington is by himself in transition, watch out. Washington was one of the most exciting players to watch when it comes to the way he was dunking the ball. He was probably dunking harder than almost anyone in the gym and his dunk to open up the game against Team Trae Young got everyone in the gym on their feet.
Jordan Walsh – Drive Nation – F
Jordan Walsh is a complete wing that puts on a show every game. Walsh finished a windmill in transition, finished some dunks in the half-court, and finished some second chance opportunities with slams. This kid is a walking highlight reel.