Posted On: 05/4/21 7:46 PM
As with any listing or ranking or listing there comes trepidation. So here is my annual disclaimer. I only write about what I see with my own two eyes. You might not see me much at a tournament because I'm constantly moving trying to see as many players as I can. That being said I can't see them all. So if you are angered or wondering about an omission chances are I just didn't see it. 
After doing the vets (2022) and the kids (2024) let wrap it up with the in between group. 
First Team 
PG- Shawn Foreman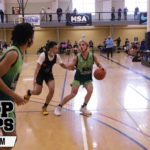 Shawn Foreman 5'10" | PG Comstock Park | 2023 State MI 5-11 Comstock Park Foreman earned his spot by being Mr. Clutch on Saturday for the Grand Rapids Thunder. Began the morning with game winning steal and assist to Javion Otton (GR Kenowa Hills) to defeat Chicago Lockdown 55-54. Did it again later in the evening. This time did it all himself. Got the steal, drew a foul, then split a pair at the line to defeat Michigan based The Process 52-51. So obviously he is a excellent perimeter defender. Moves his feet well and has quick hands. Lived up to his reputation as a ball handler. He will