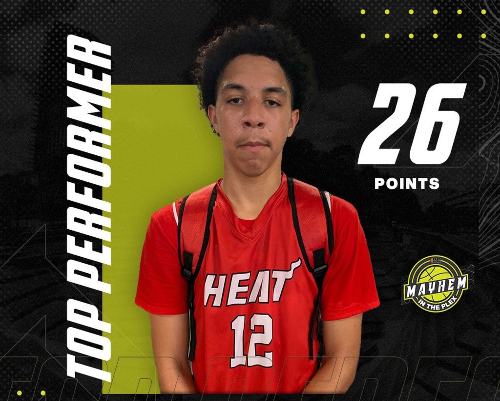 Posted On: 05/12/21 2:50 AM
Fort Worth, Texas — Prep Hoops Mayhem In The Plex lived up its hype with thrilling games, rim-rocking slam dunks, lights-out shooters, and dynamic scorers. Here we'll take a look at some of the top breakout performances from this remarkable weekend. 
---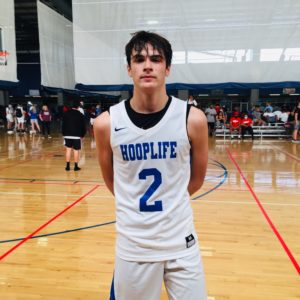 Ben Fox – Shooting Guard – Hooplife Academy
Ben Fox had the crowd going wild as he dropped 30 points while nailing 7 three-pointers along the way against a tough and talented Louisana team. Fox played out of his mind and put his shooting prowess on full display, proving to be an unconscious, quick trigger, locked-in shooter with a well-polished shooting form as his elbows, shoulders, and body were aligned perfectly with the basket each time he let one fly. Fox hit a jumpshot in every way possible, spotting up, pulling up, catching and shooting, off the dribble, and off-balance, you name it he did it. Fox proved to be a very good shooter off the dribble but he excelled most when catching and quickly shooting, just an insanely reliable shot maker that needed little to no space at all to get a shot off with his high release point. The hoop became as big as the ocean for Ben Fox, this kid was absolutely on fire, he couldn't miss even if he tried, it was one of those games where all he had to do was shoot the ball and it was going to fall no matter who defended him. The Hooplife Academy sharpshooter made shots at a rapid pace on back to back to back possessions, he impressed himself with some of the three-point shots he knocked down. Ben Fox played with a fearlessness to his game, no shot was off-limits for him, he even tried dunking on a man when he took the baseline late in the game. This Arkansas prospect put on a fantastic performance, one of, if not the, best throughout the entire event. 

---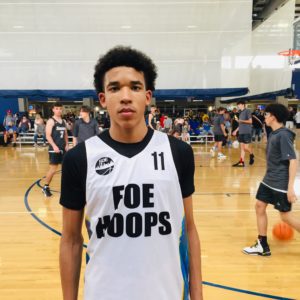 Donaven Davis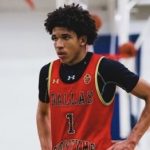 Donaven Davis 6'1" | PG Wylie | 2023 State TX – Point Guard – F.O.E. Black 2023
The name Donaven Davis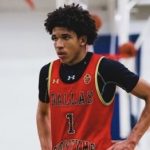 Donaven Davis 6'1" | PG Wylie | 2023 State TX buzzed through the gym as he put on an outstanding 25 point performance against AKYB Academy. Davis put on a show and didn't display many limitations to his game offensively, he did it all out there, rebounding, scoring, and facilitating. Donaven had full control of the offense, it seemed like every point and assist went through him. His playmaking off the dribble was on another level, finding and producing angles to attack and windows to pass through. He consistently found ways to get open or create a shot with and without the ball, Davis did a terrific job of keeping the entire defense leaning, off-balance, and focused on him. The F.O.E. guard excelled when going iso and spreading the floor, anyone who defended him had their work cut out for them. Donaven Davis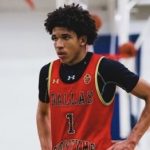 Donaven Davis 6'1" | PG Wylie | 2023 State TX ate the defense up with his mean left to right crossovers, his hesitations, and his deceptive head fakes. Davis changed speeds well when moving at top speed, showing good stop-and-go moves, and an ability to accelerate and add a burst of quickness that left defenders stuck at times. This kid displayed a pure ability to get to his spots in the mid-range and knockdown pull-up jumpers with confidence. He always looked to make the best play, Davis kept his teammates involved, if someone was open he made sure to find them, and he put his passes right on target, in his shooter's pocket where they could go straight up and score.  Donaven Davis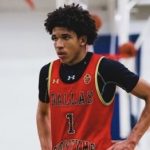 Donaven Davis 6'1" | PG Wylie | 2023 State TX put his stamp on the game when he showed off his athleticism by flying through the lane and slam dunking with one hand on whoever stood in his way. 
---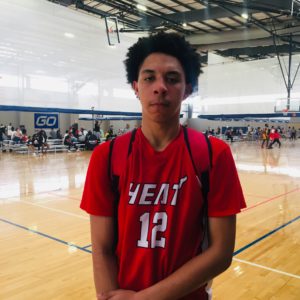 Christopher Fountain – Forward – Arkansas Heat Elite 2022
On the final day of play, Christopher Fountain scored an efficient 26 points with 18 of them coming in the first half. He came out the gate hot, making his first 6 shot attempts versus RSE all in different ways, he made three-pointers, floaters, layups, and short-range jumpers, whenever the offense played through Fountain they consistently put points on the board. This forward was the glue that held it all together, he knew where to be on the court at all times and his teammates always made sure to feed him. Christopher proved to be a smart decision-maker with a natural feel for the game, he saw things transpire before they happened, and he moved well without the ball, often finding a way to get open in the corner where he was automatic. An effective scorer from the inside out, Fountain played with his back to the basket and scored using a turnaround hook shot and he also stepped out to the perimeter and knocked down his three-point attempts with his fluid jumpshot. He played big down low, embraced the contact, and proceeded to score right through it, and if he got fouled he went on to make his free-throws. He even ran the floor well and beat everyone up the court in transition on a consistent basis. This 6-foot-5-inch forward is a pure ballplayer with an all-around skillset, a good passer with solid court vision, and has a knack for knowing where his teammates should be. When it came to rebounding, Christopher Fountain crashed the boards heavily on the offensive end, he followed every shot to the basket and had several times where he won the battle on the boards against multiple players which created second-chance scoring opportunites. 
---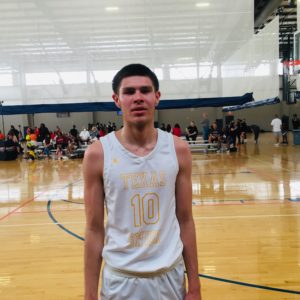 Chandler Burnett – Shooting Guard – Texas Swish
The three-point shooting ability Chandler Burnett displayed against Lee Green Basketball really stood out and caught my eye, putting up 14 points with 4 three-pointers made. His shooting put Texas Swish over top, once he got his rhythm going everything started to fall. Burnett was a catch-and-shoot, three-point specialist that splashed home several threes from the wings of the court. This shooting guard showed quality mechanics, a great-looking and consistent shot release, a high and fluid follow-through, good elevation, good balance, and a quick trigger. Chandler Burnett has the potential to become one of the more dynamic shooters in Dallas, Texas.  
---