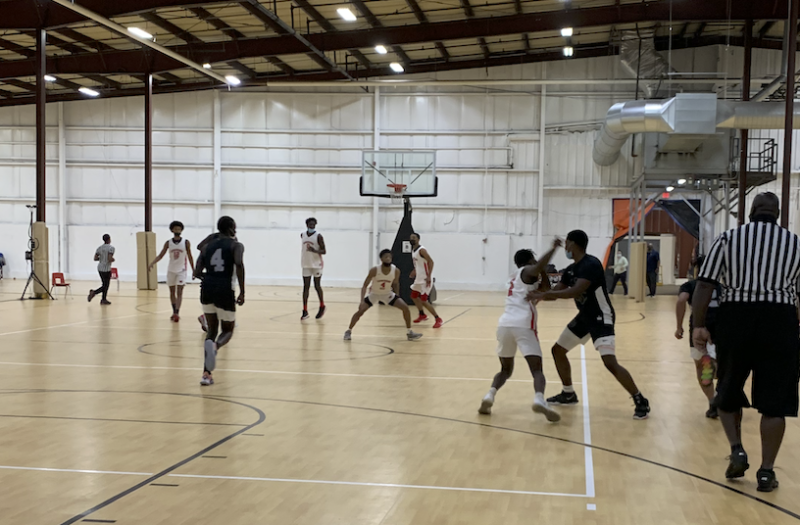 Posted On: 05/24/21 3:24 PM
With a ton of talent in the building from all levels and ages, the HoopGroup Jam Fest in Westford, Massachusetts, offered up some high-quality weekend AAU hoops. So who were some standouts from the weekend? And yes, there is a part two in the works as well.
Neel Beniwal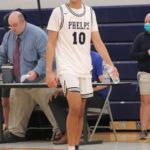 Neel

Beniwal

6'5" | SG

Phelps School | 2022

State

PA

| 6'5″ | Movement shooter / Point of attack defender | Phelps School | RI Elite | 2022
Even though I'd already seen RI Elite play in person earlier this spring, this was my first time watching Beniwal up-close. Simply put, he showed out as one of the most translatable, stable, and skilled prospects I've seen in New England at the two-guard spot. Sure, his movement off the ball and high-level understanding of spacing impressed, as Beniwal had several efficient outings from beyond the arc, but what really impressed was his defense at the point of attack and ability to guard shifty and skilled guards both on and off the ball. Because RI Elite was understaffed at the center spot, he also had to guard up on the positional spectrum and held his own when posted up. Beniwal's modern skillset suggests that he is the type of player who can be an impact player on day one. Along with his ability to space the floor and pressure up on defense, I overall just enjoyed his' next shot type of mentality along with a calm and poised demeanor.
Mulready's smooth and polished offensive game was on full display during a decisive Saturday morning Expressions victory as the power guard caught fire from beyond the arc. Mulready has very sound basketball movements already and does a great job of reading space and angles with the ball in his hands. Having already watched him in the practice setting in the early spring, Mulready is another high-feel, translatable player and does a great job of making the necessary pass ahead. What also impressed me during the two games I saw was his pesky, quick hands and ability to collect several poke-away steals, which led to layups on the other end. Mulready is one of the strongest New England guards I've seen up-close this summer as he already has the strength to match up against taller players in the post and perhaps help teams as a small-ball big in the future.
When it comes to positional versatility, it felt as if
Marquis Buchanan
Marquis
Buchanan
6'3" | CG
Classical | 2022
was everywhere and did everything operating as RI Elite's small-ball big. RI Elite had a very successful tournament run, and Buchanan was both their energy spark and Mr. Intangible of the weekend. Getting a chance to talk with his coach beforehand, Buchanan has a football background and plays with that same type of attack at all costs energy. An athletic guard who isn't afraid of stepping in to take charge, his motor and pure hustle was on display throughout the weekend. Despite giving up height on the glass, Buchanan constantly won the possession battle by out-rebounding his matchup and running the floor with intent. There was never an energy lull with Buchanan as he always seemed involved in a play even if he didn't score. While he's already received a few D1 offers from various football programs, Buchanan also so much to offer in the basketball department at the next level.
Eze Wali | 6'1″ | Lead Guard | Bishop Hendrickson | 2023 | Expressions | 2023 
Wali did a great job of picking and choosing his scoring spots as a trusted ball-handler and willing initiator. Another player I've had the opportunity to watch practice, he understands how to control the pace and flow of a game and is opportunistic with his down-hill attacks on the rim. Wali has an excellent burst with his first step and can finish above the rim in traffic. In addition to his explosive on-ball game, Wali also showcased an impressive and fluid shooting stroke. He has great lift on his shot and was unfazed by lurking defenders. On the other side of the floor, Wali was focused and showed great attention to detail on his defensive slides. He constantly applied pressure when pressing up and was always communicating the necessary switches. Given what I saw from Wali in both the practice and game settings, I'd expect him to be on the rise as we head into the summer. 
Will Lobor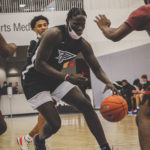 Will

Lobor

6'7" | SG

Tabor Academy (MA) | 2023

State

#

199

Nation

| 6'7″ | Wing with guard instincts | Tabor Academy | RI Elite | 2023 
Lobor, who currently holds four D1 offers, is yet another highly translatable and highly skilled wing who can guard many positions on the floor. While fellow scout Bash Hudsen has already covered him up close and documented how he is a noted three-level scorer in the half-court setting but what impressed me the most was his fluidity and pace control in the open floor. Most players in this age group will rush decisions and make an errant pass when they hear the defender's footsteps. This was far from the case with Lobor as he seemed calm and collected in this setting, showing awareness and constantly making the right decision with the ball in his hands. I also really enjoyed a Sunday morning sequence where Lobor converted on a next-level type of pick and pop three-pointer from above the break. He is one of those rare players who can impact the game both as a ball-handler and a roll-man in the pick and roll action.
Edouard Malanda | 6'7″ | Wing | Hoosac School | Basketball Club Rhode Island | 2022
A newcomer in the NE / NY Prep hoops scene, Malanda comes by way of France and has several intriguing aspects of his game. During a closely contested Saturday victory against the NE Storm, he was constantly capitalizing when presented with a mismatch. He used his size and explosion to create easy buckets at the rim and showed a fluid stroke in the midrange/ face-up setting. Malanda did a great job of moving into open space, especially around the dunkers' spot. He came away with several easy flushes by anticipating when the opposition would help him. He showcased a great motor and constantly ran the floor in transition with and without the ball in his hands. On defense, Malanda had great timing on his shot contests and made several weakside help rotation blocks during this victory. With more reps this spring/ summer, Malanda's positional versatility will be on full display as I believe he is just starting to scratch the surface on the AAU scene.